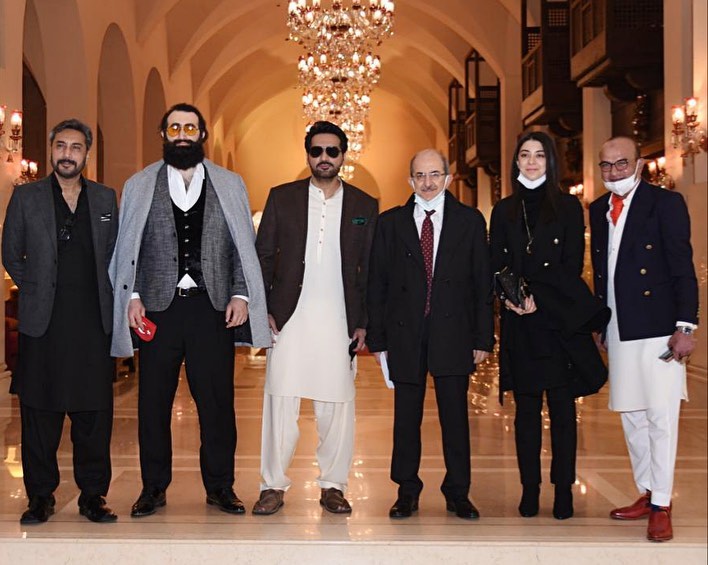 ---
Recently, a Turkish delegation comprising of Diriliş: Ertuğrul executive producer Kamal Tekdin and actor Celal Al met the Prime Minister Imran Khan, Pakistani actors Adnan Siddiqui and Humayun Saeed, along with the federal ministers Shibli Faraz and Shaheryar Afridi among others in Islamabad.
The meeting discussed in detail a joint venture featuring actors from both countries. According to an APP report, this venture would take the form of a series based on the renowned sub-continent personality Turk Lala from the Khilafat Movement.
Siddiqui, on January 8, shared multiple photos from their meeting on his Instagram and showered Al with much praise in the caption. Now, in light of the upcoming venture, his co-star Saeed has announced he is absolutely thrilled to be bringing his fans his 'biggest project ever'.
Sharing photos with his Turkish guests, Saeed wrote, "It was an absolute pleasure to host our Turkish guests; Mr Kemal Tekdin Executive Producer of blockbuster series Diriliş: Ertuğrul along with our beloved Cel Al, most popularly known as Abdul Rehman Alp and Dr Kashif Ansari of Ansari Films for bringing us all together."
He then wrote, "Me and my friend Adnan Siddiqui are absolutely thrilled to be bringing to you the biggest project ever in collaboration with Kashif bhai and our Turkish brothers."
The Jawani Phir Nahi Ani actor then thanked the authorities responsible for making this collaboration possible. "I would like to especially thank Prime Minister Imran Khan, President Arif Alvi as well as our esteemed ministers Mr Shibli Faraz and Mr Shehryar Afridi who have pledged their full support in bringing this historic project to life."Saeed reinstated that the upcoming venture "will be shot in and feature actors from both countries."
"Here's to the beginning of a new chapter in Pak-Turkey friendship," he concluded.
On January 7, the PM had urged Pakistan's film and television industry to produce informative local narratives for the youth which could serve as an alternative for Ertuğrul and the substandard, glamourised content which is being produced already.
"If the Pakistani film and drama industry presents quality local production, it will not only progress but also provide the youth with the alternative of substandard and glamourised content, which will be welcomed like Ertuğrul," he said.
The meeting discussed in detail the proposed television series, and why it was important to make period dramas. The premier said Pakistani serials were very popular in the world until the 1980s, so their makers needed to now work on promoting local culture for the 'west-inspired youth' which should to be made aware of its own roots and 'saved' from social evils.
Khan further stated that it was unfortunate that the new generation was not aware of the golden era of Muslims' rule in the Sub-continent, reported APP. Efforts should be made to foil the designs of propaganda mongers by producing films and dramas on that golden era, he added.
Tekden, while appreciating the PM's decision to telecast Turkish serials in Pakistan, said Khan and Turkish President Recep Tayyip Erdogan shared the vision of creating awareness among the youth about their history and culture. The premier, while appreciating the project of the proposed television series on Turk Lala, assured full cooperation of the government.
Have something to add to the story? Share it in the comments below.
COMMENTS
Comments are moderated and generally will be posted if they are on-topic and not abusive.
For more information, please see our Comments FAQ