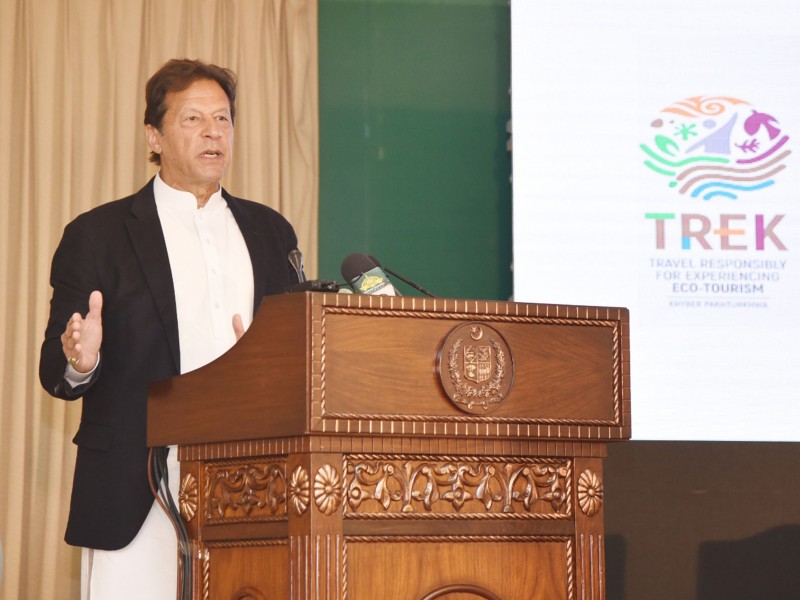 ---
ISLAMABAD:
The country took another step towards the digital world on Monday with the launching of Raast – Pakistan's first instant payment system that enabled end-to-end digital payments among individuals, businesses and government entities within seconds.
Prime Minister Imran Khan launched the Raast at a ceremony here. The initiative is part of the prime minister's "Digital Pakistan Vision" aimed at including the poor segments of society in the formal economy.
"Raast is a big step towards realising Pakistan's potential; it will help the country move from cash economy to digital economy and help the government to collect more taxes when formal transaction channels are utilised more," Imran said, addressing the launching ceremony in the federal capital.
Imran said that cash economy was one of the biggest hurdles for a country of 222 million to take full advantage of its potential. "Cash economy's biggest disadvantage is tax collection; Pakistan collects the lowest tax in the world," he said.
The prime minister regretted that only 2 million people paid taxes in a country of 220 million population, while the top-3,000 taxpayers paid 70% of the total taxes. "This is not enough to build hospitals and schools, and provide other basic facilities of life for the common man."
The prime minister hoped that Raast will slowly and gradually take the country away from the addiction of cash economy to the digital economy and enable the country to take full advantage of its people. He said that Raast programme would take government's other initiatives, including Ehsaas, ahead.
"The real target is to boost formal economy and our biggest problem is that we have a big informal economy," he said, adding that the government could neither collect taxes in the presence of a big informal economy nor the country could progress. "Without revenues, there is no progress," he said.
Prime Minister Imran said that "Pakistan can't build infrastructure; can't invest in human development; unable to provide education to children; can't improve healthcare infrastructure" just because it lacked financial resources.
"The country which was making rapid progress in the region 50 years ago can't move ahead because we don't have enough financial resources," he said, hoping that "Raast will take the country away from addiction of cash economy."
Imran lauded the step of including the poor segments of society, women and overseas Pakistanis in Raast, saying it was also a big step. "Opening women's accounts is a big step as it would help them progress," he said, adding that women in rural areas were affected the most by poverty.
He lauded State Bank of Pakistan (SBP) Governor Reza Baqir, his team and several others, who made the project a reality. He encouraged them to keep thinking about bringing more remittances through formal channel and shifting more and more people from cash economy to digital one.
He thanked Queen Maxima of the Netherlands for taking interest in the programme and wellbeing of Pakistan, especially, in women living in deprived areas and wanting their financial inclusion in Pakistan. He also thanked the Gates Foundation, British High Commission and the World Bank for providing help to Pakistan.
In his address, the SBP Governor said that Raast would make payments secure, while the banks and monetary institutions will get benefits as it provided fast and cheap digital payment option for customers.
He added that it had been developed on international best practices as it would connect government institutions instantly, which meant that salaries, pensions as well as savings could instantly be paid through it.