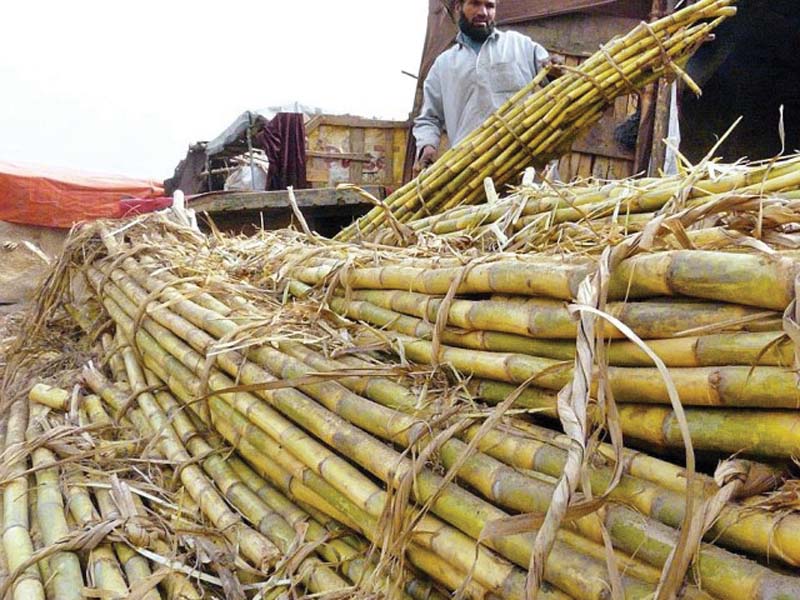 ---
ISLAMABAD:
The Pakistan Sugar Mills Association (PSMA) has blamed the sugarcane growers for selling them the crop at higher than the government's rate of Rs200 per 40 kilos, saying that it will push the sugar prices over Rs100 per kilo.
However, the All Pakistan Farmers Foundation chairman rejected the PSMA's allegation and said that the mills "are trying to blackmail the government".In a letter penned to Prime Minister Imran Khan, the PSMA said that the cane commissioners of all the provinces failed to uproot middlemen due to which the sugarcane price reached up to Rs300 per 40kg. It requested the premier to ensure availability of sugarcane to the sugar mills at the government's rate to bring down the sugar retail price."The government of Pakistan had assured us that the middlemen will not allowed to operate this season and the support price of Rs200 per 40kg will be ensured for a very affordable price of Rs75 per kilo of sugar at retail level."
It stated that the sugar industry was directed to commence crushing operations 15 to 20 days before the designated date of November 30, 2020 as per the Sugar Factories Control Act 1950, adding that as a result, the low recovery of sugarcane has deprived the country of approximately 300 tonnes of sugar. The PSMA stated that the international market is expecting a shortage of sugar and the "prices will increase day by day". "We have highlighted this at the recently held Sugar Advisory Board meeting that even raw sugar will sell for Rs95 per kilo after its refinement."When The Express Tribune contacted All Pakistan Farmers Foundation Chairman Syed Mehmood Ahmad Bukhari, he rejected the allegation, saying that the PSMA was trying to blackmail the government.
"Sixty per cent of the sugarcane was bought by the mills at Rs200 per 40 kilos," Bukhari said, adding that they (mill owners) increased the rate for three days and started creating a ruckus. "Now, they have started lowering the rate again."He accused the mill owners of exploiting farmers as well as the people. "After production cost and profit, sugar should be available to the people in the market at Rs65 per kilo, but no one will look into it."Sugarcane is available, but the farmers will sell the crop to those mills from where they get the most benefit, he said. He blamed the Punjab mill owners of preventing sugarcane from going to Sindh, saying that the move is causing losses to the farmers. The government should set up a JIT on this issue so that people may know the truth, he added.
COMMENTS
Comments are moderated and generally will be posted if they are on-topic and not abusive.
For more information, please see our Comments FAQ