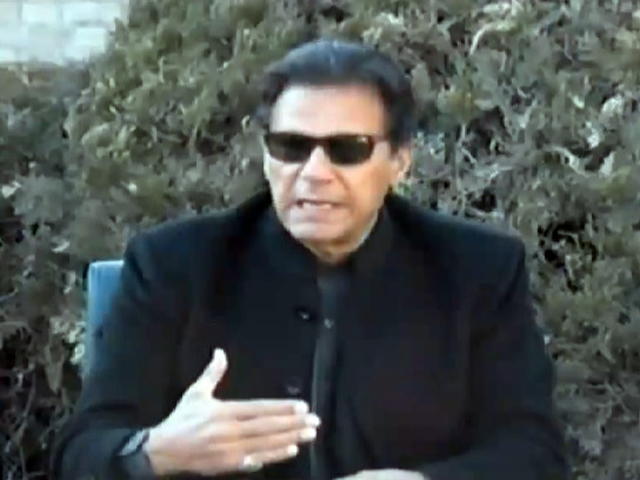 ---
QUETTA:
The prime minister has said that most of the top sectarian terrorists have been eliminated and that only 35 to 40 of them are alive and trying to stir up communal trouble in the country at the behest of their foreign paymasters.
"I assure you that we will go after these elements. We will not allow them to sow sectarian strife in our country," Imran Khan said while speaking to a delegation of the Hazara community, including relatives of the slain coalminers, at Sardar Bahadur Khan Women University in Quetta on Saturday.
The ethnic Hazaras, who are predominantly Shias, have been frequently targeted in attacks mostly carried out in the past by the Lashkar-e-Jhangvi sectarian terrorist group, which has now merged into the ultra-extremist Islamic State (IS) for perpetuation of spiral of violence.
According to the National Commission on Human Rights, more than 2,000 Hazaras have been killed in attacks since 2004. They have been subject to targeted shootings and mass bomb and suicide attacks, particularly in Quetta, where the majority of the country's estimated half a million Hazaras live.
Premier Khan flew into Quetta hours after the Hazara community called off their six-day-long vigil alongside the coffins carrying the bodies of 11 colliers slaughtered by IS terrorists in the Machh area of Bolan district of Balochistan last Sunday.
Hundreds of members of the bereaved community – including women and children – braved subzero temperatures and kept up the vigil for six days refusing to bury the slain miners until the prime minister himself visited them – something that Khan said a day earlier he would not be "blackmailed" into doing.
However, the protesters relented and agreed to perform burials after successful talks between the community elders and government negotiators, led by Chief Minister Jam Kamal and Maritime Affairs Minister Ali Zaidi, before dawn on Saturday.
"Since March 2020, our intelligence agencies had reports that India was plotting to incite sectarian violence by assassinating Shia and Sunni religious scholars," the prime minister told the Hazara delegation members.
"I pay tribute to our intelligence agencies that have foiled three or four major plots involving attacks on Shia and Sunni scholars," he said. "I've absolutely no doubt in my mind that what happened [at Machh] is part of a grand scheme".
Also read: Hazara mourners agree to call off Quetta sit-in, bury slain miners
The prime minister recalled that he had visited the Hazara community several times in the past when they were targeted by sectarian groups especially at a time when Pakistan was in the throes of a deadly wave of terrorism.
He also sought to clarify his "blackmailing" comments which triggered a storm on social and mainstream media, and provided ammo to the cannons of an increasingly hostile opposition.
"You need to understand that things are different for a prime minister. When I was a common citizen I visited you. No one can guarantee that a terrorist incident would not happen in the country.
"That's why I requested you to bury your martyrs and I will come to offer my condolences. But when you make it a condition, it will set a [wrong] precedent," he added.
The premier said that he received updates from his ministers and security agencies on the situation. "I was following all the developments," he said, adding that the entire country shared the pain and suffering of the Hazaras.
He said his mission was to unite the entire Muslim world, not just the people of Pakistan. "I have tried very hard to play a role in mending ties between Saudi Arabia and Iran," he recalled while referring to his mediation efforts.
Also read: PM won't be 'blackmailed' into visiting Hazaras
He said there were between 35 to 40 sectarian terrorists trying to sow chaos in the country. "We have a whole programme prepared and a security forces cell is being set up which will provide you protection and track those responsible [for the Machh tragedy]."
وزیراعظم عمران خان سے گورنر بلوچستان امان اللہ خان یاسین زئی اور وزیر اعلی بلوچستان جام کمال خان کی کوئٹہ میں ملاقات

کمانڈر سدرن کمانڈ لیفٹیننٹ جنرل سرفراز علی بھی موجود pic.twitter.com/A6CgUK6INL

— Prime Minister's Office, Pakistan (@PakPMO) January 9, 2021
Earlier, the premier visited the bereaved families, where he reassured them that his government was with their community. "Don't worry, we will look after you," he could be heard telling an aggrieved woman in a video clip released by the PM office.
The woman told the premier that her family had lost all breadwinners and there was no one to provide for her sisters and ailing parents.
Hours before PM Khan's arrival, the Hazara community performed the last rites of the slain miners. Allama Nasir Abbas led the funeral which was attended by a large number of people, including top government officials.
Also read: Maryam slams PM Imran for calling Hazara mourners 'blackmailers'
Seven of the slain miners were Afghan citizens. However, all the bodies were buried at a cemetery in Quetta's Hazara Town at the request of the heirs. The Afghan government requested Pakistan on Friday for the repatriation of the bodies.
Community leader Allama Raja Nasir Abbas Jafari said they called off the sit-in with the permission of the bereaved families after the government accepted all of their demands following successful negotiations.
(With additional input from News Desk)
COMMENTS
Comments are moderated and generally will be posted if they are on-topic and not abusive.
For more information, please see our Comments FAQ