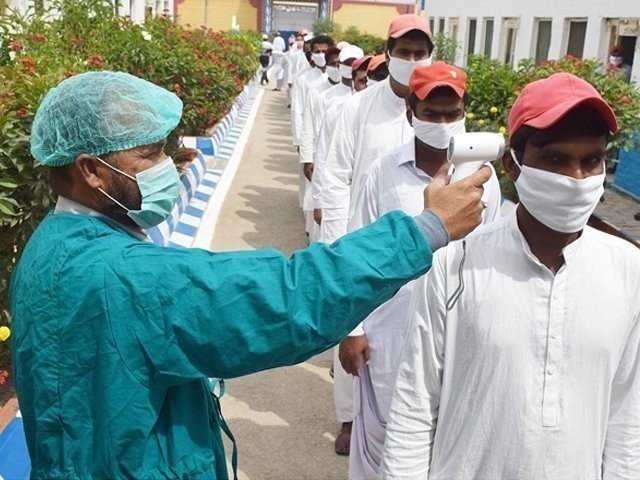 ---
ISLAMABAD:
The Federal Ombudsman on Friday said prisons across the country had 20,000 excess inmates than the capacity, revealing that 500 prisoners were infected with the coronavirus pandemic.
The Secretary Wafaqi Mohtasib Secretariat (WMS) submitted its eighth implementation report in the Supreme Court regarding plight of inmates in jails, according to the directions of the apex court to submit a progress report every three months based on nine recommendations aimed at improving jail conditions.
According to the report, the highest number of prisoners 291 were infected with the coronavirus in Sindh prisons, 126 in Khyber-Pakhtunkhwa (K-P) prisons, 80 in Balochistan prisons and three in Punjab prisons.
Stating the number of inmates in jails across the country, the report said apart from Balochistan, the prisons were overcrowded.
Also Read: Covid spreads in Sindh's jails
It stated 52,303 inmates were in 43 prisons across Punjab against the capacity of 38,806 inmates; 18,098 inmates in Sindh prisons against the capacity of 13,538 inmates; 12,029 inmates in K-P prisons against the capacity of 11,362; and 2,255 prisons in Balochistan against the capacity of 2,585.
The report further stated that in view of the inadequate capacity of jails, steps were being taken to release the inmates on parole, while three new jails were being constructed in Sindh, with one each in Shaheed Benazirabad, Thatta and Malir.
Besides, expansion work for the prisons was underway in Punjab while new jails were also being established. As per the report, prisons were also being constructed in Swat and Hangu areas of K-P while development work is underway for a model prison in Islamabad.
As per the report, Sindh increased its prisons budget by Rs294 million while Punjab increased its budget by 33 per cent to improve the condition of jails. In addition, steps were also being taken to provide free legal aid to the prisoners in the jails.
The report suggested to the provincial governments to build jails in every district headquarter, and the federal government in Islamabad. Every jail should have separate and independent portion for women and juvenile prisoners, with sleeping space for every prisoner with adequate toilet and hygiene facilities, it proposed.
It was maintained in the report that the provinces had been directed to constitute two committees, including district oversight committee and welfare committee for improvement of life of prisoners in jails especially for children, women and the destitute.
The report suggested that there was a need to link Biometric system in jails with courts for maintaining the record of prisoners. Roster and jail record registers should also be computerized, it added.
It further suggested that the provincial governments should be directed to proceed accordingly and ensure development of an interface between jails, courts and National Database and Registration Authority (NADRA) for monitoring and verification of the prisoners' record.
Drug users and mentally insane prisoners should be kept outside the premises of the jail in drug clinics or drug homes for mentally retarded prisoners and provided medical treatment, it stated, adding the hardcore or high profile criminals, including murderers, terrorists and extortionists, should be kept separate from the ordinary or under trial prisoners who are not involved in such heinous crimes.
It stated that the prisoners with HIV, Hepatitis, TB and drug addicts should be segregated and kept apart from other prisoners and strict surveillance should be done in jails for protecting the prisoners from physical and sexual assaults.
The report recommended that the university falling in respective territorial area of jail should be directed to assist in improving educational and skill training facilities to deserving prisoners.
(With input from APP)
COMMENTS
Comments are moderated and generally will be posted if they are on-topic and not abusive.
For more information, please see our Comments FAQ