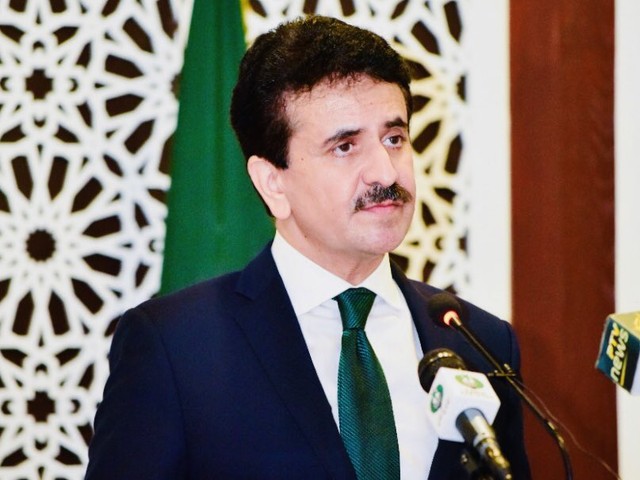 ---
ISLAMABAD:
Pakistan on Monday expressed "deep concern" over the continued incarceration and deteriorating health conditions of the Kashmiri leaders, who have been imprisoned after India's scrapping of the special status of the Indian illegally occupied Jammu and Kashmr (IIOJK) in August last year.
The Foreign Office statement comes after Foreign Minister Shah Mahmood Qureshi said on Monday in his hometown that the Indian occupation forces have been spreading fear among the unarmed and innocent people of IIOJK through continuous oppression and persecution.
Many senior Kashmiri leaders, including Syed Ali Shah Geelani and Mirwaiz Umar Farooq, are also under house arrest, while other prominent leaders, such as Asiya Andrabi, Shabbir Ahmed Shah, Yasin Malik, Masarat Alam Bhat, Mohammad Ashraf Sehraie, are in New Delhi's infamous Tihar jail and others.
"These Kashmiri leaders have been illegally arrested over malicious, false and fabricated charges by the Indian government through invoking draconian laws promulgated in Indian Illegally Occupied Jammu & Kashmir (IIOJK)," the Foreign Office said in a statement.
"Imprisonment and torturing of Kashmiri leaders on the basis of their political ideology and struggle against illegal Indian occupation is a true reflection of the extremist mindset of the RSS-BJP regime which has no respect for the human rights of the Kashmiri people," the statement added.
The Foreign Office urged the international community, particularly the UN, and human rights and humanitarian organisations to take notice of the Indian government's "inhuman treatment of the Kashmiri leaders and raise voice for their immediate release from illegal Indian detention."
Meanwhile, addressing a ceremony in the Multaniwala Union Council, Qureshi said that the Indian occupation forces were spreading fear among the unarmed and innocent people of IIOJK through continuous oppression and persecution.
"Unarmed Kashmiri youth are being subjected to state terrorism in fake encounters," he said in reference to the recent case filed in an Indian court against an army captain and his two accomplices for killing three local labourers by declaring them as 'militants'.
In a charge sheet filed in a local court, police said the captain had staged a gunfight in South region of the Valley on July 8 to make it appear like a clash with 'militants'. He said these "young Kashmiris are being presented as terrorists and fake cases are registered against them to misguide" the world.
The foreign minister said India had earmarked billions of rupees to damage the China-Pakistan Economic Corridor (CPEC) project. Similarly, he added that India was also sabotaging the peace process in Afghanistan.
"Disinfo Lab had exposed India's conspiracies. Due to inhuman measures by the [Narendra] Modi government, the voices are also being heard against the fascist regime from inside India. [And] Instead of addressing its issues, the Indian government is bent upon conspiring against Pakistan."
He warned that India's nefarious designs could create law and order situation in the region and the consequence would be disastrous. "Pakistan is taking practical as well as diplomatic steps to foil conspiracies of the enemy."
(WITH INPUT FROM NEWS DESK)
COMMENTS
Comments are moderated and generally will be posted if they are on-topic and not abusive.
For more information, please see our Comments FAQ