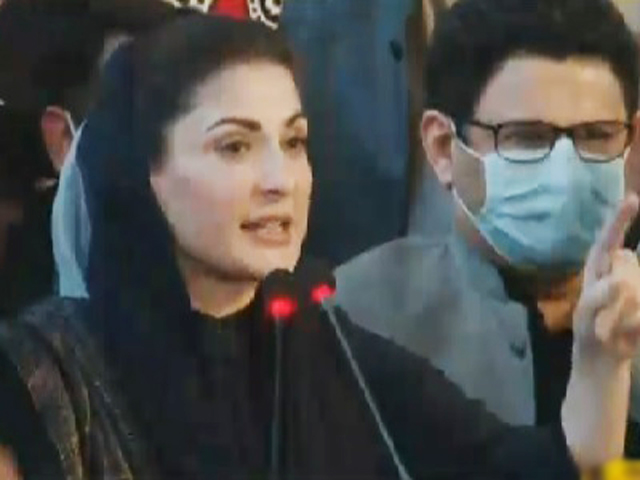 ---
Pakistan Muslim League-Nawaz (PML-N) Vice-President Maryam Nawaz has hit back at Prime Minister Imran Khan for claiming that opposition parties were pressuring military establishment into toppling his 'elected government'.
"First you need to keep this thing in your mind that your government is not elected. Secondly, opposition parties do not need to ask army to overthrow your government," she said while addressing a PML-N workers convention in Sukkur on Saturday.
"We don't need to ask anyone. We have the power of people [to remove you]."
She left for Sukkur earlier in the day from Lahore to participate in the PPP-hosted December 27 rally at Garhi Khuda Baksh in Larkana.
Maryam while referring to PM Imran further said that his only qualification to become the prime minister is "polishing boots and obedience", suggesting that the latter came into power through backdoor without people's votes.
"We told you [PM Imran Khan] the very first day that you have nothing to do with this fight… this is elders' fight and you are only a puppet," Maryam remarked.
The PML-N leader admitted that for the first time in her party's history it was not siding with those responsible for bringing people in power. "PML-N workers for the first time in history have refused to bow down to tyranny."
She also paid tribute to the workers and support for supporting and embracing the narrative of their party supremo Nawaz Sharif despite all hardships and problems.
On the issue of resignations, Maryam dispelled the reports that PML-N lawmakers were refusing to hand over their resignations to the party leadership. "I have received 107 resignations of Punjab Assembly MPAs and from National Assembly resignations of only few leaders are remaining which will be submitted in a day or two."
Earlier before departing for Sindh in the morning, Maryam had said that her uncle Shehbaz Sharif would have become the prime minister if he had been disloyal to Nawaz Sharif, dispelling rumours that the Leader of the Opposition in the National Assembly was considering going against his brother.
She further said that Shehbaz had "rejected all such offers".
Reports had emerged suggesting that Shehbaz was in favour of a political dialogue with the government with Maryam categorically ruling out any such possibility.