Pakistan was struck with several blasts and grenade attacks throughout the year, resulting in hundreds of injuries and casualties.
Here is a list of terror attacks in Pakistan in 2020.
January 7, 2020: At least two dead, over a dozen injured in Quetta blast
At least two men were killed and over a dozen injured in a blast in Quetta. Among the injured were two soldiers of the Frontier Corps (FC).
The blast took place near a vehicle of the security forces on the McCaughey Road in the provincial capital of Balochistan.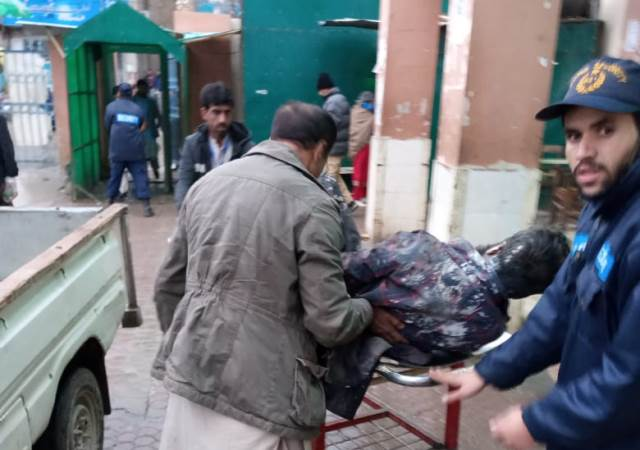 February 17, 2020: Three security personnel martyred in Quetta suicide blast
At least three security personnel among eight people were martyred, and over 20 injured in a suicide attack near the Quetta Press Club where a religious party was holding a rally on the death anniversary of Hazrat Abu Bakr (RA).
"A youngster on foot tried to enter the area where the rally was being held. However, the police personnel stopped him from entering upon which he blew himself up," Deputy Inspector General (DIG) of Police Abdul Razzak Cheema had informed.
At least six vehicles, motorcycles and rickshaws were damaged. Windows and doors of many nearby shops and buildings were also shattered due to the impact of the powerful blast.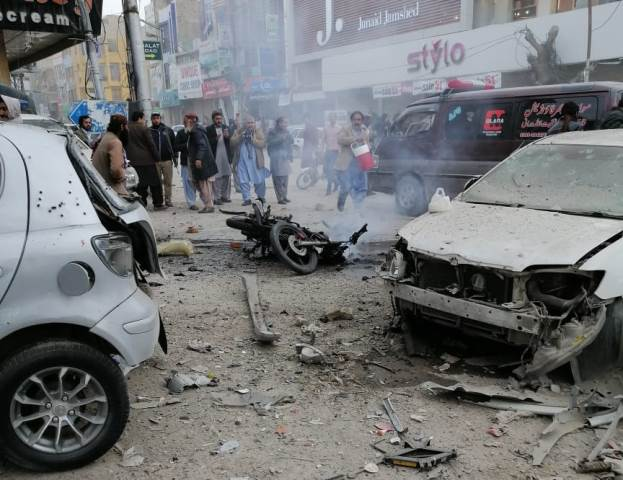 February 18, 2020: One police office martyred, two injured after IED explosion in DI Khan
At least one police official was martyred and two were injured after an improvised explosive device (IED) blew up near a police vehicle in Dera Ismail Khan.
District Police Officer Wahid Mahmood said that the police vehicle was deployed for the security of polio workers in the Kulachi tehsil.
Police officials reported that a head constable was martyred and another head constable and driver were injured.
June 12, 2020: Pindi blast kills one, injures 15
One person died and 15 others were injured when explosives attached to an electricity pole went off in Rawalpindi's Saddar Bazar.
Police officials and eye witnesses said a huge fire erupted after the blast, resulting in widespread damage at the time. The deceased was a vender who sold vegetables near the pole the blast occurred.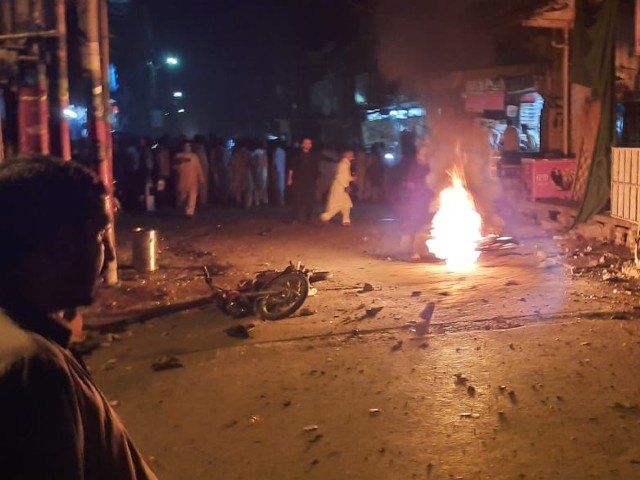 June 29, 2020: Four terrorists killed after attack on Pakistan Stock Exchange
Four terrorists attacked the Pakistan Stock Exchange (PSX) building at 10:20am, but the attack was foiled by Rangers and police officials in time.
The gunmen – reportedly including members of the Indian intelligence agency Research and Analysis Wing (RAW) and Afghan intelligence Agency National Directorate of Security - attacked the building, martyring three guards and a policeman, while at least seven people were injured.
Karachi Police Chief Ghulam Nabi Memon said the gunmen pulled up in a silver corolla and opened fire on the security post. Security forces retaliated and killed all four terrorists.
In a post on Twitter, the Baloch Liberation Army (BLA) claimed responsibility for the attack.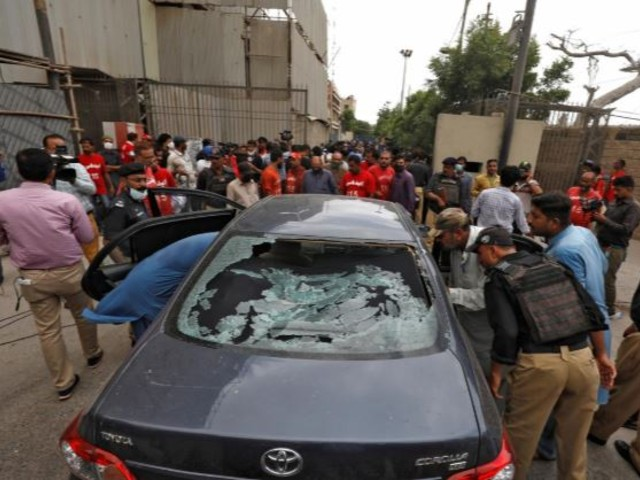 July 26, 2020: 30 injured in grenade attack at BAP election office
A grenade attack ripped through the election office of the Balochistan Awami Party (BAP) in the Dalbandin area of Chaghi district.
The grenade exploded inside the office and injured 30. Five patients were reported to be in a critical condition at the time.
August 5, 2020: Unidentified motorcyclists hurl grenade at rally; 39 injured
At least 39 people were injured after unidentified motorcyclists lobbed a grenade at a rally organised by the Jamat-e-Islami in support of Kashmir, near the Baitul Mukarram mosque in Karachi.
A Jamaat-e-Islami activist had reportedly sustained injuries in his abdomen and later succumbed to those injuries.
A separatist group, the Sindhudesh Revolutionary Army claimed responsibility for the attack.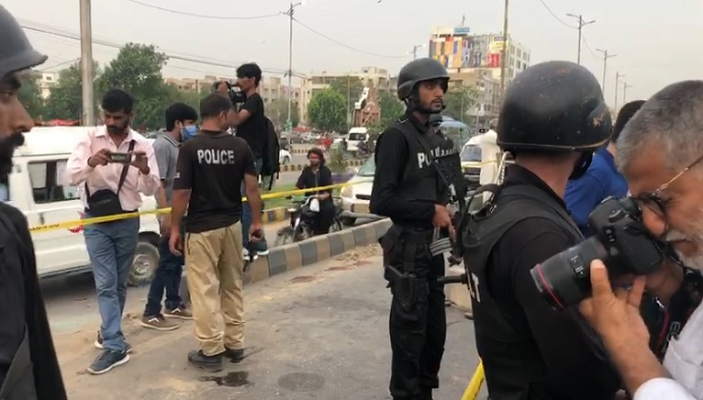 August 10, 2020: Five killed in Chaman blast
A blast in the Pak-Afghan bordering town of Chaman killed five people and injured 22 others.
Unidentified assailants planted an IED on a motorcycle parked on the Mall Road in Chaman, near the office of the District Police Officer.
A senior security official stated that the IED was detonated through a remote-controlled device.
August 11, 2020: Cops arrest 12 suspects after Karachi grenade attack
Two unidentified men reportedly hurled a grenade near a stall selling patriotic buntings and decorations in Karachi's Gulshan-e-Hadeed area. At least seven people were injured in the attack.
The police claimed to have arrested 12 people responsible for the attacks in the city and said the grenade was a Russian-made RGD-1 grenade, weighing 250 grammes.
Investigators reported that RAW was responsible for the attacks.
August 12, 2020: One dead, six injured in Quetta grenade attack ahead of Independance Day
One person died and six others sustained injuries in a hand grenade attack on a shop in Quetta. The deceased was a seven-year-old boy.
Police officials reported that two people riding motorcycles threw the grenade at the shop. The shop was selling Pakistani flags, among other items ahead of Independence Day celebrations on August 14.
September 4, 2020: IED explosion injures four during Friday prayers in Quetta
An improvised explosive device fitted on a motorcycle parked near a mosque went off on Quetta's Sariab Road, injuring at least four people. The explosion occurred during Friday prayers.
October 14, 2020: Six injured in another Quetta grenade attack
In another grenade attack, at least six people were injured on Quetta's Samungli Road.
According to police, five of the six injured were labourers, who were targeted by unidentified assailants at their work site.
October 20, 2020: Explosive device goes off in Karachi's Shireen Jinnah Colony, injures six
At least six people were injured when an explosive device mounted on a motorcycle parked outside a tyre shop went off in Karachi.
The blast occurred near a bus terminal in Shireen Jinnah Colony and injured two pedestrians and four passengers.
An eyewitness claimed that the motorcycle was left outside the shop by a suspected terrorist.
Counter-Terrorism Department (CTD) In-charge Raja Umar Khattab said the bomb weighed one kilogramme and was placed in the seat of the vehicle.
It was locally made and contained ball bearings, he added.
October 25, 2020: Quetta bomb blast leaves three dead, seven injured
A bomb blast ripped through a market in the Hazarganj area of Quetta, claiming the lives of three people and injuring seven others.
According to police officials, the explosion was caused by an IED, mounted to a motorcycle.
Although no group took responsibility for the attack, the National Counter Terrorism Authority (Nacta) at the time had warned that the Tehreek-e-Taliban Pakistan (TTP) planned to carry out large-scale terrorist activities in Quetta, targeting political and religious leadership.
October 27, 2020: Peshawar seminary blast kills eight, injures 125
At least eight people died and over 125 injured after an explosive device in a bag detonated inside a madrassa in Peshawar's Dir Colony.
SP City Peshawar Waqar Azeem said that an unidentified man entered the madrassa around 8am and left a suspicious school bag in the premises. The bag was believed to have an IED device that went off when the children started entering the seminary.
Assistant Inspector General of Bomb Disposal Squad (AIG) Shafqat Malik reported that five kilogrammes of explosives were used.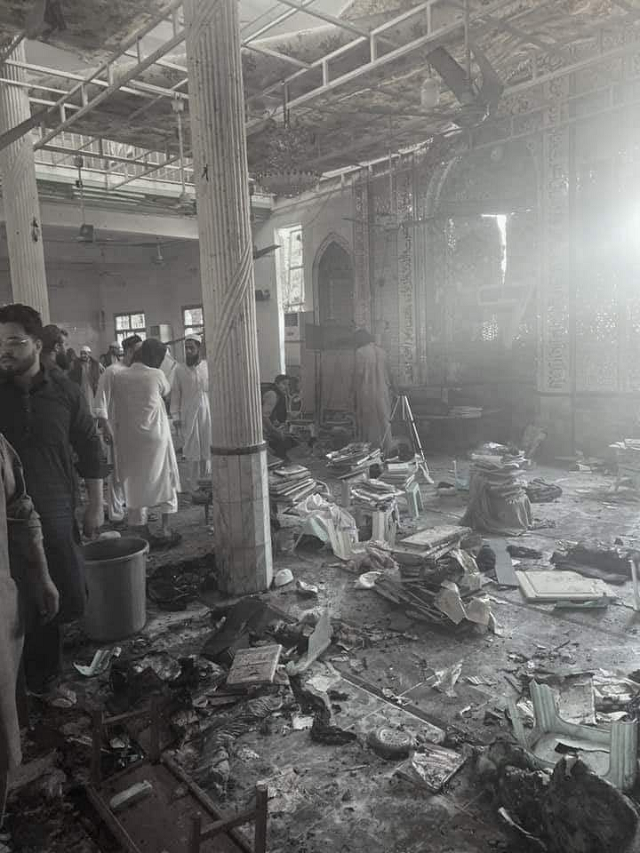 December 4, 2020: Attack in Rawalpindi's Pir Wadhai area leaves one dead, eight injured
At least one person was killed and eight others injured after an explosion in a rickshaw in Rawalpindi's Pir Wadhai area.
Police officials reported that the blast occurred in front of a grocery store as people gathered after Friday prayers. The explosion also set fire to the tri-wheeler and an adjoining stall.
December 13, 2020: Rawalpindi witnesses another attack; 25 injured
Less than 10 days later, Rawalpindi witnessed another attack. At least 25 people were injured in a blast near Rawalpindi's Ganj Mandi Police Station.
Rescue officials confirmed that 22 people were taken to the District Headquarters Hospital and the remaining three were treated on the spot.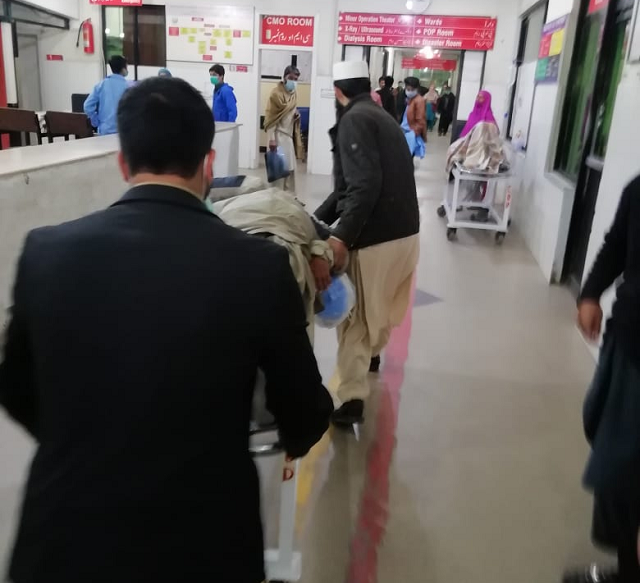 COMMENTS
Comments are moderated and generally will be posted if they are on-topic and not abusive.
For more information, please see our Comments FAQ