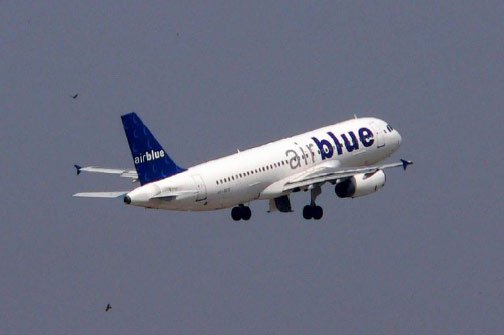 ---
ISLAMABAD:
The government has relaxed its aviation policy to allow Airblue to continue flying on international routes and has also permitted Serene Air to start international flights.
According to Article 4.5(a) (iv) read with Article 4.4, Pakistan's scheduled carriers are required to operate on primary and socio-economic routes. However, over the course of more than one year since the policy came into effect, both Serene Air and Airblue have not been able to operate 5% of their capacity - available seat kilometre - each on primary and socio-economic routes as required under the said article.
At present, due to Covid-19, airlines all over the world, including the domestic airlines, have suffered massive losses. Hence, it is unlikely that Serene Air and Airblue will be able to fulfill the requirement of satisfactory operations on primary and socio-economic routes anytime soon.
While Airblue is already operating international flights, Pakistan Civil Aviation Authority (CAA) has forwarded a request of Serene Air for international operations.
Pakistan has concluded Air Services Agreements (ASAs) with 98 countries. Several ASAs contain provision for multiple airlines designation. Airblue has been operating flights to the UAE and Saudi Arabia whereas Serene Air has planned to start operations to the UK, China, the UAE, Iraq and Saudi Arabia.
In view of the foregoing and the vision of National Aviation Policy (NAP) 2019, the Aviation Division had proposed that the provision of Article 4.5(a) (iv) of NAP 2019 regarding operations on primary and socio-economic routes may be relaxed in favour of both Serene Air and Airblue so that the carriers may be permitted to commence/ continue international flight operations.
Moreover, the approval of designation for Serene Air and Airblue for all countries with whom Pakistan has ASAs (or shall conclude/ revise ASAs in future) containing provision for multiple airlines designation may also be granted, subject to a request by the respective airline.
According to NAP 2019 and terms of bilateral ASAs, the federal cabinet is the competent authority to relax provisions of the aviation policy as well as approve designation of Pakistani airlines for other countries.
Serene Air has given an undertaking that it will fly as per requirements of NAP 2019 on primary and socio-economic routes as soon as possible after the pandemic is over.
The Aviation Division sought the cabinet's approval for the proposal contained in Para 4 of its summary.
The cabinet considered the summary titled "Relaxation of Article 4.5(iv) of National Aviation Policy 2019 in favour of Serene Air and Airblue", submitted by the Aviation Division, and approved the proposal.
Published in The Express Tribune, December 17th, 2020.
Like Business on Facebook, follow @TribuneBiz on Twitter to stay informed and join in the conversation.