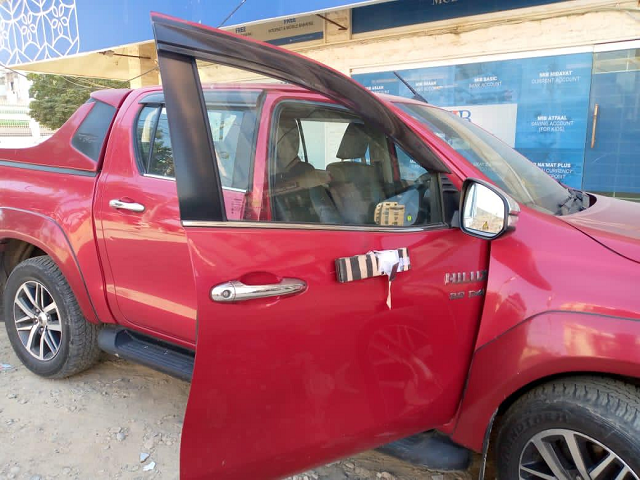 ---
Law enforcers foiled on Tuesday morning a bid to detonate a magnetic improvised explosive device (IED) in Clifton, near a Chinese restaurant in close proximity to Bilawal House.
CCTV footage, acquired after a bomb disposal squad defused the explosive device, shows two unidentified men, on a motorcycle, planting an IED on one of the front doors of a moving red double cabin car at 11.10 am. The men, one whom of can be seen wearing a helmet, planted the IED on the car just as it was about to enter the parking lot near the Chinese restaurant.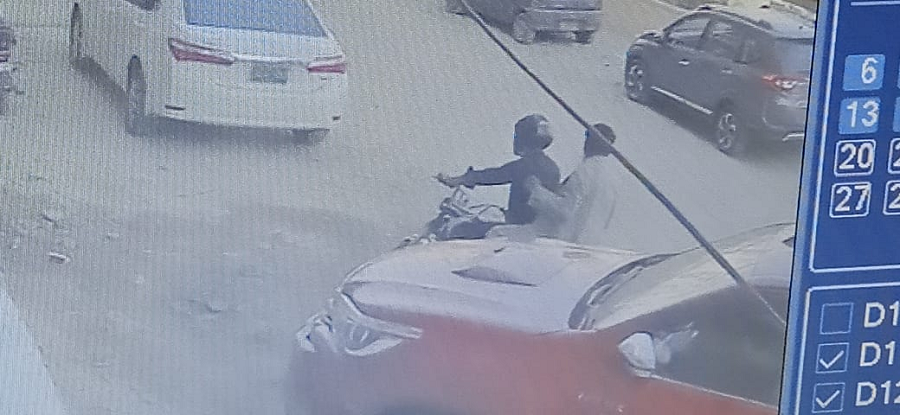 The Rangers and police soon reached the spot after they were called for assistance. They cordoned off the area and summoned a bomb disposal squad.
Upon arrival, the squad first detached the IED from the car and then disposed of the device.
As per the bomb disposal squad, the explosive was a remotely controlled device weighing more than one kilogramme.
The squad members said it had been activated by the time they reached the spot, but failed to explode due to a technical issue. The detonator was only slightly triggered, they added.
They said that had the device exploded, it would have caused considerable destruction.
The device was taken into custody by the squad.
According to South SSP Zubair Nazir Shaikh, the vehicle on which the device was planted belongs to the owner of the Chinese restaurant near which the incident took place.
The restaurant's staff was inside the car and the owner was driving the vehicle at the time of the incident, he said, adding that the police was collecting information about the persons involved in the act.
"We are trying to track them down with the help of CCTV footage," he said, adding that there was a possibility of the involvement of "anti-state" elements in the incident.
Later, the restaurant's manager confirmed that the car belonged to the eatery's owner, Yu, who was on his way to the restaurant from his residence in Clifton Block-V when the incident occurred. He said Yu had Pakistani nationality and had been living in Karachi for the past 35 years.
According to the manager, Yu had never received any threats during his residence in the city.
Published in The Express Tribune, December 16th, 2020.
COMMENTS
Comments are moderated and generally will be posted if they are on-topic and not abusive.
For more information, please see our Comments FAQ