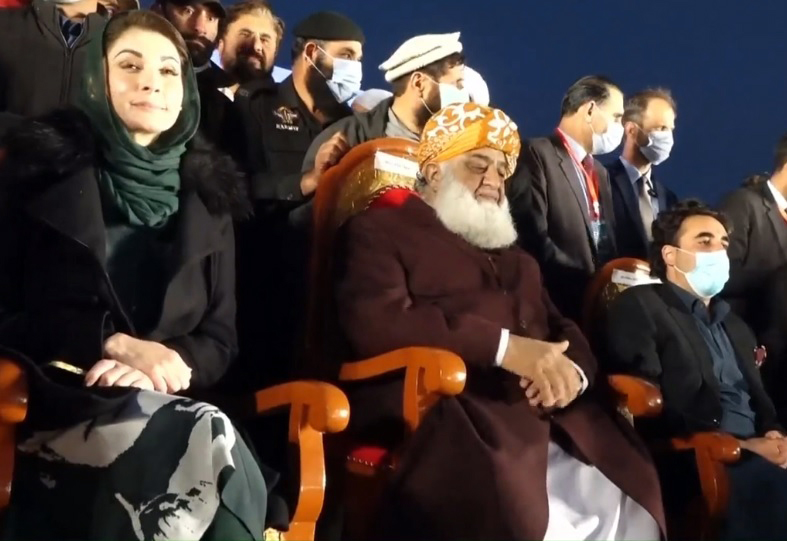 ---
LAHORE:
Marred by mismanagement, the much-hyped Pakistan Democratic Movement (PDM) rally at Lahore's Minar-e-Pakistan monument concluded on Sunday without presenting a clear action plan for taking the anti-government movement to its next phase.
JUI-F chief Maulana Fazlur Rehman – who is also the head of the 11-party opposition alliance – however, did announce a long march on Islamabad in a bid to dislodge the PTI led federal government but stopped short of giving a specific date for it.
The sixth PDM power show – held in what is regarded as the bastion of the PMLN, the largest opposition party – was earlier dubbed as a referendum against the federal government, which, the PDM claims, came into power in the wake of a rigged polls in July 2018 But contrary to the expectations, Lahore rally – also hosted by the PML-N – was not as impressive.
The presence of the workers of other parties especially the JUI-F and PML-N workers from other parts of Punjab, however, did provide a face-saving. Even leaders of other parties acknowledged the PML-N local supporters' lack of participation.
Additionally, the entire event was marred by mismanagement at all levels. PML-N leader Pervaiz Rashid, however, claimed the show was a massive success given the fact that it was held under extreme weather conditions.
He said the people who attended the rally braved the weather for a good ten hours "which itself shows their passion and commitment".
"In our view, the rally was a massive success. Before going for a number game, one has to acknowledge the harsh weather. No one else ever before has dared to hold rallies in such extreme weather," he said.
As to the action plan for taking the movement to its next stage, he said the PDM is holding a meeting on Monday [today] and these details would be chalked out in this meeting to be chaired by the PML-N de facto president Maryam Nawaz.
When asked as to why these details were not revealed during the rally, he said some information had to be held back and revealed later in order to keeps a steady flow of information rolling towards media.
Addressing the rally, JUI-F chief Fazl announced the PDM's plan to take out a long march towards Islamabad "with resignations in our pockets towards the end of January or start of February".
He said the PDM is a movement for people to ensure supremacy of the Constitution and the parliament; to bring an end to the role of establishment in politics and elections; to ensure freedom of judiciary and media and to end poverty and joblessness.
"We should live like a nation but the state institutions continue to steal public mandate and this unity weakens and things move towards anarchy. We have set out on a quest to create an environment of free and fair elections."
He said Pakistan was created in order to become a fortress of Islam but it is at its weakest due to the interference of the establishment in political affairs.
"Due to this interference, we have become slaves. We have to free ourselves from international establishment; free our army and judiciary from international establishment to create our identity."
He said if this "illegitimate government" was allowed to continue its reign, then the wound in the hearts and minds of people would deepen.
"This wound could deepen until people and the establishment might come into direct confrontation with each other. I would want to ask the establishment to allow the public to form a government and let them decide who goes to the parliament," he added.
In her speech, Maryam Nawaz thanked the crowd that turned out to attend the rally and said: "The man [Prime Minister Imran Khan] who used to say that he won't give us permission and chairs should see that we don't need his chairs and permission to hold a rally."
Referring to the news reports aired by some media outlets about low turnout at the rally, she said the media is being asked to downplay the rally and the PDM leaders know "who is asking the media to term the rally as a failure".
"The reality is that the slogan of change that gained popularity from this venue in 2011 is being buried in this same ground by people," she said in an apparent reference to the PTI's 2011 mammoth power show at Minar-e-Pakistan.
Attributing the success of PTI's famous rally to help of the establishment, she said the PTI's rally was organised by ISI former chief Lt Gen (retd) Shuja Pasha, who, she alleged, also supported the PTI during their sit-in in 2014 along with General Zaheerul Islam.
She said people from all walks of life including teachers; government employees and doctors etc were on roads "against this incompetent Mr Obedient". She said Imran Khan promised hospitals, schools but failed to fulfil any of those promises as well.
"Imran Khan had started building a case against the PML-N former government by alleging rigging but he later shifted to the corruption mantra which he has been singing no matter what the occasion." She people would not tolerate tyranny anymore.
"People are done with U-turns and lies and deceit. People have given their decision and you have to go," she said, addressing the premier. PML-N supreme leader Nawaz Sharif, who spoke at the end of the rally, said the "incompetent government" failed on all front and people were paying the price of "selectors' experiment".
"I made Pakistan financially strong in my first and in my second terms. I made Pakistan invincible by making it the 7th largest atomic power. In my last stint, I brought the country from depth of darkness to light, and not only ended electricity and gas load shedding but also eradicated terrorism."
Sharif, who was addressing the rally through video-link from London, claimed that a few generals in 2018 decided to install a puppet government, which could dance to their tunes with their eyes closed.
"This incompetent government pushed the country into crises. Poverty and inflation are creating instability. Imran Khan through sugar and wheat crises benefited his ATMs [cronies]," he claimed.
"Will there be anyone to hold this incompetent person accountable for his failures, for leaving hundreds of thousands of people jobless, for inflated electricity and gas bills? "Will anyone ask how [Lt Gen] Asim Saleem Bajwa made billions of rupees worth an empire and how Aleema Khan [Imran's sister] made billions of rupees worth of properties?
"Will someone ask how Imran renovated his Zaman Park residence? Imran says he won't give an NRO but who is asking for an NRO from him? His sister is living on a NRO given by former chief justice Saqib Nisar," Sharif claimed.
NRO is an abbreviation for the National Reconciliation Ordinance which was a controversial law introduced by former military ruler General Pervez Musharraf to end corruption and terrorism cases against political leaders including the top leaders of the main opposition parties – PML-N and PPP.