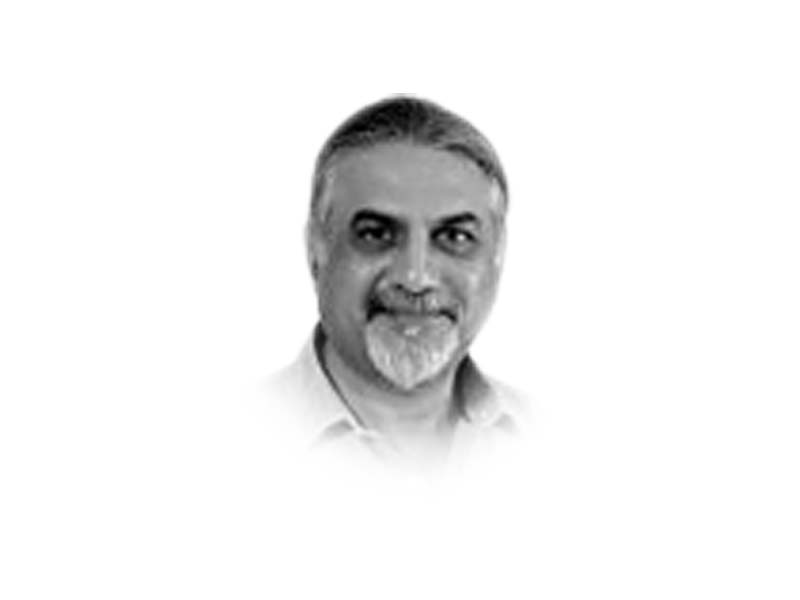 ---
In his great texted history of Peloponnesian war, the ancient Athenian historian and general Thucydides some 2500 years ago wrote that "it was the rise of Athens and the fear that this instilled in Sparta that made war inevitable." The fight for political supremacy that we are witnessing in Pakistan is no different. The giants of Pakistani politics have been finally challenged and the 'fear' that this 'rising political power' is forcing the 'entrenched political powers' in our political system to stand up and fight the battle for their survival. There is nothing new in this and the prolonged political estrangement that we witness is not bad but good for this country — the one half of the politics that is not talking to the other half is moving in for the kill. I have absolutely no doubt that Nawaz Sharif and his daughter can commit such a folly but will Zardari and his son commit their politics to take a last stand?
'Last stand' in military is described as a situation when troops take a defensive position against overwhelming and insurmountable odds. This defensive position usually takes very heavy causalities or is completely destroyed. But here we are talking about politics and it is in this context that the political naivety of such an experienced 'House of Sharifs' is politically so shocking because unlike military, in politics there are never any last stands. Politically something sinister is going on in Pakistan. Somebody has decided on someone's huge fall from political grace.
To the outside world, the PDM sounds like the great political alliance of 11 parties. But barring three political parties the rest eight of them derive their sense of having any place in the country's politics only by creating a sense of belonging and association to this movement and their membership to it. So, for the outside world it is important to distinguish between the actual bread eaters and those that pick and chew bread crumbs that fall as they eat.
So, let there be no doubt that though this is being called a movement, it is a political contest — a contest that has come out from the parliament to the streets of this country. This actual contest is between the 'rising political power' and the political powers that have already morphed from being one-time political business giants that sat in Pakistan's parliaments of the past to the now converted 'political entrepreneurs' who hold no political powers to defend their ill-gotten businesses on Pakistani roads and streets. The movement is thus neither pluralist nor widespread and since it hardly showcases any appealing set of political ideas, it appeals only to one dimensional people — those with a particular mindset; people who are party loyalists.
The political, economic and social conditions that we witness in Pakistan are the conditions that are created when an outdated and failed political idea is allowed to rule and sustains itself for a very long time before it finally starts collapsing after doing great harm to the country.
The political turbulences being witnessed in Pakistan are there because we are in the middle of the stage of collapse of this political idea. The 'creators of this failed idea' are taking their last stand and turning and twisting the history and are trying to recreate a new political reality. What they fail to understand is that it is not their political idea that has failed, it is the society that has failed on which they imposed this idea. So those who are trying to reconstruct their failed political idea and trying to replace it with a better one is wasting their time because what is needed now is not the reconstruction of the failed idea but the reconstruction of a failed society. And that is where the 'rising power' is in the lead because it appeals to the failed society, their message is not how to grab lost power or how to sustain themselves in the power but how to reconstruct a society that has failed due to the misrule of the past rulers.
The 'Panama Leaks' lies by politicians and their relations laid the moral groundwork for stating further lies. When the society accepted 'Panama Leak' lies and tolerated them, it emboldened the 'lie-tellers' to speak further lies because even those will be tolerated. In their drawing rooms these destroyers of the values of our society sit and laugh at us and our helplessness. The foundations of this country were not built on lies. Today the social disruption caused by corruption and poor governance and political promises based on lies has ruined the moral fabric of our society. A religious fanatic, a person who doesn't understand the meaning of pluralism, cosmopolitism and egalitarianism has been allowed to lead a political movement. The very person who two years back had vouched not to celebrate the Independence Day of his country.
Can we trust such a leadership to reconstruct our society which today looks ordinary when compared with the societies of the developed world? Leaders that engage in chaos, seek to promote chaos cannot be trusted to re-write our social contract (constitution) to reconstruct the society. They have always worried only about those rules of democracy that can empower them, help their business interests and ensure they never lose power. Do we still want to invest in such a leadership?
What they have managed to create in Pakistan is not democracy. If democracy is a way of organising a society, are we organised today? This concern of organising a society is not a concern of our time and even two thousand years earlier the Plato's and Aristotle's of this world knew about them and called them as monarchy, tyranny, oligarchy and democracy.
As long as our political system does not reform, our type of democracy can at best be termed a 'mechanism for holding power'. It functions because it creates elites — our never retiring political elites. They have become so powerful now that they even challenge the institutions and the state. This all needs to change. Not political conflict but political competition is seen as the right process to promote and share both democracy and power in the developed world.
Rational and reasonable democracies look up to the most appealing and competent politician to rule. What is so appealing about Maulana, Zardari and Nawaz? Who were the heads of the institutions of the state and the civil service while they were in power? Was there a competitive model and a level playing field? The whole political mechanism that they gifted us was anti-competitive and anti-meritocratic and despite their political hardwork both Maryam and Bilawal are the leftovers and thus part of the same failed political system. So I cannot trust them to reconstruct this society.
As a society we should never forget about the plotters, the schemers and the inventors of political conspiracies. These 'surrounders' of the political leadership, whose role is to defend it no matter how dishonest and corrupt it is, are the real national villains. While the 'mechanics of holding power' (read democracy) had an adverse effect on the ordinary people, the 'surrounders' got rewarded and their lives advanced. They became wealthy, received lucrative contracts and some even became senators.
Lastly, the PDM is still suffering from the hangover of the politics of 90s. When the work of a politician is not driven by the need of politics but a need for revenge (as was being done in the 90s), the politician no more remains a politician, he instead becomes a criminal who may end up committing a crime.
Published in The Express Tribune, December 13th, 2020.
Like Opinion & Editorial on Facebook, follow @ETOpEd on Twitter to receive all updates on all our daily pieces.
COMMENTS
Comments are moderated and generally will be posted if they are on-topic and not abusive.
For more information, please see our Comments FAQ