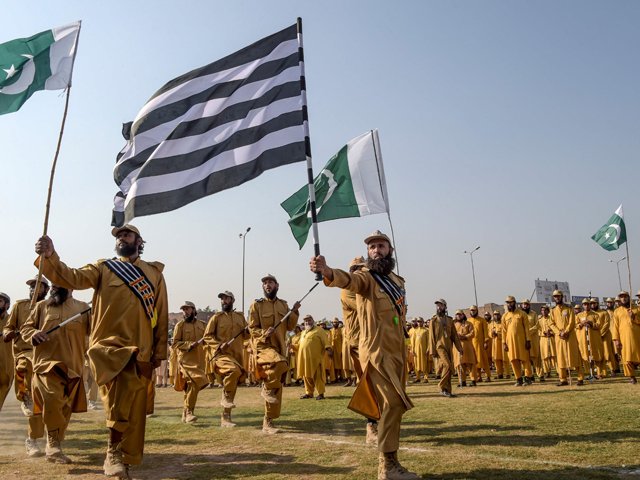 ---
A day after clashes broke out between political workers aligned with the Pakistan Democratic Movement (PDM) and the city administration of Multan, Jamiat Ulema-e-Islam (JUI-F) chief Maulana Fazlur Rehman — who also heads the movement — has given permission to his party workers to also use power if the government forcibly stops alliance's Multan rally scheduled for Monday (tomorrow).
Addressing a news conference flanked by former prime minister and Pakistan Peoples Party (PPP) leader Yousaf Raza Gillani in Multan on Sunday, Fazl slammed the arrests of PDM workers, accusing the government of indulging in "state terrorism" as a toll to suppress the anti-government movement. "The rally would go ahead as planned come what may," he maintained.
"We are ready to fight with you [government] under all circumstances and have planned accordingly. If anyone uses power then the workers are also allowed to use force," he threatened and invited all other opposition parties to "break all the barriers and join hand with us".
The firebrand cleric warned the government against creating hurdles in holding the rally or else "every district of Pakistan would become the venue for protest". "We announced a long march for January but it seems as if the rulers want it to happen earlier," he remarked.
"This puppet government", Fazl said had snatched the livelihood and shelters of many people, therefore, the opposition was compelled to hold these rallies across the country.
Speaking on the occasion, Gillani said the strong-arm tactics of the government had ensured the success of the rally even before it began. He also confirmed that the younger daughter of PPP co-chairman Asif Ali Zardari, Asifa would address tomorrow's gathering.
Workers and supporter of PPP and Pakistan Muslim League-Nawaz (PML-N) have already started gathering in Multan for the opposition alliance's fifth power show.
The clashes with the administration broke out when activists tried to enter the Qasim Bagh Stadium in the southern Punjab city — the venue of the PDM gathering – on Saturday.
Activists were seen jumping over barricades placed outside the stadium and breaking the lock on the gate. They chanted slogans after getting inside the venue despite efforts by authorities to stop them from doing so.
The Islamabad High Court, in its decision on November 19, had placed a ban on all outdoor gatherings of more than 300 persons.
The NCOC also made a decision that no indoor event would be allowed and only outdoor events with a maximum of 300 guests would be allowed.
Containers were seen placed on all roads leading to Multan ahead of the PDM rally in the city. According to news reports, more than 200 political activists had been arrested.