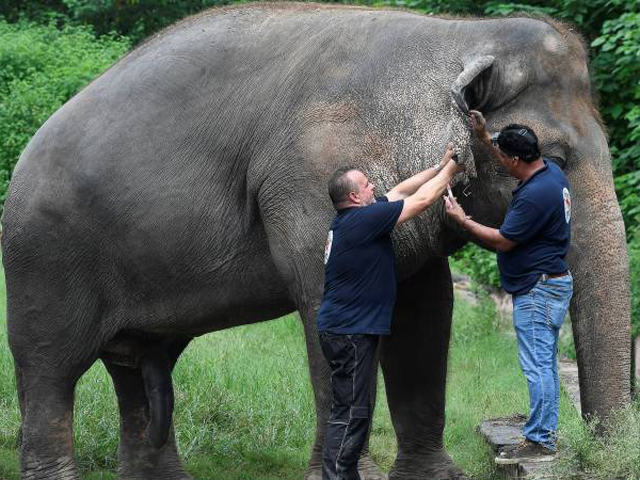 ---
ISLAMABAD:
Today, Kaavan, dubbed the loneliest elephant in the world, stands on the brink of a 24 hour journey of uncertainty to his Cambodian asylum. His ornately decorated transport crate, is a shipping container with just enough space for the animal to step backwards and forward. A mamothian cargo plane, Ilyushin Il-76, of the Russian making, stands ready to carry the giant away from the ghost of his past.
However, amid the pomp and glory of Kaavan's long-anticipated departure, is a tale unmasking the role of international diplomacy in shaping the animal's fate, and one country's failure to take responsibility for its own wildlife.
Kaavan came to Pakistan as a year-old calf in 1985, gifted by the Sri Lankan government to the Islamic Republic as a diplomatic token. Set to spend the rest of his years inside an enclosure at the capital's Marghuzar Zoo, the calf had not the faintest inkling of the horrors his new life would entail.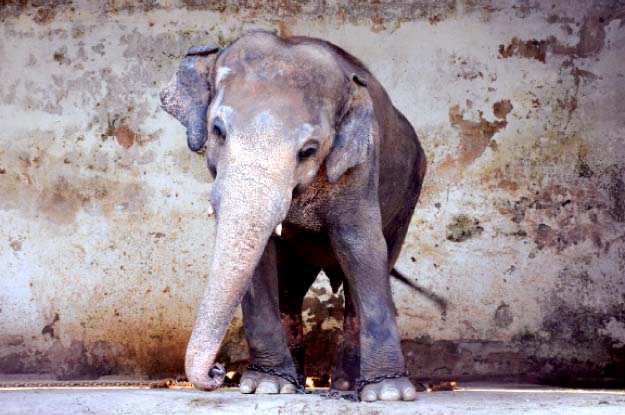 Drawing international attention
"When I first met Kaavan, now a 30 year old Asiatic elephant, he was showing signs of severe stereotypical behaviour. His legs were chained. He had recently lost his partner and was seen languishing alone in his cage," recalled Free The Wild (FTW) Co-founder Mark Cowne, who had come to visit the elephant in late 2015, upon request of American pop icon and partner Cher.
Kaavan's plight had caught Cher's attention through a group of young Pakistanis, who had reached out to the celebrity on Twitter. Soon after which a legal team was hired and so began the long-running process of pressing for the elephant's freedom. This was some five years ago.
Although Kaavan's case had been stuck amid vacillating international bureaucracy for many years since then, it got its biggest boost from a Islamabad High Court verdict in June of 2020.
"The court had finally taken notice of the zoo's historic gross negligence towards its animals. It was ordered to be shut down for good. All its surviving animals were to be relocated to sanctuaries within 60 days," told Kaavan's lawyer Owais Awaan.
However, despite court order, it just so happened to be that Pakistan had no animal sanctuary to house Kaavan or any other destitute animal about to be abandoned by Islamabad Zoo.
As Islamabad Wildlife Management Board Chairperson Rina Saeed pointed out, there wasn't even a zoo in a different city appropriate enough to keep the elephant. "Kaavan is our sole Asian elephant. All other elephants in our zoos are from Africa and Asian and African elephants cannot be put together in the same space," Saeed highlighted.

Matter of national shame?
Where most parties privy to the case were lobbying for the elephant to be shipped abroad in the absence of local sanctuaries, there was one voice which called opposition.
For Biodiversity Expert and Islamabad Wildlife Management Board's Scientific Committee Chief, Prof. Zahid Mirza, shipping Kaavan to a different country was as a matter of national shame.
In his recommendations to the board, the professor instead offered a plan to rehabilitate the distressed animal in his home country. "Kaavan was already doing much better, thanks to the specialised assistance of people from Four Paws, another international NGO working alongside FTW. Since the elephant's greatest issue was loneliness and spatial constraints, I suggested extending his one acre enclosure to 10 to 15 acres. It was doable. The zoo was shutting down anyway. Later, we could introduce other animals within the same enclosure to keep Kaavan company until we have the resources to import a female companion for him," expressed the professor.
According to Professor Mirza, his recommendation carried zero fatality risk as compared to flying the captive animal to Cambodia and introducing him to wildlife he'd never met or seen.
"I warned the board that even if Kaavan survives the long-haul flight, there is no telling if the wild elephants would accept him. Kaavan's never seen a male elephant in his entire life. He'll be an easy target. Yet, all my suggestions were conveniently dismissed because everyone had already made their minds."
Winning a 'custody battle'
Unlike Professor Mirza, Kaavan's lawyer saw the elephant's situation no different from a child custody case. "It shouldn't be seen as an issue of national shame, as some think it is. We simply decided whatever was in the animal's best interest at the moment," he opined.
Translocating any mamothian creature, particularly one with a history of aggression and trust issues is an elephantine task and definitely not one without risks. Four Paws International's Press Officer Martin Bauer however believes that his team has done everything to ensure the elephant's safety during transit. "We have been training Kaavan to enter his transport crate and to stay in it, through protected contact thrice a day for weeks. Now, he no longer sees his crate as a threat which means he's good for departure," said Bauer.
As for the question of Kaavan adjusting in Cambodia, Four Paws believes that it is something which would require the healing of time. Per rehabilitation plans, upon reaching the wildlife sanctuary, 35-year old Kavaan will first stay in a small quarantine enclosure to help familiarise him with the surrounding. There, he will be provided aid for his physical and mental health, before his natural instincts kick in and he ready to meet the rest of the heard.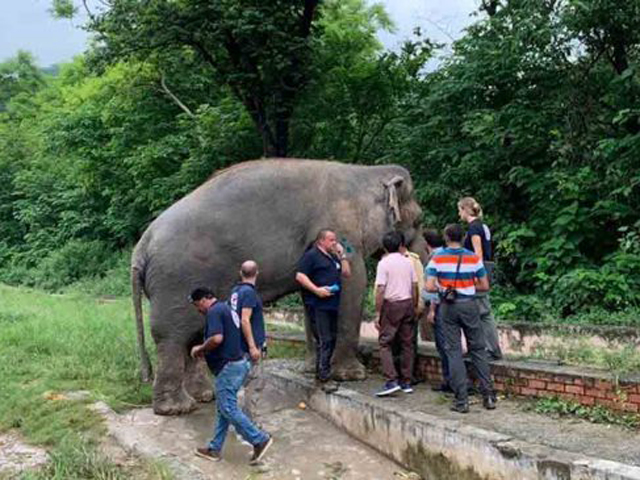 Muse for a movie
Where Kaavan's life has been of many trials and tribulations, through it all he has emerged as an international name, no short of stardom. His heroine is the American pop icon Cher, who like a knight in a shining armour, swooped in to the troubled animal's aid, freeing him from the clutches of evil.
The narrative of this Cher-led rescue story, has inspired a Smithsonian Channel documentary which is said to chronicle the "world's loneliest elephant's" journey to finding a new home.
Produced by Graham Hull and slated for release in 2021, the documentary is reported to be in its final stages of being shot. The production team, which has flown in the Hollywood veteran to Pakistan, will be covering Kaavan's departure from the country as well as his arrival in Cambodia.
Where Cher herself has been unavailable to press ever since arrival in the Islamic Republic, her partner and manager Mark Cowne said that the pop icon thinks of Kaavan's case as a great win for everyone. "It is wonderful that people of Pakistan have rallied for this cause with me and I have the greatest admiration for them, for sending Kaavan on a peaceful retirement," the Oscar nominate actress conveyed to The Express Tribune.
As for Kaavan's fate, it appears to be as murky at the moment, as it was some 35 years ago. However, if one is to pray for the best, it is hoped that of his many years in Pakistan, Kaavan is able to carry with him the warmth of some fond memories, stolen from a life turmoil—memories to look back on as he grazes through the tall grass of Cambodian wilderness.
COMMENTS
Comments are moderated and generally will be posted if they are on-topic and not abusive.
For more information, please see our Comments FAQ