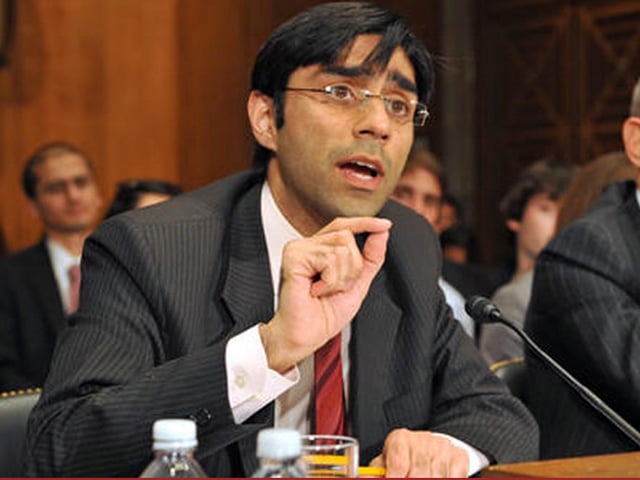 ---
ISLAMABAD:
Special Assistant to the PM on National Security Dr Moeed Yusuf on Thursday met Afghan Ambassador Najibullah Ali Khel and discussed the dossier containing irrefutable evidence of Indian state-sponsorship of terrorism in the Pakistan.
"Pakistan's economic security is linked to stability in Afghanistan as regional ties in Central Asia will benefit both countries," the special assistant told the Afghan ambassador.
"India is trying to destabilise Pakistan whereas the latter is making continuous efforts for peace in Afghanistan," he added.
The SAPM also discussed the recent visit of Prime Minister Imran Khan to Kabul. He said the two sides had agreed to work together to resolve security issues.
"The region can only move forward if Pakistan and Afghanistan are united in their thinking." He said,
The PM's aide added that prosperity in both the countries would come from mutual relations and trade. "The prime minister's visit to Kabul has encouraged mutual understanding.".
Yusuf said Pakistan was focusing on economic security where it could act as a natural hub for global economic interests.
He added that Pakistan and Afghanistan shared common geographical, historical, religious and cultural ties.
The Afghan ambassador assured the special assistant that his county's soil would not be used against Pakistan.
Separately, UN Secretary General Antonio Guterres has promised to review Pakistan's dossier on Indian terrorism and take appropriate action.
Briefing the media in New York, the UN secretary general's deputy spokesperson said the document had been received and it would be studied.
A day earlier, Pakistan's Ambassador Munir Akram has handed over the dossier to the UN secretary general.
Akram met Guteress at UN headquarters in New York on Tuesday and briefed him about the Indian involvement in terrorist activities in Pakistan.
The country's top diplomat, Shah Mahmood Qureshi, and the military spokesperson, Major General Babar Iftikhar, had presented the dossier earlier this month detailing India's involvement in terror attacks in Pakistan during the media conference.
Multiple video clips and audio clips, along with documents, were presented during the media conference of Indian handlers and terrorists communicating with each other and Indian intelligence handlers passing on instructions to terrorists in Pakistan.
Ambassador Akram told the UN chief that Indian was involved in orchestrating terrorist attacks in Pakistan and demanded him to take note of this.
On November 16, the foreign secretary briefed the envoys of the permanent members of the United Nations Security Council about the dossier.
The envoys were informed about India's involvement in planning, promoting, aiding, abetting, financing and execution of terrorist activities in Pakistan, read a statement issued by the Foreign Office.
.
(With input from APP)
.
COMMENTS
Comments are moderated and generally will be posted if they are on-topic and not abusive.
For more information, please see our Comments FAQ