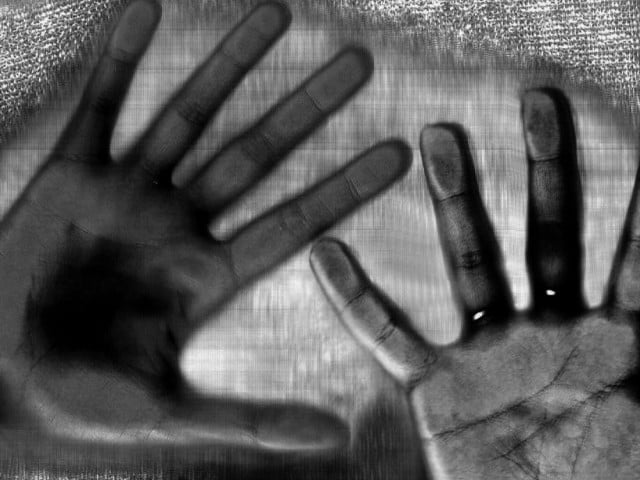 ---
KARACHI:
Pakistan was still reeling from the Motorway rape incident when Kashmore made the headlines. This time, a woman and her daughter - just five years old - had been gang-raped.
There were voices of condemnation, calls for punishment, cries for justice and amid this outcry, the dialogue on gender-based violence, which seemed to have died down recently, regained momentum. But what is the surety that this time around, too, the discourse would not be lost without any tangible results?
"We keep hearing 'society is jolted' as one rape case [is reported] after another, but we have been 'jolted' thousands of time. It's a joke now," pointed out criminologist Dr Naima Saeed, underlining the how society is filled with shock and indignation over rape incidents before falling into complacency time and again.
Because before Kashmore, there was the Motorway rape, the Zainab rape, the Kasur scandal, the Mukhtaran Mai rape…the list goes on.
Each incident sparked outcry that died down after days, weeks or months, until another woman or child fell prey to predators.
Alarming trend
The trend is scary and on the rise, suggests data collected by various non-profit organisations.
According to Sheraz Ahmed, from NGO War Against Rape, 39,989 child abuse cases were reported in the country between 2009 to 2019.
Between January and June this year, says a report by child protection NGO Sahil, at least eight cases of children being raped were reported daily, despite the pandemic posing a hurdle in the way of reporting cases.
Similarly, data collected by the Human Right Commission of Pakistan (HRCP) five years ago showed that a case of rape was reported every two hours in the country at the time.
It's possible the number has increased to such an extent by now that the country could be said to have a "rape problem," according to HRCP's Asad Iqbal Butt. "But whatever the reported data of child abuse in Pakistan, it's just a fraction of reality."
In this regard, he added, 95 per cent of juvenile abuse cases took place at children's homes, often perpetrated by family members. "This is why parents and elders often decide against reporting the cases," said Butt. "And it explains the gap between the reported and actual cases of child sexual abuse."
Dr Saeed remarked, "The number of rape cases has risen to such an extent in Pakistan and India that I would call [the region] a hub of sexual terrorism… mothers are being raped in front of their children and girls and boys as young as four years old are raped too."
In their heads
But what leads one to commit the heinous crime?
According to psychologist Dr Asha Bedar, rapists see inflicting abuse on women and children as an expression of power. "They want to show they are powerful and hence, target the most vulnerable individuals: women and children, including boys," she explained.
Besides, she added, children are not just vulnerable, but at times they may also be seeking attention and when their families fail to give it to them, they are easily manipulated and abused by predators.
'Far too little'
Dr Saeed expressed worry that rape cases would continue to rise, since society failed to condemn rape against women and children. "It is unfortunate that our society prefers supporting the powerful over the vulnerable. We cannot even expect a few words of [empathy] for victims facing any kind of oppression."
Dr Bedar explained this phenomenon as the "cultural protection" for rape. "Unfortunately, we have excuses ready [to justify rapists' behaviour] each time. We point to the clothes of a woman or a girl, or question why she was at a certain place at a certain time."
But then, she added, young children, including boys, were also sexually assaulted, implying that all questions towards rape survivors lose ground on this basis.
Moreover, Dr Saeed maintained that the members of harassment committees at various institutions and organisations, including women, often ended up protecting harassers instead of ensuring justice for victims.
Commenting on this societal response, Dr Bedar said that not only were rape survivors blamed, but people also tended to demand capital punishment for culprits, ignoring the need for debate to find a solution to the problem.
Talking about the Kashmore rape, Dr Saeed pointed to how society had praised the death of one of the culprits in an encounter. "People are too emotional. It would have created more long-lasting impact if he was punished through the judicial system."
Dr Bedar stressed the need for discussion so that the issue no longer remained a taboo and so that society was able to understand the sensitive issue in more depth. She called for initiating campaigns to teach children about consent, misogyny, toxic masculinity and gender-based issues.
Besides, she added the government needed to frame more stringent laws against rape, providing fast-track prosecution facilities and psychological help to survivors.
"But while gender-based violence is on the rise in Pakistan, efforts [to curb it] are far too little," she lamented.
Published in The Express Tribune, November 23rd, 2020.
COMMENTS
Comments are moderated and generally will be posted if they are on-topic and not abusive.
For more information, please see our Comments FAQ