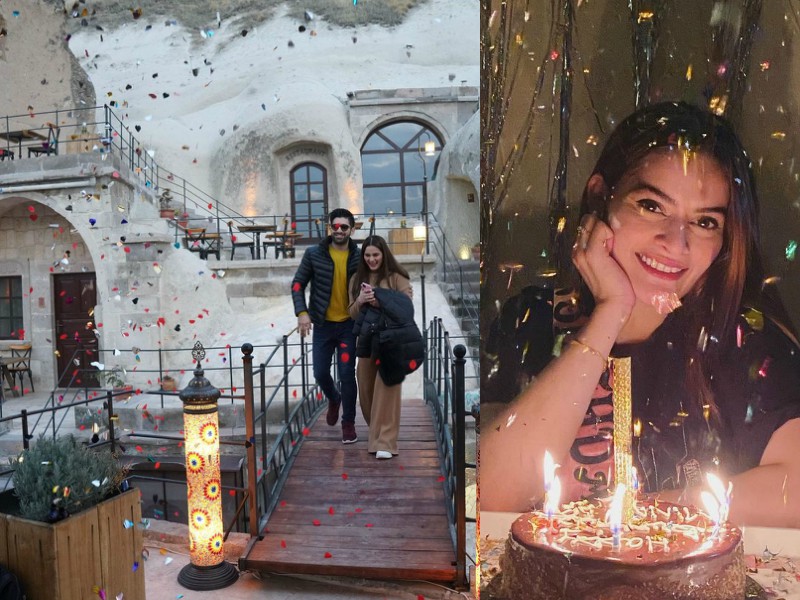 ---
Television actors and the entertainment industry's popular twins Aiman and Minal Khan turned 22 on November 20, 2020.
The birthday girls left the internet gushing with Insta stories from their respective celebrations, following which they uploaded pictures from the events.
Minal shared a video celebrating with her parents, along with posts making her rumoured relationship with Ahsan Mohsin Ikram Instagram official.
Following her birthday celebrations, which were all over social media, the Jalan starlet shared a loved-up picture with Ahsan. Posing in his embrace, Minal captioned the post with a heart and key emoji - dropping a truth bomb for her wondering fans.
Minal's birthday had been packed with surprises, courtesy of her alleged beau. The actor shared another snippet with the caption, "Ahsan made my meme come to life! Haha."
In one more post, she unveiled the decor of the event coupled with an elaborate caption. "I'm still surprised, Haha uff. Thankyou Ahsan for this unforgettable surprise birthday party last night! I had 0 idea about this. And they had Aiman on FaceTime! I can't believe it," wrote Minal. "You're so special and you made me feel so special. I'll forever be thankful to all my girls and all my friends who made it happen last night. The best 22, I love all of you so much," she concluded.
Minal's twin, Aiman, on the other hand, celebrated her birthday in a dreamy fashion in Turkey.
Her husband and actor Muneeb Butt, threw her a surprise in Cappadocia. Butt shared pictures and videos of the event on his Instagram, making some fans loathe their time in isolation even more.
"I love you so much that words cannot express it," he wrote beneath the post. "It is only the feelings of love, mutual respect and care that can express my true feelings for you. Here`s wishing you a very happy birthday with many more to come."
Aiman also posted pictures of the celebration and thanked him and her fans for their "lovely wishes."
They two are currently vacay-ing in Turkey, and have been sharing their adventures on social media.
Have something to add to the story? Share it in the comments below.
COMMENTS
Comments are moderated and generally will be posted if they are on-topic and not abusive.
For more information, please see our Comments FAQ