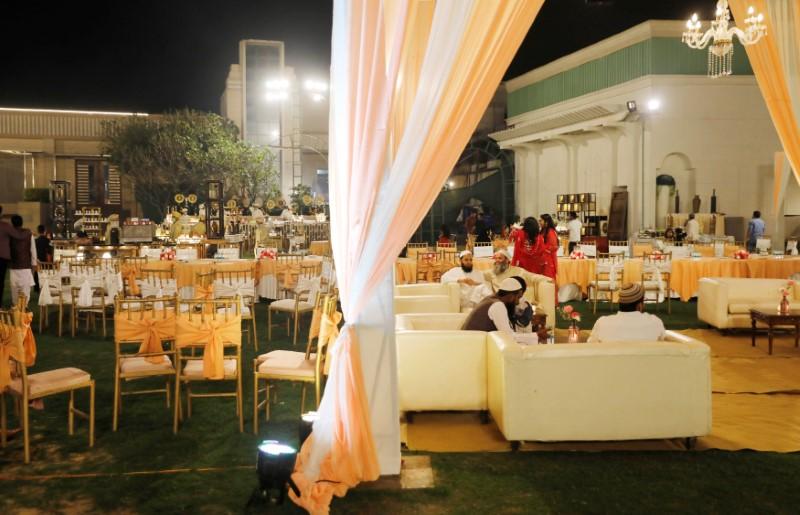 ---
LAHORE:
The Punjab government imposed a ban on indoor weddings and other ceremonies on Friday implementing National Command and Operation Centre's (NCOC)'s decision to limit the spread of coronavirus.
Wedding hall owners had earlier rejected the NCOC decision of banning indoor weddings, saying that they could not shut down their venues as they had collected advance payments for bookings.
According to a notification issued by Punjab's Secretary Primary and Secondary Health Care Captain (retired) Muhammad Usman, the ban would last until January 31 whereas wedding and other ceremonies would be allowed only in open spaces.
"Not more than 300 people will be allowed to gather at the public celebrations," the notification added. "SOPs will have to be followed in open space ceremonies."
The provincial health secretary urged the people to support the Punjab government. He added that the second wave of Covid-19 could only be curbed by people's cooperation and the government's aide.
On November 15, Marriage Hall Owners Association president Rana Raees and others claimed that Federal Planning, Development and Special Initiatives Minister Asad Umar was acting against the policies of Prime Minister Imran Khan, who had opposed the closure of businesses.
"We had approached the authorities on the matter earlier but no one responded to us properly, which is why we have decided to keep the halls functioning," said Raees, pointing out that there was no ban on processions and shopping malls and claiming that restrictions were only being imposed on wedding halls.
The wedding hall owners stated that they had just started to recover from the losses they had incurred during the lockdown imposed by the government in the wake of the Covid-19 outbreak in March.
"If we stop operating, how will we be able to pay our workers?" they questioned, further complaining that the government had not offered them any sort of relief either.
"The NCOC did not do anything for the hundreds of workers who lost their source of income during the lockdown," said one of the representatives, claiming that the government had received funds of billions of rupees on account of relief during the coronavirus pandemic but none of their workers were paid more than Rs12,000.
Raees told citizens not to worry as they would not close the wedding halls but would instead cooperate in every possible way, including the implementation of the coronavirus-related standard operating procedures.
The wedding hall owners further appealed to the PM, the Chief Justice of Pakistan and Sindh Chief Minister Syed Murad Ali Shah to save them from an impending economic crisis.
COMMENTS
Comments are moderated and generally will be posted if they are on-topic and not abusive.
For more information, please see our Comments FAQ