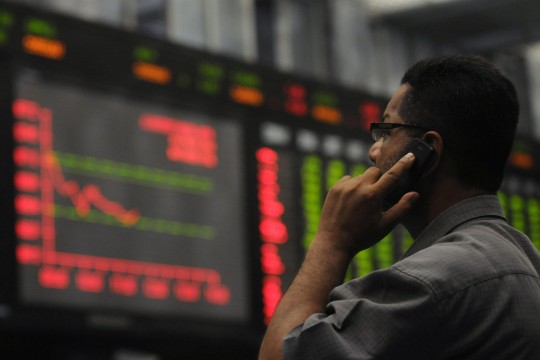 ---
KARACHI:
Pakistan's stock market had another day of choppy trading on Thursday and rose marginally by 26 points as investors were concerned over rising cases of Covid-19 in the country.
If the virus cases continued to ascend, market participants anticipated stringent measures by the government, which would prove detrimental to economic activities.
Upbeat balance of payments data, which showed a positive current account balance for the fourth successive month, failed to entice market players to maintain the buying momentum.
In addition to that, encouraging data of foreign exchange reserves, which climbed to a two-and-a-half-year high, had no significant effect on the benchmark index and it remained range bound for most part of the session.
Earlier, the market opened with minor ups and downs, however, the two positive economic indicators helped the KSE-100 index surge around 250 points in early hours. Later, investors' excitement died down and selling pressure emerged, which dragged the market down.
At close, the benchmark KSE-100 index recorded an increase of 26.03 points, or 0.06%, to settle at 40,540.70 points.
Arif Habib Limited, in its report, stated that the market continued to trade in a narrow range amid volumes of less than 200 million shares, as recorded in the past couple of sessions.
Uncertainty over a fresh lockdown and rising Covid cases amid finalisation of an IMF review kept things in limbo in the market. HBL, UBL and Lucky Cement contributed some points to the index, but it was pulled back by Oil and Gas Development Company, Pakistan Petroleum and DG Khan Cement.
International oil prices also remained range bound, causing exploration and production stocks to trade in a narrow range, especially Pakistan Oilfields.
Overall, the banking sector helped the index climb 230 points during the session, however, it ended the day at +26 points, the report said.
JS Global analyst Maaz Mulla said the market remained volatile throughout the day, hitting intra-day high of +230 points and intra-day low of -83 points. The index closed at 40,541, up 26 points.
Daily traded value stood at $51 million while volumes came in at 189 million shares, up 29%. Major contribution to the total market volume came from TRG Pakistan (+3.6%), Unity Foods (+2.1%), Faysal Bank (+2.7%) and Aisha Steel Mills (0%) with a cumulative 62 million shares changing hands.
Banking and cement sectors closed higher than their previous day's close where HBL (+1.2%), Faysal Bank (+2.7%), UBL (+0.9%), Lucky Cement (+0.9%), Maple Leaf Cement (+0.7%) and Pioneer Cement (+0.2%) were the major movers.
Interest was seen in the technology sector for the second consecutive day where TRG Pakistan (+3.6%), Avanceon (+1.9%) and NetSol (+7.5%) remained in the green territory.
"We expect the market to remain bearish due to political uncertainty and increasing corona cases globally. Hence, we recommend investors to avail themselves of any opportunity to buy on dips," the analyst said.
Overall, trading volumes rose to 188.6 million shares compared with Wednesday's tally of 145.9 million. The value of shares traded during the day was Rs8.1 billion.
Shares of 379 companies were traded. At the end of the day, 170 stocks closed higher, 188 declined and 21 remained unchanged.
TRG Pakistan was the volume leader with 27.1 million shares, gaining Rs1.95 to close at Rs55.75. It was followed by Unity Foods with 17.8 million shares, gaining Rs0.47 to close at Rs23.33 and Faysal Bank with 9.1 million shares, gaining Rs0.44 to close at Rs16.99.
Foreign institutional investors were net buyers of Rs12 million worth of shares during the trading session, according to data compiled by the National Clearing Company of Pakistan.