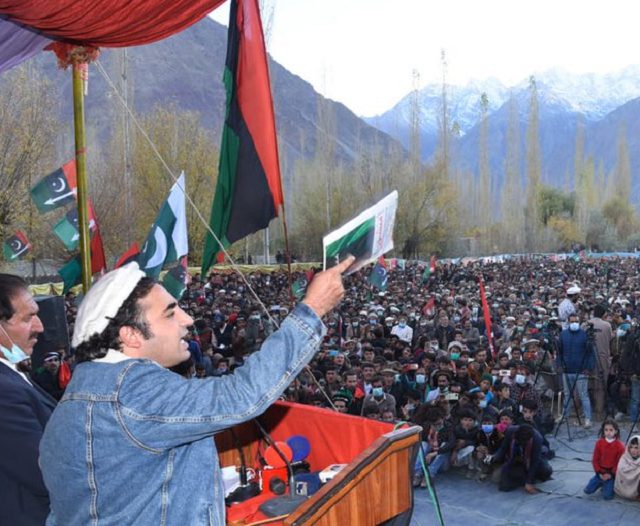 ---
GILGIT:
Pakistan Peoples Party (PPP) chairman Bilawal Bhutto Zardari has once again warned the PTI-led federal government of 'dire consequences' if attempts were made to steal the people's mandate in Gilgit-Baltistan (G-B) elections.
"Federal government must stay away from stealing people's mandate or else repercussions will be too serious to deal with," Bilawal said while speaking to the reporters on the eve of the elections.
The third elections of G-B Legislative Assembly are all set to be held on Sunday (November 15) with over 200 candidates belonging to PTI, PML-N, PPP and other political parties are contesting elections for 24 seats.
The campaigning for the election ended on midnight Friday. The region's administration said at least 15,900 law-enforcement personnel would be deployed for security purposes. Authorities have declared 418 polling stations as highly sensitive and 311 as sensitive.
"People will react if attempts are made to steal people's mandate and it will have serious implications," Bilawal cautioned.
The PPP chairman said he had been in the region for so long to ensure that fair and transparent elections are held and no attempts are made to rig the polls.
"PPP will get majority as people are affiliated to his party since 1970s. If PTI forms government in G-B, people of this region will also suffer just as the rest of the country," he added.
Bilawal also said tourism could be turned into a major industry in G-B but the incumbent government was not aware of its potential.
If PPP came into power, he said, it will install power generation projects in the area to generate 50,000 megawatts of electricity through public private partnership.
The PPP chief said federal bureaucracy was responsible for the problems of the mountainous region as they had "no knowledge of the area and its issues".
"The money that was supposed to be spent on people was spent on Metro and Orange Train schemes. The federal government of PTI believes in centralism, therefore the rights of the provinces are being violated," he commented.
PPP leadership has rendered extraordinary services in making the party strong and active due to which it has become one of the most popular in the region, Bilawal maintained.
COMMENTS
Comments are moderated and generally will be posted if they are on-topic and not abusive.
For more information, please see our Comments FAQ