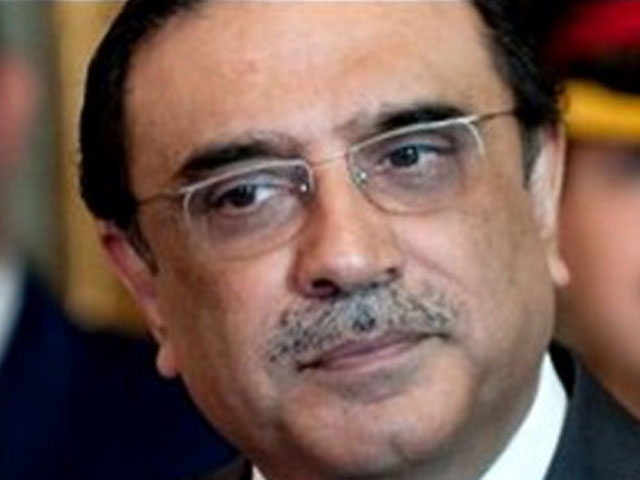 ---
ISLAMABAD:
The Supreme Court Registrar Office had raised objections to an application of former president Asif Ali Zadari to transfer a corruption case filed against him in an accountability court of Islamabad to an accountability court in Karachi. Zardari has challenged this order of the registrar office.
PPP Co-chairman Zardari on November 3 approached the Supreme Court, requesting it to transfer the National Accountability Bureau's (NAB) Toshakhana – gift repository – reference from Islamabad's Accountability Court No III to a court in Karachi in view of Zardari's ill health.
The PPP leader had also claimed that he had been implicated in false, fabricated and politically motivated cases due to exact vengeance.
The apex court registrar officer had, however, declared the civil miscellaneous appeal (CMA) as "not entertainable" and returned the CMA in original along with paper books.
According to the SC office, the application was not entertainable as NAB –the prosecution in the case – filed the reference in view of an order of the Supreme Court.
It said the top court had already rejected Zardari's previous application to transfer graft cases to Karachi courts. It said the Supreme Court rules forbid refilling a review application.
The PPP leader has challenged the SC office's order, claiming that it is not sustainable in law and case law as enunciated by the Supreme Court.
The appeal said it is the constitutional right of the appellant to knock the door of the top court but the SC registrar office order shows that the rights of the appellant have been blocked at the institutional level which is not the practice of the Supreme Court.
It said the order is based on a misconception of law and rules framed by the apex court as the question of returning an application on non-maintainability relates to the judicial work which cannot be taken up on the executive side or through delegation of powers for exercising judicial work.
"The impugned order has been signed by Assistant Registrar (Civil-II) for Registrar which is violative of Order 5, Rule 1 of Supreme Court Rules, 1980."
It said a perusal of Order V Rule 1 of Supreme Court Rules shows that the power of returning the application in original along with paper books is not within the ambit and power of the Registrar "what to speak about assistant registrar as laid down in Order V Rule 1 the Supreme Court.
"It is respectfully prayed that this honourable court may kindly accept the appeal filed by the appellant and set aside the order dated 10-11-2020," it added.
The PPP co-chairperson is facing multiple corruption cases that stemmed from a mega money laundering scandal, which came to the fore in 2018.
Zardi, his sister Faryal Talpur and several of their business associates are being tried as part of a 2015 case regarding fake accounts and fictitious transactions —which were initially found to have amounted to Rs35 billion – conducted through 29 "benami" accounts.