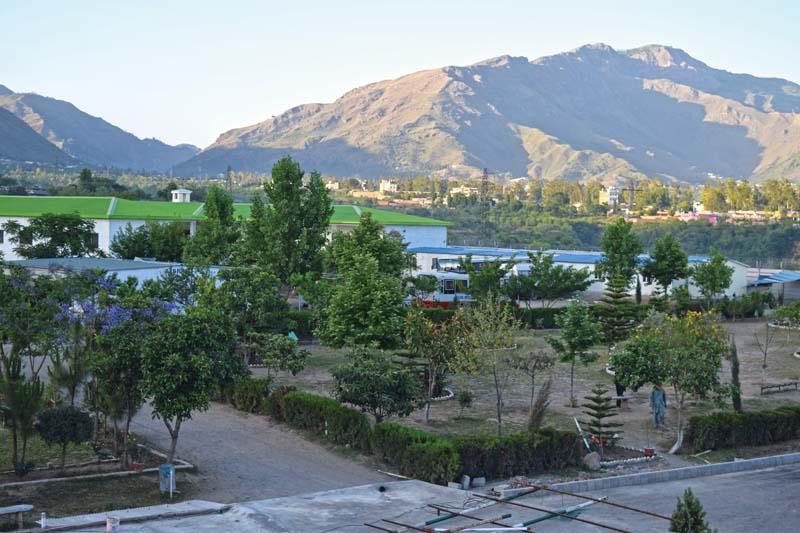 ---
ABBOTABAD:
With construction activity on and around the Karakoram Highway in Abbottabad picking up, they are also creating a lot of pollution and dust raising health concerns for locals.
COMSATS Institute of Technology Abbottabad's Environmental Studies Department Head Dr Qaiser Mehmood said that air pollution levels in the area have crossed dangerous levels, posing a major threat to public health. It is also one of the main causes of the rise in novel coronavirus (Covid-19) cases in the city, he claimed.
Dr Mehmood said that as per their research, the highest pollution levels recorded in the area was a particulate matter concentration of 3.4 per cubic metres of air, far higher than acceptable levels. Fine particulate matter (PM2.5) is an air pollutant that is a concern for people's health when levels in the air are high. PM2.5 are tiny particles in the air that reduce visibility and cause the air to appear hazy when levels are elevated. These fine particles can get deep into lungs and some may even get into the bloodstream. Exposure to these particles can affect a person's lungs and heart. Coarse particles (PM10-2.5) are of less concern, although they can irritate a person's eyes, nose, and throat.
The environmental expert said that construction projects result in traffic jams in particular areas. With a lot of cars standing still with their engines running, they continue to create smoke and unburnt fuel. He added that many people have developed asthma or other respiratory diseases with several patients being admitted to local hospitals daily.
Published in The Express Tribune, November 12th, 2020.
COMMENTS
Comments are moderated and generally will be posted if they are on-topic and not abusive.
For more information, please see our Comments FAQ