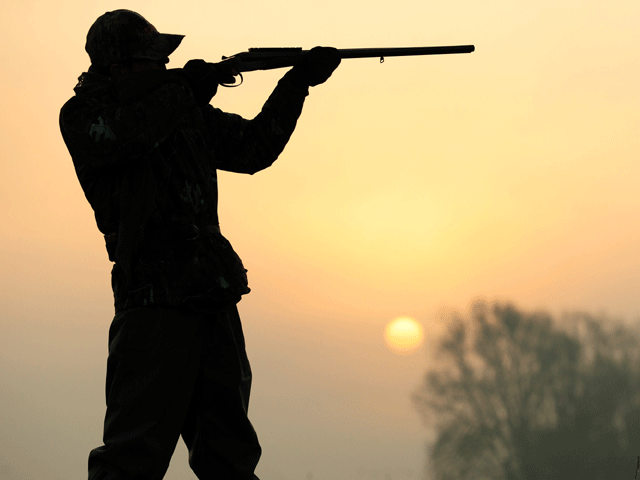 ---
PESHAWAR:
The provincial wildlife department has fined a man for illegally hunting a rare pheasant in the Kurram tribal district.
Officials of the Khyber-Pakhtunkhwa (K-P) Wildlife Department in the Kohat district - which also oversees issues in Kurram - said that they found out about the illegal activity after the culprit, identified as Qamar Abbas, posted pictures on social media in which he was posing with the body of the rare pheasant and the gun he used in the alleged hunt.
Kohat District Wildlife Officer Samad Wazir said the bird held up by Abbas was a Himalayan Monal, which is locally known as 'Murgh-e-Zarin'. It is found in the mountainous Koh-e-Sufaid - an area which straddles the Pakistan-Afghanistan border.
They added after receiving information, a team from the department along with police raided Abbas's house and took him into custody. They later fined him Rs40,000 for illegal poaching.
The official said that pheasant hunting is banned in the mountain ranges of K-P. However, he admitted that people continue to hunt them due to a lack of enforcement.
"Monals are found at an altitude of 8,000 feet or above with the Koklass pheasant and hunting them is prohibited," he said, adding that the pheasant is highly valued for its beautiful feathers, while the crest of the male pheasant is equally valuable.
The Monal pheasant has been declared as a protected bird by the International Union for Conservation of Nature (IUCN) which means that no one can hunt it despite having legal permission from the wildlife department, Wazir added.
The bird is mostly found in Chitral, Kurram, Swat, Upper Dir and Kohistan districts.
The wildlife official said that the high-altitude merged tribal districts and hills are considered to be the best habitat for wildlife and require conservation, which can be done with the cooperation of locals.
The provincial chief conservator has been working to keep endangered species alive, with as many as eight pheasantries working on captive breeding of pheasants over a total of 5.16 hectares in different areas of the province.
Published in The Express Tribune, November 6th, 2020.