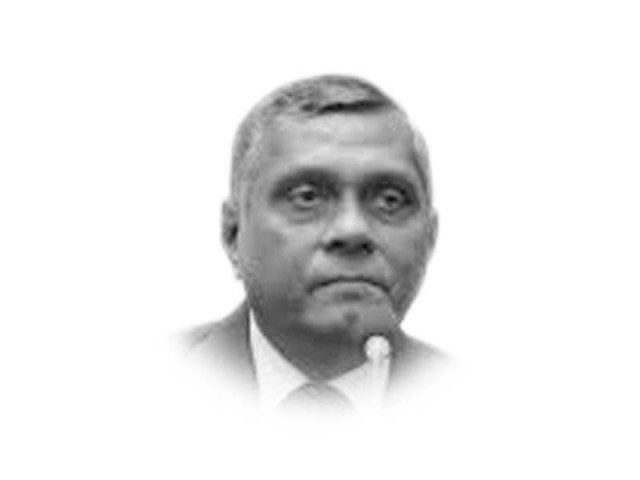 ---
Since August 5, 2019, when India unilaterally ended the special status of Occupied Jammu & Kashmir, opposition parties in Pakistan, particularly the PML-N termed that event equivalent to the "Fall of Kashmir". Is it true that Pakistan has lost Jammu & Kashmir? How did India manage to absorb J&K particularly its Muslim-majority valley? To what extent is the offensive launched by former supporters of India, namely Mehbooba Mufti and Farooq Abdullah, against ending the special status of occupied J&K a major test case for India? These are the questions which are frequently raised by those who consider the "Fall of Kashmir" an unfortunate and a bitter reality.
Back-to-back steps taken by the Indian government following the August 5 act will give credence to the notion that New Delhi is in no mood to reconsider the step. By October 31, 2019, not only were the rights of permanent residents of J&K abolished but the flag of J&K in the government secretariat building in Srinagar was replaced with the Indian flag. The new domicile laws introduced by the Indian Ministry of Home Affairs through an executive order "reserves government jobs in J&K for its 'domiciles', which also includes non-locals living in the UT for 15 years and children of central government employees serving here for 10 years. Before the reorganisation of J&K, non-locals were not eligible for jobs in the erstwhile state due to special constitutional safeguards incorporated in the Constitution of India through a presidential order of 1954."
India's drive to transform the demography of the Muslim-majority valley of Kashmir got an impetus after August 5 when New Delhi, following the Israeli model of annexing Palestinian lands in the occupied West Bank, ventured on establishing settlements under the cover of promoting tourism and investments. Grabbing more than 15,000 acres of land for establishing tourist resorts in the occupied valley is the first step to unleash the process of colonising its lands. The next step will be to identify land to establish Indian settlements composed of Kashmiri pundits who fled the valley following the outbreak of violence in 1990 and were accommodated in refugee camps in Delhi and Jammu. On October 31, there was a complete strike in the valley of Kashmir to protest against the Indian policy to allow non-locals to buy land which was not the case before August 5, 2019. The All-Party Hurriyat Conference in a statement lamented: "A policy of permanent demographic change is being pushed to snatch our land, destroy our identity and turn us into a minority in our own land."
India is embarking on a well-calculated plan to turn its age-old dream to 'Indianise' J&K, particularly the valley, into a reality. For this purpose, India had been waiting since October 27, 1947 when its forces had occupied Srinagar, and after establishing its control over the majority parts of J&K, staged the drama of giving it special status under Article 370 of the Indian Constitution. It was on August 5, 2019, when the Modi regime — while implementing BJP's manifesto which pledged to end the special status of J&K — got the bill titled "Jammu & Kashmir Reorganization Act" passed from the Indian parliament. The real intentions of India got exposed but nothing much was done to prevent New Delhi from crossing the red line and annexing J&K in the Indian Union. The manner in which two union territories composed of Ladakh on the one hand and J&K on the other were put directly under the control of New Delhi, reflected confidence and clarity on the part of the Modi regime to snatch Kashmir once and for all. The "Fall of Kashmir" is now a bitter reality because of India's short- and long-term plans to fully absorb J&K.
New conditions in J&K after August 5, 2019, reflect two major ground realities. First, almost all Muslim Kashmiris are now against India and want its occupation forces to leave J&K. When Farooq Abdullah, a former chief minister of J&K, expressed his bitterness that J&K shall be willing to join China rather than remain a part of India, he expressed a fundamental reality reflecting hatred against New Delhi. Same is the case with another former chief minister, Mehbooba Mufti, whose Peoples Democratic Party (PDP) had formed a government with BJP a couple of years ago. At a press conference in Srinagar a couple of days back, she bluntly stated that she "has no respect for the Indian flag" and unless the special status of J&K was restored by the Indian government, there would be no question of holding a dialogue with the Modi regime and giving respect to the Indian flag. Both Abdullah and Mufti were recently released after their house detention since August 5, 2019, and both leaders despite their past tilt in favour of India demanded that efforts to change the demographic complexion of occupied J&K particularly, the Muslim-majority valley by introducing a new domicile law and settlement plans of non-Muslims must be immediately stopped. But, it is too late for the former pro-Indian Kashmiri leaders to condemn New Delhi for its absorption of J&K and unleashing the reign of terror particularly in the valley since August 5 by enforcing a lockdown, curfew, extrajudicial killings, arrests and detention of Kashmiri Muslims, particularly the youths. India has managed to neutralise international condemnation and pressure on the repressive measures in J&K. It doesn't care if Kashmiri Muslims hate its occupation because it knows that at the moment there is no threat against its unilateral repeal of J&K's special status.
Second, the reality of Pakistan's failure to prevent India's absorbing of J&K and providing Kashmiri resistance active support tends to further augment New Delhi's confidence in strengthening its control over occupied areas. Last year in October, when the Jammu & Kashmir Liberation Front (J&KLF) announced crossing the Line of Control to express solidarity with their suppressed counterparts in the occupied valley, they were stopped by Prime Minister Imran Khan fearing an Indian retaliation. Since then, there is no indication of any attempt made by J&KLF and other Kashmiri nationalist groups to cross the LoC. Pakistan's drive to declare Gilgit-Baltistan as Pakistan's fifth province is also termed a violation of the UN Security Council resolutions calling for the holding of a plebiscite in the whole of the disputed region, including Gilgit-Baltistan. Absorbing the two northern territories controlled by Pakistan would weaken its age-old stance on J&K and justify India's unilateral abrogation of Article 370. Such a step would also be a violation of the 1973 Constitution of Pakistan.
The weakening of the cause of Kashmiris is also visible because of the domestic political and economic crises in Pakistan. Augmenting the civil-military strife and Imran Khan's single-point agenda of marginalising his political opponents by terming them 'traitors' and 'corrupt' tends to give a wrong message to the people of Indian Illegally Occupied Jammu & Kashmir (IIOJ&K).
Published in The Express Tribune, November 6th, 2020.
Like Opinion & Editorial on Facebook, follow @ETOpEd on Twitter to receive all updates on all our daily pieces.
COMMENTS
Comments are moderated and generally will be posted if they are on-topic and not abusive.
For more information, please see our Comments FAQ