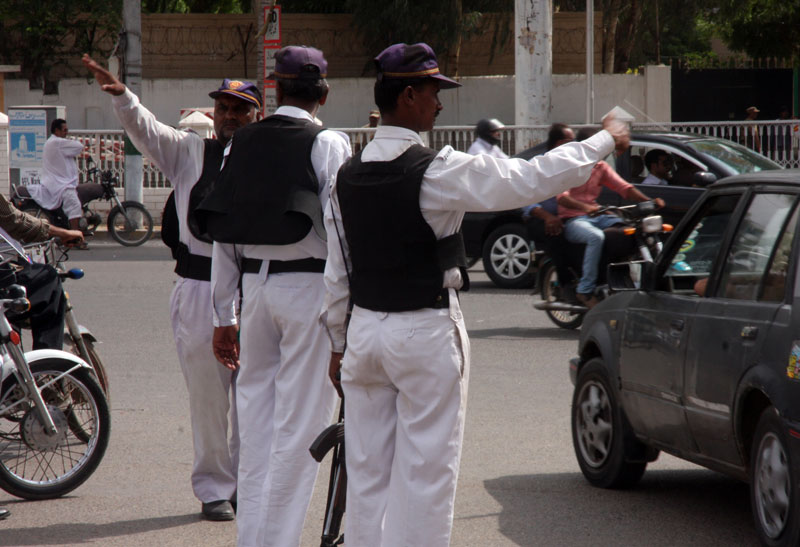 ---
KARACHI:
To ensure accountability, many police departments around the world have for years outfitted their officers with special cameras. Known as bodycams, the shoulder-mounted devices have delivered crucial evidence in several high-profile cases of abuse of power and police brutality.
Pakistan, now, is on track to follow suit and adopt the technology. According to sources, 150 bodycam kits are being procured for Karachi's traffic police under a pilot project.
Speaking to The Express Tribune, officials privy to the developments said the move is part of a wider effort to modernise traffic police.
The bodycam kits, they said, will be introduced along with other modern policing tools, such as on-the-spot alcohol testing kits, vehicle-mounted cameras, camera-equipped drones and portable speed-breakers and traffic lights. The entire programme is estimated to cost more than Rs110 million, they added.
"This will be the first time any Pakistani police official will wear a bodycam," an official said. "The camera will record the officer's movement and activity while they are on duty. Whatever they say to citizens and however they behave with them, all of it will be recorded along with the concerned citizen's reaction."
He added that the bodycams would not only improve the behaviour of traffic police officers but also reduce citizens' complaints about their conduct.
According to the official, 90 alcohol test kits are also being procured for the Karachi traffic police. "These kits should allow us to take action against those driving under the influence of alcohol and reduce traffic accidents, especially those that take place at night," he said.
The official added that the department also intends to use camera-equipped drones to get bird's eye views of traffic jams and figure out what is causing them.
Published in The Express Tribune, November 2nd, 2020.