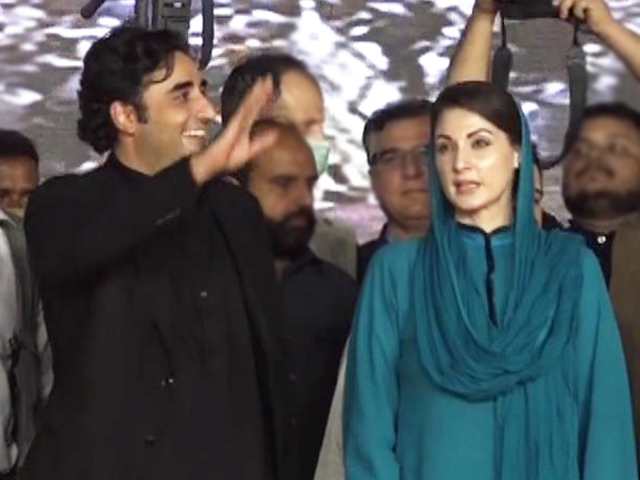 ---
KARACHI:
As the opposition's 11-party anti-government movement carries on with its announced rallies, holding the third Pakistan Democratic Movement public meeting in Quetta on Sunday, Pakistan Tehreek-e-Insaf (PTI) and Pakistan Peoples Party (PPP) leaders continued to respond to statements made by ruling parties in Sindh and Centre.
PTI MPA Haleem Adil Shaikh claimed that the opposition parties were harming the solidarity of the nation. Fifth generation warfare has already begun, according to Shaikh.
Addressing a press conference on the day, Shaikh dubbed the Pakistan Democratic Movement as the 'Papa Daddy Bachao Movement' [Save Papa Daddy Movement] and referred to it as a conspiracy hatched by "a political absconder leader involved in corruption".
The PTI lawmaker reiterated that the country's leadership comprises Prime Minister Imran Khan and the armed forces. "Military and civil leadership of Pakistan are on the same page."
Taking potshots at Pakistan Muslim League-Nawaz leader Captain (retd) Safdar, he claimed the PPP-led Sindh government's claim that the Sindh IGP was kidnapped from Karachi, and the provincial police force collectively submitting leave applications in protest, was also part of fifth generation warfare.
Shaikh also took jibes at leaders of other opposition party's including Jamat-e-Ulema Islam-Fazl and Pashtunkhwa Milli Awami Party'.
The situation in Balochistan is not good, said Shaikh, adding that the opposition was holding their rally despite security threats in Quetta. The federal and provincial governments provided security, however, he said.
Shaikh asked where respect for the police was when Sindh chief minister allegedly harassed former IGP Kaleem Imam. The incumbent Sindh IGP was kidnapped by the Sindh government, alleged Shaikh dismissing recent happenings and subsequent accusations as drama. "We will expose all corrupt police officers."
Meanwhile, advisor to Sindh CM on environment and law and PPP leader Murtaza Wahab said that comparing or associating the opposition's anti-government movement with India or Israel was ridiculous.
The incompetent federal government has turned the country bankrupt, claimed Wahab.
Responding to Federal Railways Minister Sheikh Rasheed's recent statements, he opined that this showed that the ruling party is feeling the pressure of the opposition's movement.
"The PPP leadership has rendered countless sacrifices for the beloved country and the restoration of democracy, but your [PTI's] party is not even familiar with the word sacrifice," claimed Wahab.
He accused leaders and ministers of the ruling party of circulating 'fake and baseless videos on social media'.
"Your tactics have exposed your confusion. Murad Saeed makes a failed attempt of criticising PPP leadership and justifying himself. No matter, how hard you try, the incompetent government is bound to go."
Published in The Express Tribune, October 26th, 2020.
COMMENTS
Comments are moderated and generally will be posted if they are on-topic and not abusive.
For more information, please see our Comments FAQ