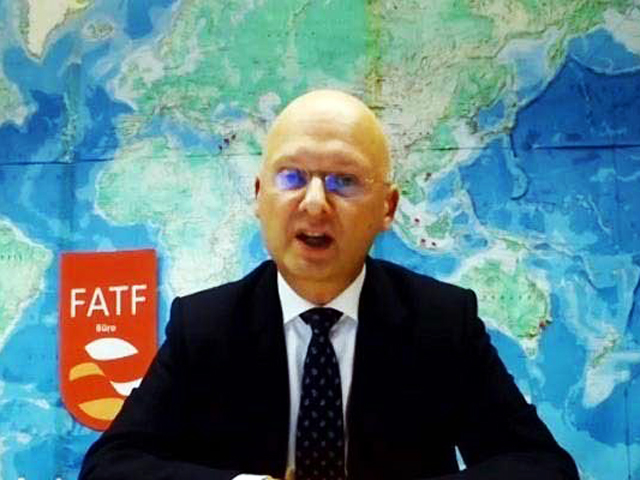 ---
ISLAMABAD:
The Financial Action Task Force (FATF) on Friday gave yet another lifeline to Pakistan and decided to retain the country in its grey list for four more months while acknowledging political commitment to end deficiencies in the country's terror financing regime.
Pakistan has again avoided being placed on the global dirty money watchdog's blacklist, although it could not fully implement its 27-point action plan till June 2020 deadline. But the country made significant progress on 21 points of the plan.
"The FATF takes note of the significant progress made on a number of action plan items and to date, Pakistan has made progress across all action plan items and has now largely addressed 21 of the 27 action items," according to a statement issued by the FATF Plenary on Friday.
But it said that "as all action plan deadlines have expired, the FATF strongly urges Pakistan to swiftly complete its full action plan by February 2021".
In June 2018, Pakistan had been listed among the 16 jurisdictions under increased monitoring due to strategic deficiencies in their anti-money laundering (AML) and combating financing of terrorism (CFT) framework.
The FATF decided to remove Magnolia and Iceland from the grey list.
"Pakistan has achieved impressive progress on 21 FATF action plan and remaining six are rated as partially complete," Minister for Industries and Production Hammad Azhar tweeted.
"Within a year, we progressed from five to 21 completed items and the FATF acknowledged that any blacklisting is off the table now," he added.
In February this year, the FATF plenary had warned that "all deadlines in the action plan have expired and should significant and sustainable progress, especially in prosecuting and penalising terror financing, not be made by the next plenary, the FATF will take action, which could include the FATF calling on its members and urging all jurisdictions to advise their investors to give special attention to business relations and transactions with Pakistan.
"The government needs to implement all the laws and also has to focus on the performance of law enforcement agencies," said Dr Miftah Ismail, former finance minister, while speaking at Express News programme –The Review.
Responding to a question, Ismail said that the current political instability should not affect the government's working on improving the AML and CFT regime. He added that decisions regarding the FATF were jointly taken by the military and political leadership.
In June 2018, Pakistan made a high-level political commitment to work with the FATF and the Asia-Pacific Group (APG) to strengthen its AML/CFT regime and to address its strategic counterterrorist financing-related deficiencies.
"Pakistan's continued political commitment has led to progress in a number of areas in its action plan," said the FATF.
It took action to identify and sanction illegal MVTS, implementing cross-border currency and BNI controls, improving international cooperation in terror-financing cases, passing amendments to the ATA to increase the sanctioning authority, financial institutions implementing targeted financial sanctions and applying sanctions for AML/CFT violations, and controlling facilities and services owned or controlled by designated persons and entities, according to the global body.
However, Pakistan still needs to improve its working in many areas, particularly curbing the terror financing.
An official handout stated that "Pakistan should demonstrate that law enforcement agencies (LEAs) are identifying and investigating the widest range of TF [terror financing] activity and that TF investigations and prosecutions target designated persons and entities, and those acting on behalf or at the direction of the designated persons or entities".
"There is also a need to demonstrate that TF prosecutions result in effective, proportionate and dissuasive sanctions," said the FATF.
Pakistan also needs to demonstrate effective implementation of targeted financial sanctions against all 1267 and 1373 designated terrorists and those acting for or on their behalf, preventing the raising and moving of funds including in relation to NPOs, identifying and freezing assets (movable and immovable), and prohibiting access to funds and financial services.
Also, the country needs to show to the world that the enforcement against targeted financial sanctions violations, including in relation to non-profit organisations (NPOs), of administrative and criminal penalties and provincial and federal authorities cooperating on enforcement cases.
On money laundering, the Asia-Pacific Group (APG) had also retained Pakistan on its "Enhanced Follow-Up" list for a meagre progress on technical recommendations of the FATF to fight money laundering and terror financing.
The APG changed the compliance status only on one account against Pakistan's request for declaring the Financial Monitoring Unit, National Risk Assessment Framework and TFS-related recommendations as compliant. The APG acknowledged progress on a recommendation related to the FMU due to amendments in the Income Tax Ordinance.
COMMENTS
Comments are moderated and generally will be posted if they are on-topic and not abusive.
For more information, please see our Comments FAQ