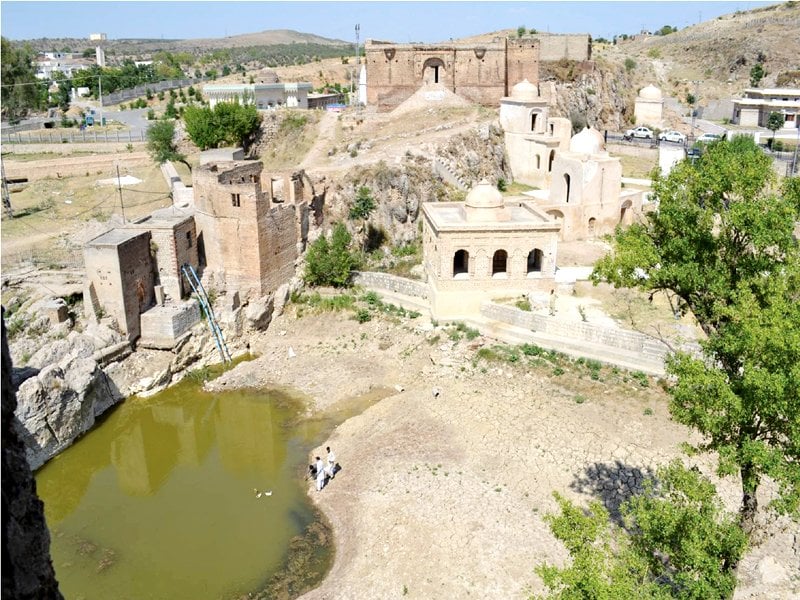 ---
ISLAMABAD:
An environmental body has recommended the installation of groundwater meters to track water levels at the historic Katas Raj Temples in Chakwal.
The recommendations were contained in a report of the Environmental Protection Agency (EPA) which were submitted to the Supreme Court (SC) on Tuesday where a three-member bench heard the suo moto case on the waters of the Katas Raj Temples. The bench was led by Justice Umar Ata Bandial and comprised Justice Yahya Afridi and Justice Sajjad Ali Shah.
During Tuesday's proceedings, Punjab Additional Advocate General Faisal Chaudhry submitted the EPA's report.
Chaudhry said that the EPA's report detailed the reasons for waters in temple's historic pond drying up and for the underground water table falling.
He added that the agency has recommended the installation of water meters in the area.
Justice Bandial asked whether a chairman has been appointed for the Evacuee Trust Property Board (ETPB).
At this, Pakistan Hindu Council's patron-in-chief and MNA Ramesh Kumar Vankwani said that despite the court's order to appoint a minority representative, a bureaucrat - Aamir Khan - has been appointed as the chairman of the board.
He added that the ETBP oversees a total of 1,831 temples and gurdwaras in the country. Of these, he said that 31 are functional while around 1,799 temples and gurdwaras are either under illegal occupation or have been given to private parties and are not in the direct control of the ETPB.
With regards to the historic temples, Vankwani complained that there were neither any lights installed nor are the statues of Hindu deities placed in any of its many temples, which would give it the semblance of a functional worship place.
The court issued notice to the ETBP chief and sought a comprehensive report and adjourned further hearings until November.
Earlier, Justice Yahya Afridi recused himself from hearing the case.
The Katas Raj temple complex comprises of several Hindu temples which are connected by walkways. The temple complex is surrounded by a pond called Katas and is regarded as sacred by the Hindus because they are mentioned in the Puranas to have been created from the teardrops of Shiva after he wandered the earth inconsolable after the death of his wife Sati.
When the dried pond of the temple caught limelight in 2016, the SC took suo moto notice of the matter. Then chief justice Saqib Nisar had remarked that large cement factories operating in the vicinity were consuming water worth millions of rupees without paying their dues and that taxes should be imposed on the factories.
Published in The Express Tribune, October 21st, 2020.