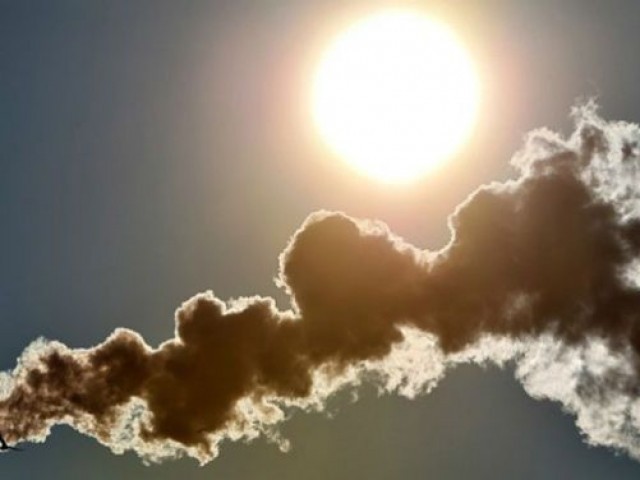 ---
ISLAMABAD:
The World Air Quality Report 2019, has ranked Pakistan as the second-most polluted country in the world, accounting for one of the highest concentrations of fine particulate matter (PM2.5) in the air.
The report stated that the poor air quality accounts for some 113,500 deaths in Pakistan annually, or around nine per cent of all deaths recorded in the country annually.
Pollution is also quite costly for the poor country as it inflicts damage worth a whopping $12.51 billion every year.
Due to the depleting air quality, the report pointed out that it has contributed to reducing the average age of Pakistani citizens by around 2.5 years.
Meanwhile, it noted that the Ministry of Climate Change (MoCC) has formulated a draft for the new Pakistan Clean Air Programme 2020.
As per the report, available with The Express Tribune, the air quality guidelines set by the World Health Organisation (WHO) say that the reduction of annual average PM2.5 concentrations from 35 µg/m3, to around 10 µg/m3, could help reduce deaths related to air pollution by about 15 per cent.
However, it noted that PM2.5 concentrations in Pakistan have been recorded to be at least 100 per cent above this threshold with levels at 65 µg/m3.
This level is the second-highest recorded in the world.
The draft further stated that big, industrial cities such as Karachi, Lahore, Peshawar, and Faisalabad have been included in the list of the most polluted cities in the world.
The document termed emissions from traffic congestion due to disorganised transportation, industrial and power plants running on fossil fuels, and improper burning of solid waste as the major causes of environmental degradation in the country.
It added that as much as 71,000 tonnes of solid waste is generated daily from the larger metropolitan cities of Pakistan but there is no proper system to dispose of it efficiently.
The report further said that the government has initiated several programmes to cover up environmental damages in the country with the introduction of the electric vehicle policy. Apart from this, the government has started importing the relatively environmentally-friendly Euro-V compliant fuel.
It further highlighted that the government has shut down industrial units in 12 of the most polluted districts for two months during the summer season to mitigate environmental pollution while brick kilns across the country were being shifted to the environmentally-friendly Zig-Zag technology.
Published in The Express Tribune, October 16th, 2020.
COMMENTS
Comments are moderated and generally will be posted if they are on-topic and not abusive.
For more information, please see our Comments FAQ