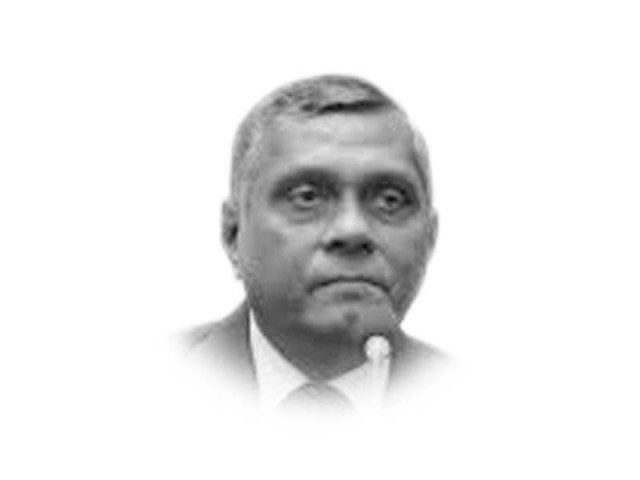 ---
The first American presidential election debate held on September 29 between Donald Trump and Joseph Biden reflected deep-seated polarisation in the American political scene, ranging from racial violence to economic slump and enormous losses caused by the coronavirus pandemic. Held under the auspices of Fox News, the Trump-Biden debate led to personal attacks on and condemnation of each other. Never in recent American history has such political schism and rupture been witnessed in the presidential debate.
President Trump testing Covid-positive would mean serious implications on the American presidential election campaign particularly when the second round of debate is expected to take place on October 15 and the third on October 22. Barring the sympathy vote which Trump is expecting to get, his performance during the first presidential debate is termed hopeless and below mediocre. He is accused of not taking the pandemic seriously, opposing lockdown of cities and wearing masks which caused more than 200,000 deaths in America and trillions of dollars of economic losses. His testing positive for Covid-19 is attributed to his carelessness and a non-serious attitude to what he called the "Chinese virus".
Never before in history have American presidential elections become as controversial and dangerous as the November 2020 polls. It is not only Trump's ugly assertion that he will not leave the White House if defeated because of his doubts over the voting done through postal ballot in some states and possible rigging, but also his denial of the reality that things are not in his favour and he might lose.
In his opinion piece in the October 2, 2020 issue of The New York Times, senior American columnist Thomas L Friedman wrote, "I can't say this more clearly that America's democracy is in terrible danger — more danger than it has been since the Civil War, more danger than after Pearl Harbor, more danger than during the Cuban missile crisis and more danger than during Watergate." What is then the future of America and its democracy and how will people of that superpower cope with the magnitude of the crisis engulfing their country if Trump refuses to accept the election results? During the first presidential debate, when the moderator asked both Trump and Biden about accepting election results, only Biden responded in an affirmation.
Friedman wrote, "To me, the only hope for America is to elect Biden and split the GOP between the Trumpists and whatever is left of moderate Republicans, and then hope that a big centre-left and small centre-right can agree on enough things to propel the country forward, heal the divide and act together for the common good." That is the level of hope, optimism and light at the end of the tunnel which one can expect to emerge following the acute domestic political polarisation in the US today. Will the American voters use their right to elect their president by casting their vote in large numbers and seize the opportunity of the century to get rid of Trump, who in the last four years has infected his country with the evil of racism, xenophobia, nepotism and corruption? It is perhaps the last chance for Americans to save their country from another four years of ultra-rightist and dogmatic rule which has ruined the American image at the international level and deepened racial divide.
America's dangerous road to the 2020 elections is not a myth but a reality because of three main reasons.
First, like the Indian Prime Minister, Narendra Modi, who in his first term (2014-19) consolidated the force of Hindu nationalism and unleashed the reign of terror on religious minorities during his second term, Trump unveiled his agenda to revert the US as the only white country denying coloured and black people their right to live and migrate to America. During his first term, Trump embarked on a plan to construct a wall on the American-Mexican border in order to prevent the influx of Hispanics from entering the US. He also imposed a ban on people from seven Muslim countries from entering America and gave his patronage to white supremacists in state institutions of police, judiciary and military to target coloured and African Americans. His avowed anti-immigration policy drastically cut the number of immigrants to 15,000 during this year. The lynching of George Floyd in Minnesota a couple of months ago by three white policemen enraged the American people, leading to widespread protests against the Trump administration with a slogan "Black Lives Matter". In 2020, racist policies of Trump led to back-to-back violence in the US, anticipating bloodbath in America if the tide of white chauvinism is not reversed. The violence following Floyd's killing is merely the tip of the iceberg and one can expect large-scale racial bloodshed if Trump is re-elected.
Second, it is the last chance for white supremacists to restore what they call "white glory and power" in the US which has been at stake since 1965 when America changed its immigration laws and opened the country for immigration from non-white countries and dismantled apartheid laws for African Americans. As a result, not only did the Black community gain some empowerment and latitude but the demographic complexion of the US, which was 85% white till 1965 with a predominant Anglo-Saxon race, altered. Ironically, white supremacists realise the bitter reality that time is not on their side because Biden has a clear edge on Trump in the opinion polls. Biden, unlike Trump will try to reverse the racist, xenophobic and chauvinist wave unleashed by the Trump administration. But, changing America for the better, if the Democratic Party wins, depends on the results of the Senate and House of Representatives. If both houses are won by the Democratic Party then it certainly will help Biden in implementing his plans on restoring America's image, shattered economy and re-establishing racial harmony. Nevertheless, control over the Congress is essential for the Democratic Party for smooth governance and keeping ultra-right Republican Party at bay.
Third, at stake is democracy and political pluralism in America because if the elections go wrong, there will be large-scale chaos. In retrospect, when Al Gore lost the 2000 elections by a narrow margin while getting more popular votes than his rival George W Bush, it was the Supreme Court which declared Bush victorious.
With barely a month left for the elections and Trump infected with Covid-19, it will be a great test for US history to ensure a smooth sailing or like in many Third World countries, there could be post-election violence because of alleged rigging. One can hope that prudence and sanity will prevail over forces who want Trump to stick to power by all means.
Published in The Express Tribune, October 9th, 2020.
Like Opinion & Editorial on Facebook, follow @ETOpEd on Twitter to receive all updates on all our daily pieces.