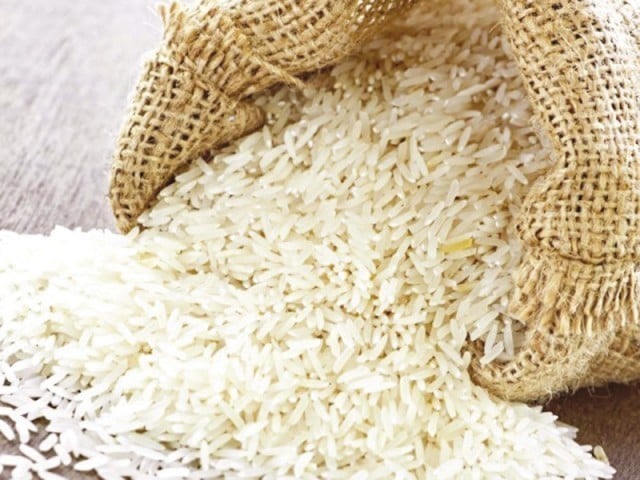 ---
At a time when Pakistan needs to approach the European Union for geographical indication (GI) tag for its Basmati rice, it has come to light that Basmati trademark has been registered in an individual's name in the country instead of being registered as a GI.
The Intellectual Property Organisation of Pakistan (IPO-Pakistan) registered the trademark of Basmati in an individual's name under application number 179196 in Class 30 dated July 20, 2002, with a disclaimer that it might be challenged.
"Basmati is a generic name that can only be used as a geographical indicator and cannot be used as a trademark until and unless a new word is added to it," said trademarks and copyrights practitioner Asif Hayat.
He elaborated that trademark was a business name and a company could not own the words separately but in a combination.
"It is unfortunate that nobody could point out this development in about two decades," he said, referring to Basmati being registered as a trademark in favour of an individual. "In fact, the applicant himself was fooled by somebody in the authority and just one dispute can eliminate this entire trademark."
When a person or organisation gets a trademark registered, others cannot sell their product or service under the same name. India has applied to the European Union for GI tag for its Basmati rice, claiming it is grown only in India despite the well-known fact that both India and Pakistan grow the aromatic rice.
If the neighbouring country succeeds in its attempt, Pakistan's exporters will not be allowed to sell rice abroad under the Basmati category.
At a time when Pakistan should claim co-ownership of Basmati rice in the international market, it seems it needs to straighten its own record first. Hayat requested the Small and Medium Enterprises Development Authority (Smeda) to approach the commerce ministry, industries ministry, Trade Development Authority of Pakistan (TDAP), IPO and Registrar of Trademarks to resolve the matter pending for the past many years.
He added that Basmati was a heritage of Pakistan and undoubtedly Basmati rice had been grown in the country for decades. "It has all the features and characteristics of Basmati," he stressed. "Needless to say, it has the best aroma, length and look, and it is renowned in the world for its aroma."
Basmati trademark belongs to all Basmati growers, millers, processors and exporters, said Union of Small and Medium Enterprises (Unisame) President Zulfikar Thaver. He added that it was a national property owned by Pakistan and could not be registered in the name of any individual or a firm.
"Of course, national institutions like TDAP can register it on behalf of Pakistan but due to some reasons, it was registered in an individual's name with a disclaimer," he said.
"India has applied to the European Union for the GI tag for exclusive registration of Basmati, which shows its mala fide intensions," he said.
Published in The Express Tribune, October 2nd, 2020.
Like Business on Facebook, follow @TribuneBiz on Twitter to stay informed and join in the conversation.
COMMENTS
Comments are moderated and generally will be posted if they are on-topic and not abusive.
For more information, please see our Comments FAQ