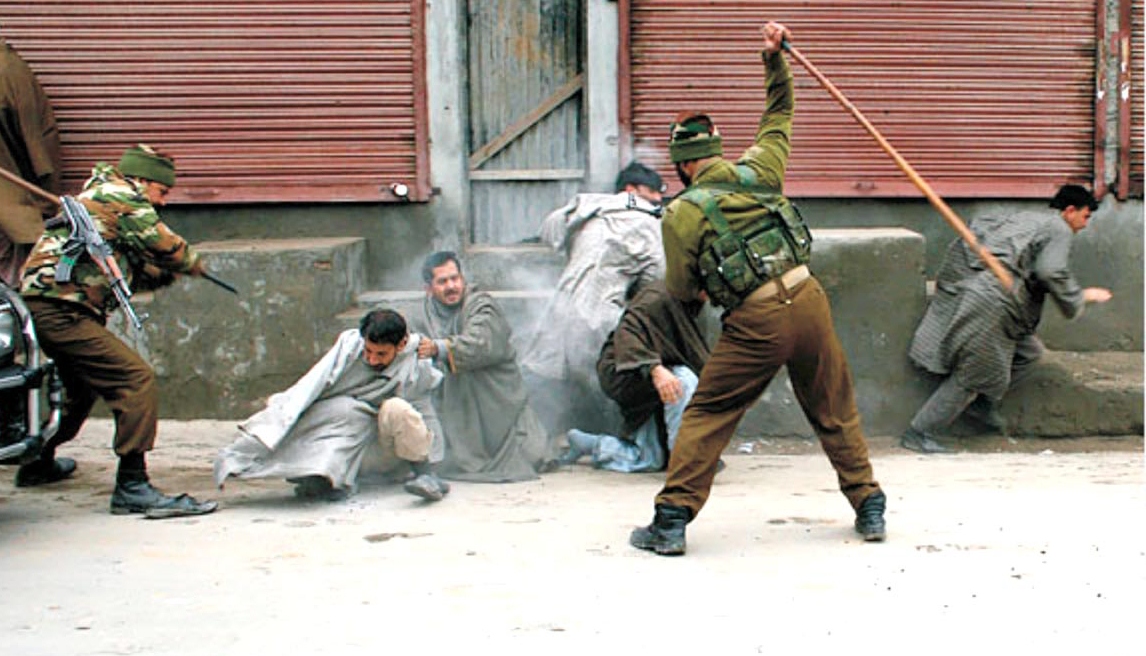 ---
KARACHI:
In a fresh blow to human rights and civil liberties, Amnesty International has been forced to cease all operations in India, a country that most experts believe, is becoming increasingly intolerant.
Amnesty claims that a campaign of intimidation by India's Home Ministry had been going on for two years. During this time, the London-based organisation, which is known for exposing India's abuses in Kashmir, said that its executives were hounded by different agencies in the country.
The move, experts believe, is part of Prime Minister Narendra Modi's ongoing assault against rights groups, activists, lawyers and dissenting individuals. Action against Amnesty comes a month after the group said police had committed human rights violations during the deadly riots between Hindus and Muslims in India's capital earlier this year.
"The Bharatiya Janata Party (BJP) is preparing the ground for the next phase of its Hindu Rashtra project. It now plans to silence and intimidate anyone who speaks out against it, particularly Muslims, journalists, academics and human rights activists," said CJ Werleman, a columnist for Byline Times and Inside Arabia.
In a statement, released by Amnesty's India office, the group said: "The complete freezing of Amnesty International India's bank accounts by the government, brings all the work being done by the organisation to a grinding halt. The organisation has been compelled to let go of staff in India and pause all its ongoing campaign and research work."
Amnesty said action against the organisation was akin to freezing dissent. Described as an incessant witch-hunt of human rights organisations, the move by the BJP government has drawn ire from all quarters.
Werleman, who has dedicated his journalism career to exposing discrimination and injustices against Muslim communities, warned that the space for democracy and individual rights is being made ever smaller by the Hindu nationalist government in New Delhi.
"The fascist government has made no secret of its intent to drive Muslims out of the country within the next decade," said Werleman. Groups like Amnesty International, he said, have been sounding that alarm bell.
Concurring with Werleman, from Sweden, Ashok Swain, an Indian-born academic and professor of peace and conflict research said: "Since Modi came to power in 2014, his regime has been doing everything to silence activists and organisation that support human rights and try to help the oppressed section of the Indian society."
"This is a usual policy to silence dissent," added the Uppsala University professor, who is an open critic of the Indian Prime Minister and the ruling BJP.
Amnesty, one of the world's most recognized rights groups, is known for its criticism of Prime Minister Modi's coercive policies – particularly towards India's Muslim community, both inside the country and in the occupied territory of Kashmir. In March this year, the Nobel Peace Prize-winning watchdog condemned the internet blackout in occupied Kashmir. "Unwarranted restrictions on content and dissemination of information only stands to add to the panic," said the group's director in India.
Werleman, who has also published a report that documents hate crimes against Muslims in India, believes the sweeping crackdown against rights group leaves minority communities more vulnerable and exposed.
"Muslims in India find themselves ever closer to the brink of genocide, now that Amnesty International is closing its Indian operations due to harassment and threats from the Modi government," cautioned Werleman.
Expressing solidarity from New York, the Human Rights Watch also criticized the Indian government for its crackdown on Amnesty International. "Amnesty's plight reminds us that India's government welcomes international trade, investment, contracts, aid and tourism. But it strictly limits international contributions to human rights and environmental groups," said Kenneth Roth, Executive Director, Human Rights Watch.
At Uppsala, a town located a little north of Stockholm, Dr. Swain views the move as another step another step by the Modi regime towards establishing an authoritarian Hindu nation.
"While dissenting right groups and activists are being forced into silence, it will also provide an open field for Rashtriya Swayamsevak Sangh (RSS) affiliated Hindutva organizations to expand their influence."
The Sweden based expert, who regularly attracts the wrath of Prime Minister Modi's supporters for his blunt criticism of their leader, said Amnesty's departure was a warning sign. "The decision regarding Amnesty International will further strengthen the world's fear over the rapidly declining health of India's democracy," he warned.
Describing the measures taken against Amnesty as an attack on dissent, Dr. Swain said: "Those who are attacking dissent, are also attacking India." Dissent, he said, is the key to democracy. "If a regime suppresses dissent, democracy dies," he cautioned.
Earlier on the first anniversary of the illegal annexation of Kashmir, the rights group released a damning statement on the violations of basic rights in the valley. In its report titled 'Jammu and Kashmir after one year of abrogation of Article 370' the group urged the authorities in New Delhi to release all political leaders, journalists and activists from administrative detention and demanded the restoration of 4G mobile internet services in the region. In its bid to discredit the report, the Modi government called it lopsided and malicious.
Groups like Amnesty have raised several questions about the impunity enjoyed by Indian security forces in the occupied Kashmir. According to CJ Werleman, the global community must be more alarmed about the fate of Kashmiris after Amnesty's departure from India.
"The international community should be especially alarmed about the fate awaiting 8 million Muslims in Indian Occupied Kashmir, where India's Hindu settler colonial project is well underway, and where journalists and protesters are routinely detained, imprisoned, tortured and disappeared," said Werleman.
The removal of human rights organizations by India, the journalist said, is an attempt to essentially turn the lights off. "They want to keep the world in the dark in regard to the extent of the Modi government's repressive brutality in Kashmir," he explained.
Over the past few years, Amnesty has had a troubled relationship with the Indian authorities. In 2016, a sedition case was filed against the rights organisation -- only to be dropped three years later. About two years ago, the group's office in the southern Karnataka state was raided by the Enforcement Directorate, a federal financial crimes investigation agency.
Despite the global outcry, Prime Minister Modi, who appears to be at the centre of this latest embarrassing episode for India, remains tight-lipped. The BJP leader, known for his authoritarian tendencies has not said a word since Amnesty decided to halt its operations.
While Modi remains silent, his critics have been firing salvos. In a hard-hitting Tweet, New York Times columnist Nicholas Kristof reminded the Indian leader that autocrats like him end in the dust bin of history. "Prime Minister Modi should remember that many autocrats have battled Amnesty International over the decades -- and most of them are now in the dust bin of history," he said in the post.
Amnesty International operates in more than 150 countries and territories. The group actively campaign to end abuses of human rights. India is now the second country to have forcibly pressured Amnesty International from leaving its soil. The other being Vladimir Putin's Russia, where, like India, human rights violations against minorities and political opposition have become business-as-usual.