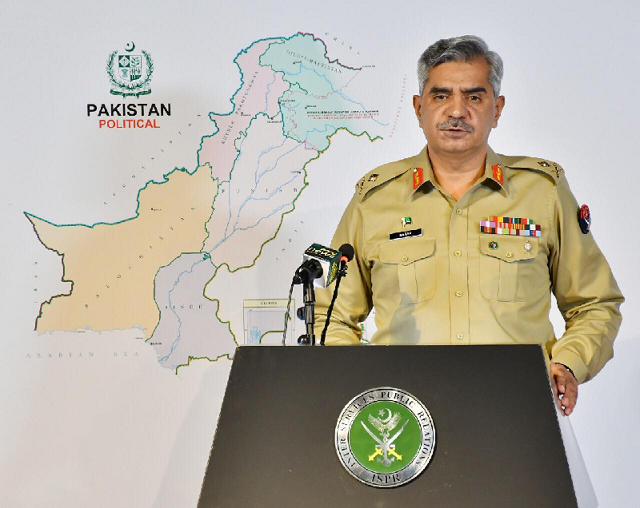 ---
The Pakistan Army's spokesperson has confirmed that two meetings took place between Chief of Army Staff (COAS) General Qamar Javed Bajwa and Pakistan Muslim League-Nawaz (PML-N) leader Mohammad Zubair "on the latter's request".
In an interview with a private new channel on Thursday, Director General Inter-Services Public Relations (ISPR) Major General Babar Iftikhar said that matters in relation with PML-N supreme leader Nawaz Sharif and his daughter Maryam Nawaz were discussed during the meetings.
He said that the first meeting took place in the last week of August and the second on September 7.
The DG ISPR said that General Qamar told Zubair that legal issues would get resolved in courts while political matters in parliament and "the army should be not be dragged into these matters".
Maj-Gen Iftikhar said that DG ISI Lt-Gen Faiz Hameed was also present in one of the two meetings.
Later, in another interview, Mohammad Zubair, clarified that Maryam was not aware of these meeting, saying that he had met COAS on "personal capacity". He, however, said that he informed Maryam about the development after the meetings.
Zubair, the former Sindh governor, said that he has relations with General Qamar for more than 40 years. "Some political topics were discussed during the meetings."
The PML-N leader said that he did not seek any relief for Nawaz or Maryam during the meetings.
Earlier today, Maryam Nawaz, responding to a question outside the Islamabad High Court where she had a hearing of her appeal against her conviction in the Avenfield property reference, had said that she was not aware of "any dinner at the GHQ".
"Perhaps it wasn't dinner. What I've heard is that the meeting was convened to discuss the Gilgit-Baltistan [election] issue," she added.
"It is a political issue… an issue of people's representatives… and it's for them to solve with consultation and deliberation. Such decisions should be taken in parliament, not in GHQ," Maryam said.
Asked if the PML-N leaders had Nawaz's blessings for participation in the meeting, she denied having any knowledge of that. However, she said that "the political leadership should not be called nor should it go to discuss such issues".
Maryam Nawaz is a vice-president of the PML-N. And her statement shows she was neither on board nor privy to the PML-N's participation in the GHQ meeting. But if the federal railways minister is to be believed it was not the first time PML-N leaders had met with the military leadership.
On Tuesday, Sheikh Rashid had claimed that the PML-N leaders had had two meetings with the military leadership in many months. Chaudhry Ahsan Iqbal attended both the meetings, he claimed, though Ahsan was quick to brush aside the claim as a "lie".
COMMENTS (2)
Comments are moderated and generally will be posted if they are on-topic and not abusive.
For more information, please see our Comments FAQ