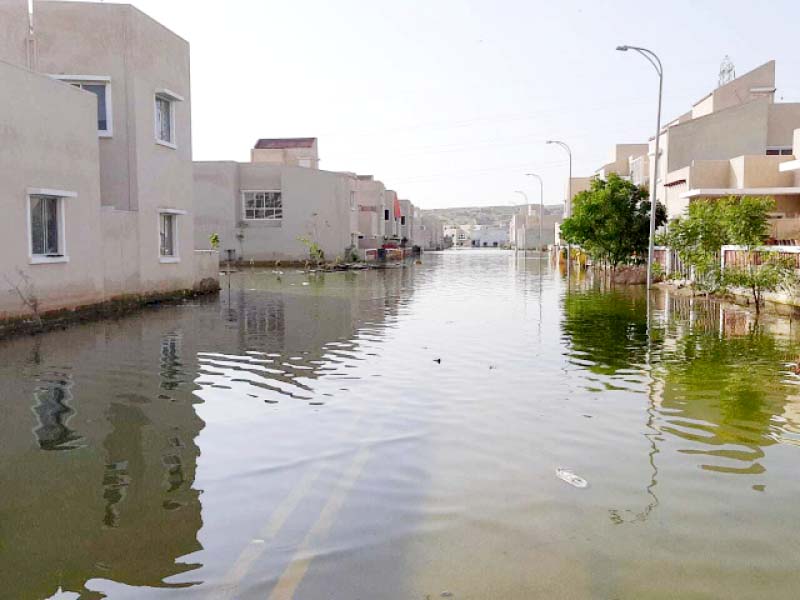 ---
Reviving natural waterways and redesigning development projects can help tackle urban flooding and the adverse impacts of heavy rains in the future, highlighted speakers on Monday, during a session focused on the sustainable use of water and water stewardship.
The session was held under the World Wildlife Fund-Pakistan's International Labour and Environmental Standards (ILES) Application in Pakistan's Small and Medium Enterprises project.
Speaking on the occasion, Eco Pakistan founder Dr Mir Zafar Ali said 60 per cent to 80 per cent people living in 24 main cities of Pakistan faced difficulty in accessing clean water.
He highlighted that water was supplied to the majority of people in Karachi just once a week and even then, the water they received was unfit for cooking and drinking purposes.
"Water quality should be improved by reducing pollution, eliminating dumping and minimising the release of hazardous chemicals and other materials," he stressed, warning that releasing untreated industrial wastewater directly into freshwater bodies or the sea could damage the aquatic ecosystem and destroy wildlife.
He called for joint efforts for ensuring the sustainable management of freshwater resources and adopting smart solutions to conserve water in Pakistan.
Meanwhile, ILES project senior officer Love Kumar said that freshwater species and healthy rivers were a source of food and livelihood for the locals. He said that according to the Living Planet Report 2020, issued by the WWF recently, a shocking 84 per cent of freshwater species' population had been lost due to multiple threats over the past 50 years.
He urged the need to protect and restore water-related ecosystems, including mountains, forests, wetlands, rivers, aquifers and lakes.
Kumar maintained that Karachi had witnessed a rapid and uncontrolled expansion in population over the past three decades, adding that the construction of landfills sites and developments on natural waterways and sewage lines had blocked the flow of rainwater.
"Lack of robust planning and coordination among relevant departments resulted in damage to infrastructure and caused economic loss," he remarked.
This year the monsoon spells wreaked havoc across the metropolis, inundating the streets and houses for days, he maintained, adding that despite being the economic hub of Pakistan, Karachi lacked preparedness and basic infrastructure facilities.
The experts called for joint responsibility of the relevant government departments and citizens to get rid of plastic pollution and urged that all types of encroachments on rainwater drains should be removed immediately.
Published in The Express Tribune, September 22nd, 2020.`
COMMENTS
Comments are moderated and generally will be posted if they are on-topic and not abusive.
For more information, please see our Comments FAQ