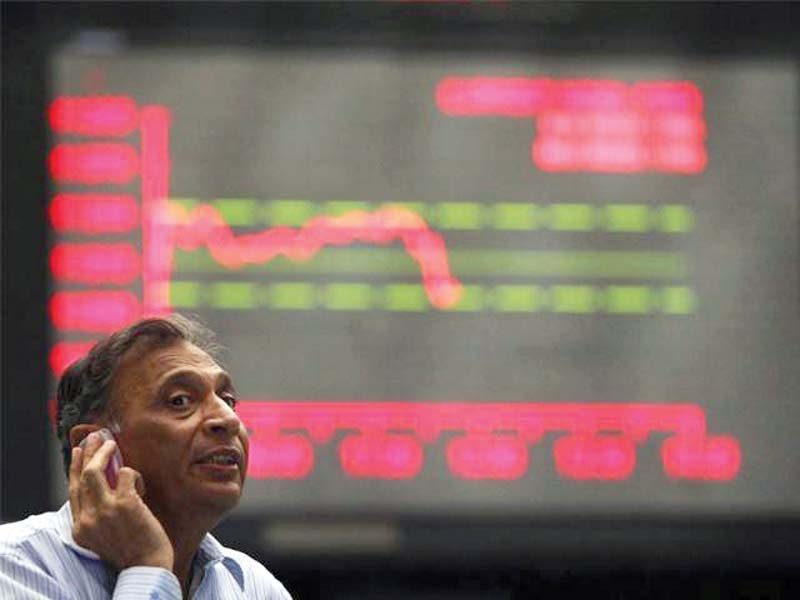 ---
The Pakistan Stock Exchange (PSX) enjoyed a rally for the third successive week, as developments on the international and local front spurred investor interest. The heavy buying activity propelled the index 508 points or 1.2% higher to settle at 42,530.67.
The bullish momentum was witnessed on back of Karachi package as expectations of increase in economic activity fuelled buying interest in select sectors.
Over the weekend, Prime Minister Imran Khan announced a historic package worth Rs1.1 trillion for Karachi's transformation following the devastation caused by the recent record-breaking rain spell and urban flooding.
Monday kicked off on a positive note as the premier's meetings with businessmen and industrialists, during his one-day visit, bolstered confidence. Apart from assurances on collection of Gas Infrastructure Development Cess (GIDC), he formed a committee for infrastructure projects with representation from the business community, which also boosted exporters' sentiments.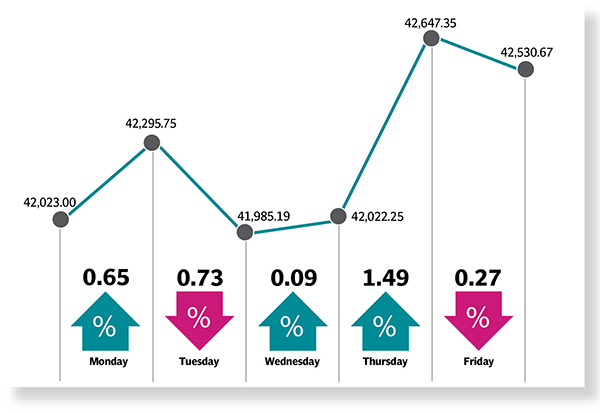 Unfortunately, the positive momentum could not be sustained and the index retreated in the following session. The downtrend was largely in line with a decline in global oil prices coupled with struggling financial markets across the globe. As a result, profit-taking in the index-heavy oil sector also dragged the index lower.
Wednesday witnessed a rather dramatic session as Bears and bulls tried to wrestle control of the stock market.
Investors reacted with concern to a report by Fitch Ratings warning five Asian countries including Pakistan of the impact on their credit ratings due to a potential decline in foreign currency inflows on account of workers' remittances. Furthermore, uncertainty about international crude oil prices and tumbling global markets had also wreaked havoc on the domestic bourse.
However, despite succumbing to the selling pressure, later, the index managed to power past the 42,000-mark and finish in the green zone.
The uptrend continued following the launch of Roshan Digital Account, which fuelled investor interest. Through this initiative expatriate Pakistanis would be able to invest in the country's stock market as well as government securities, which helped investors' reflect positively on the stocks.
Moreover, stable cutoff yields in the latest market treasury bills auction clubbed with partial recovery in global crude oil prices cemented investors' confidence.
Volatility marred the last trading day of the week as the benchmark index succumbed to unimpressive financial results in the cement and exploration and production sectors.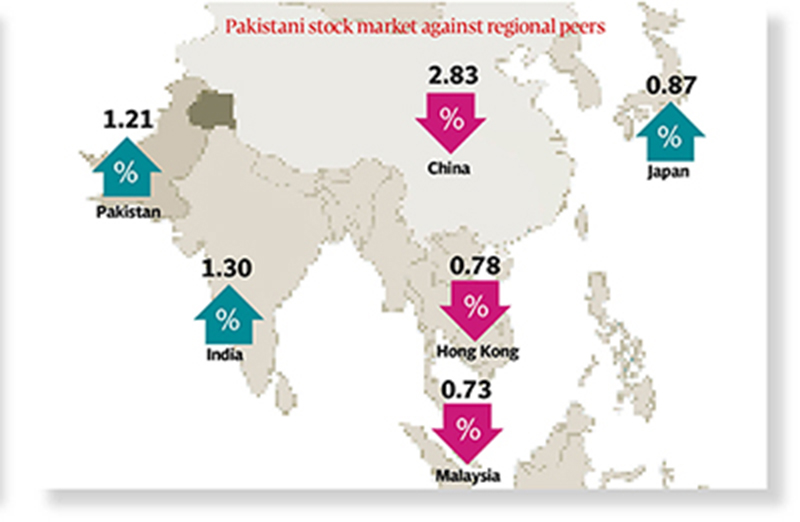 "Average daily volumes and traded value for the outgoing week were up by 1% and 2% to 750 million shares and $142 million, respectively," according to an Arif Habib Limited research report.
Contribution to the upside was led by commercial banks (181 points), fertiliser (157 points), cements (70 points), power generation and distribution (61 points), and insurance (53 points).
"The cement sector outperformed the benchmark (up 3.2% week-on-week) as sales data for the month of August 2020 was reported with a growth of 5% year-on-year."
Scrip-wise, major gainers were LUCK (124 points), ENGRO (76 points), HUBC (69 points), MCB (58 points), and FFC (54 points). On the other hand, OGDC (48 points), MARI (32 points) COLG (28 points), PIOC (24 points) and MLCF (22 points) were the major losers.
Foreigners offloaded stocks worth $4.4 million compared to a net sell of $10.03 million last week. Selling was witnessed in exploration and production ($1.15 million) and fertiliser ($1.01 million). On the domestic front, buying was reported by individuals ($22.84 million) and mutual funds ($8.50 million).
Among major news of the week was; Fitch Ratings forecasted current account deficit widening to 1.7% in FY21, ECC approved subsidised power for export sectors, Roshan Digital Account launched, auto sales for the month of August 2020 increased by 15% year-on-year and the foreign exchange reserves held by the central bank increased $95 million to $12.8 billion.
Published in The Express Tribune, September 13th, 2020
Like Business on Facebook, follow @TribuneBiz on Twitter to stay informed and join in the conversation.