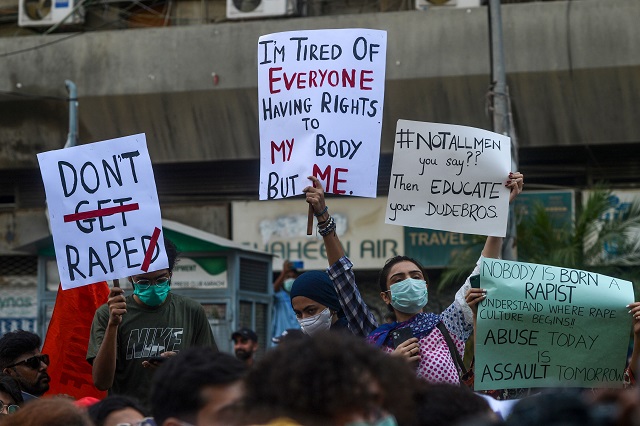 ---
KARACHI:
'Is this place safe for my mom?' asked a little boy holding a placard at a protest in Islamabad on Saturday. His picture circulated on social media along with pictures from similar protests on the day.
The protests, sparked by the horrific gang-rape of a woman at the Lahore Motorway earlier this week, and further instigated by the Lahore CCPO's incendiary comments in its aftermath, called for justice and an end to gender-based violence. Other incidents, too, have sparked horror in recent days, including the rape and murder of a five-year-old in Karachi and the murders of transgender persons Gul Panra and Saad Khan, to name a few.
In Karachi, scores of people gathered outside the Karachi Press Club, demanding "an end to all violence against women, trans-women and non-binary persons by patriarchal forces including state-backed mechanisms."


The protestors called for radical procedural reforms of all public institutions to uphold those rights, as well as accountability from the Lahore CCPO and any public official who fails to recognise said rights or perpetuates victim blaming myths.
Other demands, listed out by Madiha Latif of the Women Democratic Front, included affirmative steps by the government to uphold the rights of women, and other marginalised genders, and to ensure justice when those rights are violated.
The incident
A woman was travelling with her children when two men raped her at gunpoint on the Lahore-Sialkot motorway on Wednesday night, after her car ran out of fuel. They then fled with valuables including cash, jewellery, car registration card and ATM cards.

Initial medical reports of the woman confirmed she had been raped while the children were said to have been attacked and beaten.

Later, Lahore CCPO Umar Sheikh, in an interview with a private news channel, said, "What surprises me is that being a mother of three [young] children and the only driver [unaccompanied by an adult male], why would she not take the GT Road that has a population around it? If nothing else, she should have checked her fuel…"
The newly-appointed CCPO is incidentally also leading the investigation against the rape case despite numerous calls for his dismissal, including those of politicians, journalists, civil society, and human and social rights activists alike.
Nationwide outrage culminated in countrywide protests by women's rights groups, their allies, and civil society.
'Gender-based crimes'
Latif's demands on Saturday further included effective and transparent investigation of gender-based crimes and fair and expeditious trials.

The protestors called for implementation of "relevant legislation, such as the Criminal Law (Amendment) (Offences Relating to Rape) Act and the Transgender Persons (Protection of Rights) Act, the banning of the two-finger test, the establishment of gender-based reporting cells, better support for victims and survivors of gender-based violence, and more.
A statement issued by the organisers - Women Democratic Front, Women's Action Forum (WAF), Besharam Baaghi Tehreek (BBT), Tehrik-e-Niswaan, Siaasi Aurtain, and the Aurat March - further stated "public hangings and capital punishment only serve to placate citizens and relieve collective pressure, but do not prevent or deter of rape."
Their meaning was clear - structural change is needed, bandage fixes won't do.

Pakistan ranks 151 out of 153 on the Global Gender Gap Index Report 2020 published by the World Economic Forum in December, 2019. According to the United Nations Population Fund, at least 32 per cent of women in Pakistan have experienced physical violence in the country while 40 per cent of ever-married women have suffered some form of spousal abuse at some point in their life.
The UNFP is quick to point out that these figures, however, majorly under-represent the reality as "one in two Pakistani women who have experienced violence never sought help or told anyone about the violence they experienced."

Meanwhile, a report by Sahil, a local research organisation, shows that in 2019 alone, there were 2,846 reported cases of child abuse.
Despite under-reported figures, statistics compiled by rights' groups, government and private research organisations, indicate that sexual and gender-based violence is prevalent and often goes without penalisation or conviction.
'Culture of discrimination'
"A woman is raped every two hours in Pakistan, and her trauma is met with victim blaming, control of her movement, and reduced freedom," said llma Zuberi from BBT. "[But] the rapist roams free."

Further elaborating on the demands, Zuberi stressed that the two-finger test is archaic, unscientific and cruel. "It causes a rape survivor trauma while carrying no reliability as evidence."

The organisers had scathing criticism for the CCPO's remarks and the attitude of which such statements are born. How can a person appointed to protect citizens blame a victim for the crime, they asked.

"His comments overflow with internal misogyny. His words have caused grief to all women across Pakistan," said Zuberi.
Similarly, WDF president Laila Raza underlined that the CCPO, as a state representative, had placed the burden of the crime on the victim's shoulder.
"When the state, which is meant to protect its citizens against such incidents, puts the burden of the crime on the victim...this an issue of societal, legal, and all discourse which is commonalised through the actions of the state." Such protests, added Raza, bring forth the concerns with women's systemic oppression.
Rippling through the crowd was a slogan - 'izzat nahi, insaan hai aurat [she is not honour, she is a human]'. The slogan pointed towards numerous incidents of honour killing.
On stage, dancer and social activist Sheema Kermani's speech decried rape culture. She noted that every other day newspapers feature reports of violence against women and children and yet no answers are received.
"We demand the same rights for women as the ones accorded to every other citizen," said Kermani. Defining misogyny as hatred for women, she denounced the CCPO's comments as misogynistic and sought the removal of all such persons from positions of power.
Among placards calling for the safety and protection of women, their right to mobility, and end to gender-based violence and discrimination, was one (in)famous slogan held up by several protestors: 'Mera jism, meri marzi [my body, my choice]'. The slogan calls for the bodily autonomy of women and other genders, and demands the right to respect and dignity on the sole basis of the marginalised genders' humanity.
Since its emergence into public fora, the slogan has received criticism from several corners who see it as indecent and immoral.
'I'm tired of everyone having rights to my body but me' stated another white poster in bold black and red lettering. The placard echoed the same message as the one above - an end to moral and social policing on the rights and mobility of marginalised genders.
Another speaker, Layla from the Non-Binary Collective, pointed out that violence of any kind did not exist in a vacuum.

"It is perpetuated by a culture of otherness and discrimination, one that is deepened by the language we use, the humour we adopt, the silences we maintain, and above all, the everyday dehumanisation of others around us," said Layla.
Societal discourse plays a huge part, nodded Raza in agreement. She broke down the implications of a commonly heard phrase 'akeli larki khuli tijori ki tarhan hoti hai [a lone woman is an open treasure]' to drive her point home. "Women are objectified through the language we use. Where such thinking prevails, how can women, children, other gender minorities be safe?" asked Raza.
The protest had begun with a demonstration as protestors lined up to perform the Urdu translation of the Chilean anti-rape anthem, 'You Are The Rapist,' which dismisses the lines of questioning which fault the victim or the circumstances and instead places responsibility squarely on the perpetrator and a society which excuses the perpetrator's actions.
'Na meri ghalti
meray kapray
na woh jagah jahan main thi'
[Not my fault, my clothes, nor the place where I was], began the women as the protest commenced. A full version of the song was uploaded earlier this year in March.
'Why we protest'
Speaking to The Express Tribune, Layla said that there is a commonality between the violences that women, trans-persons and non-binary people are subjected to. "Of course there are also nuances, but [we protest] for a larger conversation against gender-based violence. That is my incentive to be present."
Layla further stated, "Our rape laws are very gendered. A trans-person cannot be raped under Pakistani law." She was pointing towards the language of the law, according to which, she said, only a 'woman' can be raped.
Meanwhile, Irtiza, 23, a student, told The Express Tribune that he was present at the protest as an ally. "Women are discriminated against. I'm here as an ally for the women of our country. As a man it is my responsibility to do that. It is my responsibility to support and aid them."
"I am here because I couldn't sleep ever since [Wednesday's incident]," said another protester, Ummaya Shaikh, 24, of the Legal Aid Society. "Because I hate the fact that we can't reclaim our space, reclaim our streets that we pay taxes for. I am sick and tired of people telling me where I can be and what I can wear."
The protest is in solidarity with the survivor of the incident, she added. "She must be scared and her fear is real. But [this is to show her] we will be here no matter what."
Ummaya was of the view that Wednesday's incident was not isolated but "part of a larger culture perpetuated over time." Nothing will change if we don't stand up, she said.
Another protestor, Lamia Fahim, seconded Ummaya's call for change. "We won't survive as a nation otherwise."
Published in The Express Tribune, September 13th, 2020.
COMMENTS
Comments are moderated and generally will be posted if they are on-topic and not abusive.
For more information, please see our Comments FAQ