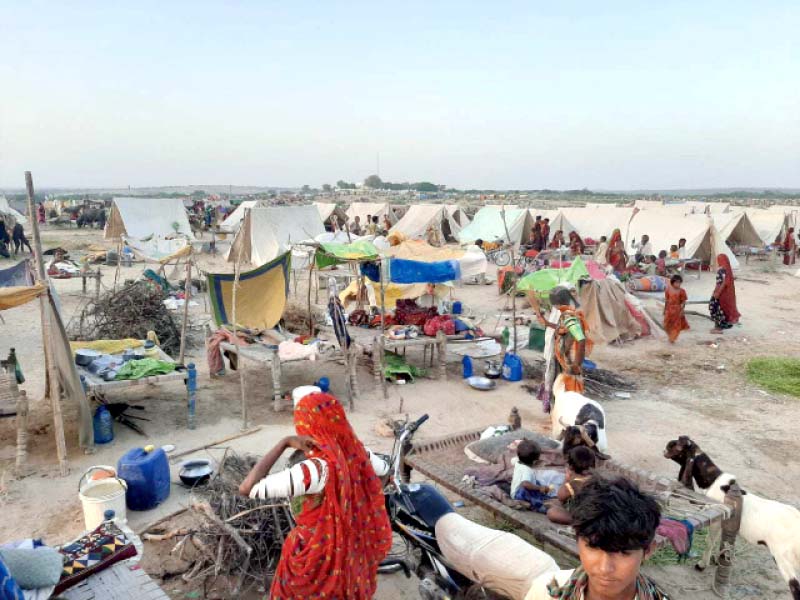 ---
UMERKOT:
The downpour across Sindh last month left scores of families displaced. A new 'tent city' has formed on the outskirts of Umerkot city, with roughly 70,000 families from Sanghar, Mirpurkhas and Umerkot districts having found refuge at a desert mound near Pakistan Chowk, Umerkot. The displaced families have made makeshift arrangements and set up camp.
Over 90 per cent of those displaced, comprise of Hindus belonging to the Odh, Meghwar, Kolhi, Bheel, Gurgula and other subcastes. The remaining consist of Machhi, Solangi and Khaskheli Muslim families. Most of those camping at the site are farmers and daily wage-earners. By government estimates, around 700,000 displaced people are in Umerkot district.
"We were five families living near Bacha Band and all [of us] have moved here in search of a safe place," Bhemo Bheel told The Express Tribune. "We were moving towards Mithi but stopped at this place."
Bhemo complained that no one had provided his family with ration or tents. "Nothing has been given to us as yet," he said. "But at least we are safe here from stagnant water and mosquitoes."
"Cooked rice is given to my family once a day and that's something I should be thankful to God [for]," said Naseeba Odha, with a toddler in arm. Naseeba's family, along with several others displaced by the rains in Sanghar district, had arrived in Umerkot in search of safety. "We all travelled, found this place an ideal one". Naseeba could not say for how long she and the others would stay at the mound.
Meanwhile, families from Sindhry, Khipro, Pithoro, Sufi Faqeer and other remote areas are moving towards Umerkot along with their belongings and livestock.
According to the inhabitants of 'tent city', dozens of other families from across Mirpurkhas division are heading to Umerkot, or moving to other areas of Tharparker desert.
Bhemo is of the view that a new settlement is forming at the dessert mound. "I can see people coming [here] day and night," he said, adding that a new city was being established. "May be bigger than Umerkot city," he smiled.
'No government support'
The makeshift 'tent city' spreads across either side of the Umerkot-Mithi road, extending over an area of over five kilometres.
A medical camp set up by the Sindh government can be seen at the site with some police personnel deployed to oversee the law and order situation. There appears to be no other government intervention at the camp nor are there visible efforts from any non-governmental organisation (NGO). The people displaced by torrential rains appear to be fending for themselves.
Sanghari, a mother with four kids, says no one has visited them in the past one week. "I need nothing but food for my kids," she said, both hands extended in search for assistance.
No end in sight
"Roughly 70,000 families have reached Umerkot," confirmed Sardar Ali Shah - Sindh government's focal person for the region and provincial culture and tourism minister.
Speaking to The Express Tribune, Shah said that all 8,000 tents he received have been distributed in different parts of the district. "The number of displaced people in Umerkot district is about 700,000," he added.
Commenting on the situation, the provincial minister said that he expected the displaced families who have sought refuge in Umerkot district to be there not for days but for months. "Going back to their homes seems a bit difficult as their houses are submerged in knee-deep water".
Twice displaced
The families in 'tent city' say this is the second time that mass migration has occurred in the region.
"We were badly hit by the floods and rains in 2011," said Gulab Odh. However, government intervention and support by NGOs was huge in 2011, according to Gulab, who believes the situation for those living in tents will only become even more critical in the coming days. "I don't see anything similar now," he said referring to the assistance received in 2011, even as everyone looks towards the government for support.
"At least we saved our kids and livestock," says Gulab. The main challenge for him and other families, as he sees, is to protect their children and animals. "They are what we have, and we have to protect them".
Published in The Express Tribune, September 9th, 2020.
COMMENTS
Comments are moderated and generally will be posted if they are on-topic and not abusive.
For more information, please see our Comments FAQ