 ---
Actor Anoushey Ashraf recently schooled Yasir Hussain on a local magazine's Instagram post after a screenshot of his Insta story went viral.
Within the story, Hussain compared the importance local talent receives in Pakistan as opposed to foreign talent with respect to a tweet showcasing the 'Pakistani Turgut and Pakistani Ertuğrul.'
"Inko koi nahi poochega (no one will pay heed to them)," he wrote. "Kyunke ghar ki murgi daal barabar or bahar ka kachra bhi maal barabar (Because home-cooked chicken is equivalent to lentils while international garbage is still worth cashing on)," he said.
Following this, Ashraf asked everyone to "gently remind Yasir that no one is kachra (garbage)." She then elaborated on the "unspoken bond of mutual respect" that artists from around the world must share, irrespective of their nationality.
Nevertheless, after Ashraf's response started circulating, the Jhooti actor defended his stance by clarifying that he was not targeting Ertuğrul stars, but was instead addressing the bigotry that he believes exists in the local media industry and among the general public when it comes to choosing between foreign celebrities, content or products, as opposed to local ones.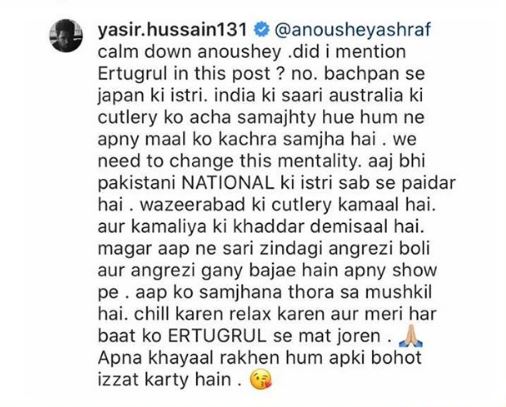 Starting off by telling Ashraf to "calm down", Hussain went on to provide examples of the general Pakistani's preference of a Japanese iron, Indian sari, and Australian cutlery as opposed to local ones.
He then continued to make a personal attack at Ashraf by throwing shade at her choice of speaking English and playing English songs in her shows whilst being a Pakistani. "Magar apne sari zindagi Angrezi boli or Angrezi gaanay bajaey apney show pe. Aapko samjhaana thora sa mushkil hai."
Hussain urged her to not connect every statement of his to Diriliş: Ertuğrul, although the tweet he shared along with his original post was connected to the Turkish series.
However, not one to hold back, Ashraf went on to slam the Karachi Se Lahore actor for insinuating she was 'not Pakistani enough' just because of her preference of language and products. "It's okay if he thinks I misunderstood him. But for him to insinuate that a fellow Pakistani isn't Pakistani enough because she speaks English or uses a Japanese istri (iron) - isn't entirely fair."
She continued to reiterate how dangerous it was to insinuate she wasn't Pakistani enough just because she purchased an Indian sari. Ashraf then joked about how she would now tell her American friends who'd want to purchase Pakistani items that they were "not good Americans."
"We all support local and always will, please do not mix the two. It isn't so black and white," Ashraf added.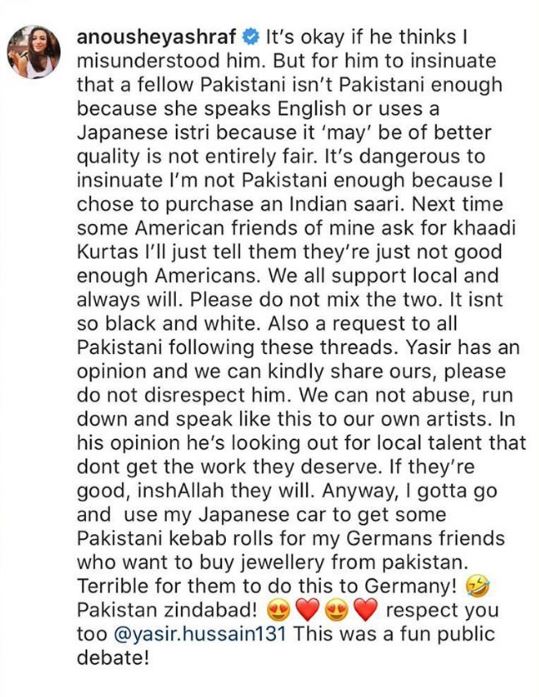 Then to end off her argument, Ashraf asked the public to not be abusive towards Hussain simply because he held a different opinion. "Please do not disrespect him. We cannot abuse, run down and speak like this to our own artists. In his opinion, he's looking out for local talent that doesn't get the work it deserves," she said.
Have something to add to the story? Share it in the comments below.
COMMENTS
Comments are moderated and generally will be posted if they are on-topic and not abusive.
For more information, please see our Comments FAQ