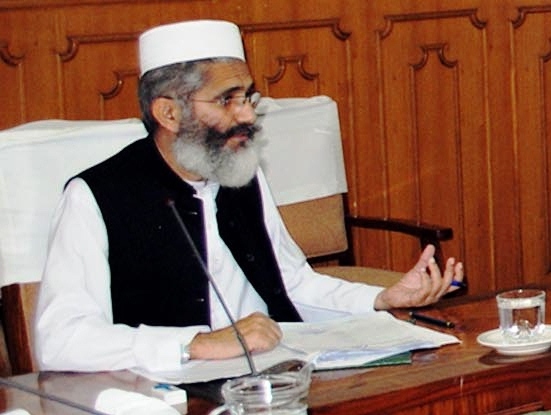 ---
HYDERABAD:
Jamaat-e-Islami (JI) chief Sirajul Haq deplored on Saturday the federal and provincial governments for not disengaging from their political duel even when scores affected by torrential downpours looked to them for relief.
Addressing a press conference in Hyderabad on Saturday, he also criticised Prime Minister Imran Khan for delaying his visit to Karachi.
"Karachi is not Uzbekistan that the PM took so long to visit the city. He should have come and stayed there from the first day [after rain lashed it]," he said.
He regretted that the Pakistan Tehreek-e-Insaf (PTI)-led federal government and the Pakistan Peoples Party (PPP)-led Sindh government continued their blame game when circumstances required coordinated efforts. "The people of Sindh are demanding relief but they are busy crossing swords."
Haq said the PM and the PPP chairperson should have visited flood-hit areas in the rest of the province as well.
The JI chief contended that Sindh could not be left at the mercy of the PPP, which "has set new records of failure."
He said 50 percent of the province's agriculture had been destroyed by the rain, while thousands of people had been rendered homeless and were spending their days and nights under the open sky.
And then, elected representatives from rural Sindh seemed detached from their electorates, he lamented. "The rulers should fear the time when the poor and hungry will surround their palaces."
When asked about the local government elections, he said the Sindh government's preparations so far did not reflect any interest in conducting the polls.
Published in The Express Tribune, September 6th, 2020.