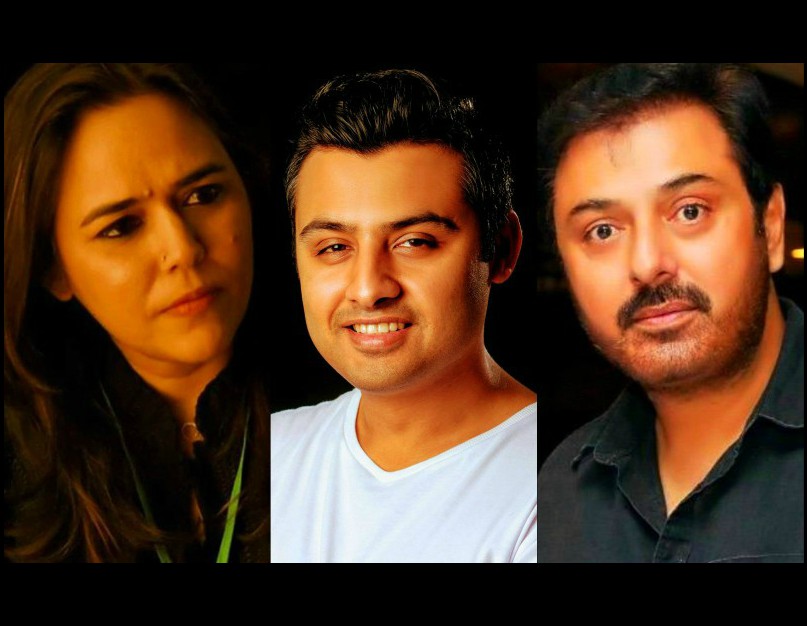 ---
Filmmaker and host Rafay Rashdi made an announcement on his social media in August, revealing that his talk show Behind the Curtain with Rafay Rashdi would now be available on Amazon Prime for the UK and US audiences.
"Proud Moment #BehindTheCurtainwithRafayRashdi becomes the first-ever Pakistani industry-based talk show to make it to Amazon Prime. Available exclusively to the US and UK markets only," he tweeted.
But what was it about Rashdi's talk show that made it so fitting for a viewership abroad when so many others failed to garner that interest? Perhaps like Rashdi, many didn't know that talk shows could even be submitted to the OTT giants. Or maybe they failed to dive into the uninviting details that the producer did not shy away from. Whatever the cause, Behind the Curtain seems to have mastered a formula others may need to take notes from.
The formula
"I've been doing this talk show for a year and a half now and it was meant to provide a platform to the creatives of Pakistan," Rashdi told The Express Tribune. According to the talk show's description on YouTube, Behind the Curtain is meant to discuss the foundations of the media industry with a focus on writers, directors, creative artists, specialists, and producers.
Rashdi went on to clarify that the show is not an amazon original and was sent to Prime through a mechanism for consideration. Its first season saw Ali Moeen, Zafar Mairaj, Bee Gul, followed by a trove of directors, producers, and actors. However, some of its episodes went viral for their smack on and unfiltered holler at the systematic issues within the realms of the film and television industry.
"Episodes featuring guests such as Noman Ijaz and Sarmad khoosat garnered immense viewership on my YouTube," said Rashdi. "Generally entertainment talk shows follow a very Koffee with Karan structure, that's where everybody got the ideas for these rapid-fire rounds. But I wanted mine to also focus on the hard talk," he added.
Rashdi recalled how working on the insides of the industry allowed him to analyse the flaws that guests would often call out on his show, hence he knew exactly what questions to ask. "When I did my debut film, Thora Jee Le, it was bashed immensely. But I realised where I went wrong and where things didn't work out for me. But when you try to recommend solutions to people, there is a monopoly," he claimed.
He explained how there are barely any foundations working towards the betterment of artists in Pakistan. "We only have an actor's trust foundation, aside from which, even your United Production Association is run by a person who has nothing to do with production," he laughed.
"Artists get paid months after they've completed projects, sometimes, not at all. Many are afraid that if they call out someone, they will be labeled as 'problematic'. Then there is a casting couch, we have no system, no auditions. Our advertisers influence our productions to such a great degree that the whole project suffers. All these inhibitions leave out little room for experimentation with both the cast and the content," he said.
Emphasising on a rehash the industry needed altogether, Rashdi reiterated how Behind the Curtain ending up on Prime placed our entertainment fraternity on the global map, and thus, everything that came with it.
The future
Where India continues to make original OTT content, Pakistan's media industry is yet to explore the digital realm that now ties the world together. "In order to make original pitches to Amazon or Netflix, you need to be based outside of Pakistan because we have no agents or regional offices," said Rashdi.

However, currently based in Canada, Rashdi is now planning on working on another season that could be sent to Prime after the current one is up. "I will call it Take Two and it will have a solution-based model since we've already highlighted the problems. That's how I see the series evolving."
Rashdi explained how reaching an international platform meant one needed to continue exploring to cater to the larger audience that will now be expecting better content from him. "Even in the first season, I spoke to Anjum Rajabali, the screenwriter for Raajneeti and Shobu Yarlagadda, the producer for Baahubali. So I will certainly approach more film-makers and writers from other industries for Take Two," said Rashdi.
Have something to add to the story? Share it in the comments below.