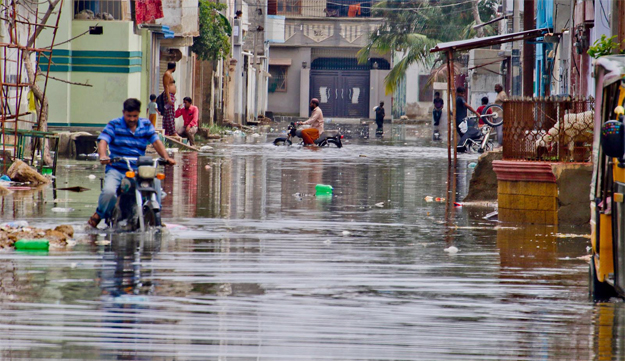 ---
Had it been a week, 10 days or more? The residents of Surjani Town had lost count of the time since a torrential downpour turned their lives upside down, as well as all hope.
The putrid smell of filth in the air, sludge-ridden streets, destroyed houses and dirty water everywhere, with not a drop to drink, was the new normal for them.
Over a week after the neighbourhood saw destruction in the aftermath of a flash flood - even before the rest of the city was inundated - Surjani Town epitomised misery, abjection and abandonment. A tragedy had passed and given the state of the area, another one was in the making, particularly evident in Surjani Town's Sector 4B, Bismillah Town, Yousuf Goth and Abdul Rahim Goth, among other areas, worst hit by August's devastating downpours.
The heavy rain had flooded the area, with rainwater submerging houses up to five feet and more, destroying its residents' belongings and resulting in the suspension of electricity supply, eventually forcing a considerable segment to relocate to safer, more habitable alternatives.
After a day of destruction, the Pakistan Army had come to the residents' help, as they complained of the absence of provincial and local government authorities.
This absence, or rather negligence, it seems, has dragged on even as the locality's ordeal piles on.
The approach to most areas in Surjani Town has been hampered by muck and pools of dirty water marring the streets, as drainage continues to be a problem. Garbage and debris remain strewn across the residential area, now more submerged in sewage waste than rainwater.
Power outages plague it day and night and a surge in the population of flies and mosquitoes adds to the nuisance.
According to area residents, the electricity supply has been completely suspended for the past 13 days.
What is more troublesome is the scarcity of potable water. Sewage waste has seeped into water pipelines and water tanks. So, when the residents turn the tap, they get sullied water, reminding them of the gravity of their misery and predicament, into which they seem to be sinking deeper with each passing day.
As they complain of the unavailability of clean drinking water, they decry having to spend money on buying as basic a commodity as water for their survival and if not, then having no option but to leave their homes and seek shelter elsewhere.
The situation at present depicts a looming health hazard, with many fearing the outbreak of diseases like malaria, dengue, diarrhoea and typhoid.
Area residents blame the government for their problem, saying that it has been negligent of their issues, with officials and elected representatives not even bothering to visit them. Only welfare and non-governmental organisations have come to their aid, or so the residents claim, demanding that the government address and resolve their issues on priority basis.
However, even as they make this demand, they have little of hope of their adversity and misfortune moving the relevant authorities to come to their help.
Published in The Express Tribune, September 3rd, 2020.