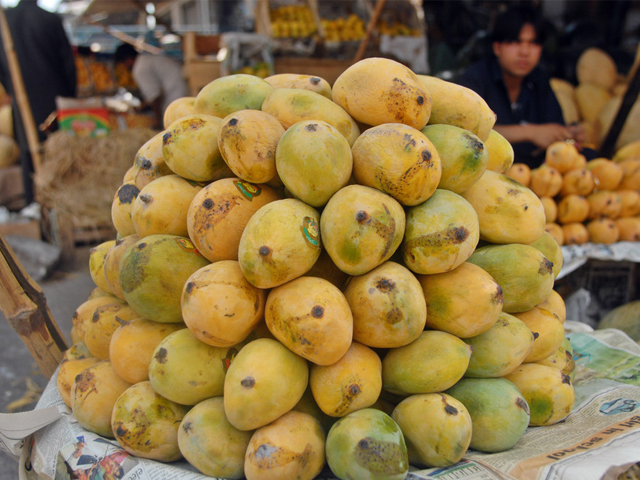 ---
KARACHI:
Defying all the odds posed by the coronavirus pandemic, Pakistan's traders have exported over 7,000 tons of mangoes to Saudi Arabia in the current year, which is nearly twice the volume exported last year.
In a statement on Saturday, Pakistan Consul General in Jeddah Khalid Majid recalled that the country had exported only 3,700 tons of mangoes last year.
"Pakistan is the second largest mango exporter to Saudi Arabia," he said at a mango tasting ceremony hosted by him at his residence in Jeddah.
Pakistan produces, on average, 1.75 million tons of mangoes annually, which makes it the sixth largest producer of the fruit in the world, according to Majid.
Pakistan surpassed the overall mango export target by a substantial margin during the current season and shipped 125,000 tons of mangoes to overseas markets despite facing stiff challenges in the wake of Covid-19 pandemic.
Keeping in view the pandemic and its subsequent impact on trade, the government set the mango export target at 85,000 tons for the current season.
"All nationalities in the Gulf Arab region like the sweetness and aroma of Pakistani mangoes," said Majid.
The mango season kicks off in Pakistan in May every year and continues till the end of October. However, due to the Covid-19 pandemic and suspension of international flights, local mangoes became available in Arab markets from June 2020 onwards.
"People from different countries seem to rush to buy Pakistani mangoes when they reach the market," said Muhammad Adeel, a Pakistani expatriate residing in Jeddah. "Mangoes disappear pretty soon from shops, which means our exporters should increase supply by as much as they can."
According to him, the rise in mango supply will not only benefit the exporters but also the country as it will fetch valuable foreign exchange.
Pakistan's current account recorded a surplus in July this year and the trend should continue, which was only possible when the country increased its exports, he said.
At the event organised by the consul general, assorted mango dishes including mango pulp, milkshake, smoothies, ice cream and cakes were displayed and participation was kept limited in compliance with the local restrictions due to Covid-19-related precautionary measures.
Event participants appreciated the consulate general's mango diplomacy and the promotion of soft image of Pakistan, which would open new trade links between Pakistan and Saudi Arabia.
Different varieties of Pakistani mangoes such as Sindhri, Chaunsa, Anwar Ratol and Langra were showcased and they were tasted by guests, which included Arab dignitaries, diplomats and Pakistani diaspora.
Published in The Express Tribune, August 30th, 2020.
Like Business on Facebook, follow @TribuneBiz on Twitter to stay informed and join in the conversation.