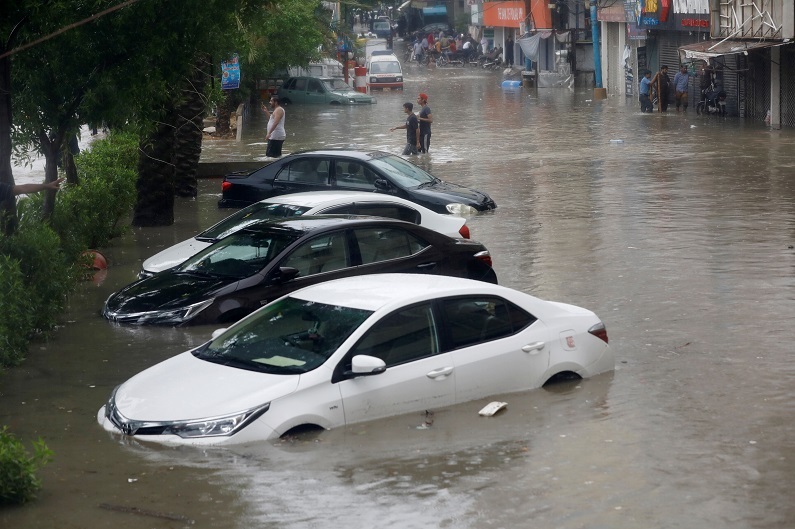 ---
KARACHI:
With over 24 hours having passed to Karachi's record-breaking rain, families from several areas complained on Friday of spending a sleepless night as electricity was yet to be restored, and rainwater still to be drained.
Besides slum areas, Karachi's upscale localities including Defence Housing Authority (DHA) and Clifton were massively flooded, leaving residents not much choice than to stay indoors.
"There is no water to drink at our home. We called our water distribution company, but there is no way they can reach our home," said Noreen, a resident of DHA Phase VI. "There is about four to five feet deep water in front of my house. No action has yet been taken for its drainage," she added.
Another family who lives in DHA's Ittehad Commercial area said supply of both electiricty and gas was suspended in their area since last night. The couple said they had to leave their children home alone yesterday evening to go cook a meal at their sister's house in Phase I.
"As we returned home with our cooked meal at about 9pm, our entire area was flooded," the husband, Riaz Ahmed, a property dealer by profession, narrated. "I and my wife were in our Vigo, but we could not come out of it because water would have entered the vehicle had we opened the doors," he said.
The couple managed to pass on the food to their kids by rolling down the car windows. They were forced to go back to their sister's home, where they spent a sleepless night because of a power outage.
The monsoon spell that started during wee hours of Thursday continued till 8pm, inundating many roads and underpasses, compelling several commuters to abandon their vehicles in the middle of the roads. "We had to leave our car on a service road near Nursery, Sharea Faisal, and somehow managed to reach our home," said Advocate Mansoor Qadri, who lives near Garden.
Till the filing of this report, the underpasses on Drigh Road and Rashid Minhas roads were filled with water. Morevoer, rainwater was still to be drained from areas including Sakhi Hassan, North Nazimabad, Guru Mandir, many areas of Gulshan-e-Iqbal, Malir, Quaidabad, Site, Lyari, Saddar. Besides, most of the katchi abadis were also still submerged in rainwater.
To top it all, people in Ibrahim Hyderi and Korangi have had their contact cut off from land as water from the overflown Malir River has inundated roads with chest-deep water.
'CM reviewing the situation'
"The chief minister is himself reviewing the siuation. We are dewatering the underpasses and other roads by installing water pumps," said Sindh Minister for Local Governemnt Nasir Hussain Shah.
The minister added that the city witnessed such an intense downpour in 90 years. "It's a disaster-like siuation. All stakeholders including the Sindh government, Army and the KMC are jointly working on rescue and relief operations in various areas of Karachi," he said.