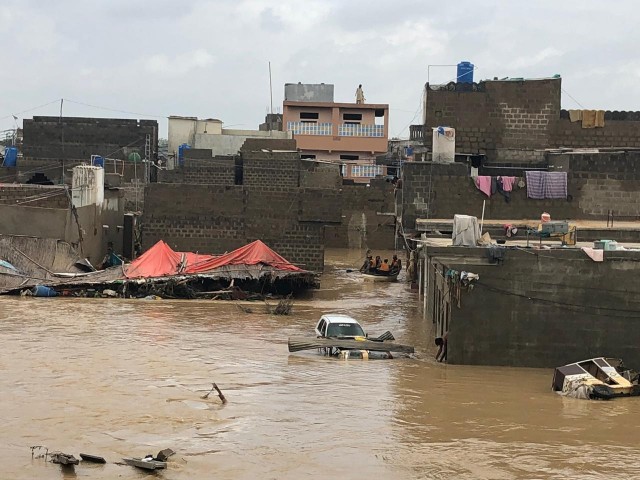 ---
KARACHI:
Relief and rescue operations continued in various parts of Karachi after heavy rains lashed the port city all throughout Tuesday.
Army engineers used heavy machinery in an effort to stop the flow of water from Malir river by refilling the breached area. The water level has reduced and backflow from Quaidabad to the river has started, said a statement issued by the Inter-Services Public Relations (ISPR).
Moreover, the statement further maintained that army boats have been allocated to various areas of the city to help stranded people move to safer places, whereas cooked meals are being handed out to those in need.
Over 200 families were reportedly marooned on rooftops due to the heavy flooding in Malir river, Koohi Goth and Dur Muhammad Goth.
The ISPR statement further maintained that owing to the heavy water current, army officials will be rescuing families stranded in different areas of the city through helicopters.
At least two children have reportedly died in rain-related incidents that occurred across the city on Tuesday; several were injured.
The Met office has predicted that the current rain spell will continue till Thursday, August 27.
Areas of Malir, airport, Gulshan-e-Iqbal, Shah Faisal Colony, Azeempura, DHA, Mehmoodabad, Akhtar Colony, Clifton among many others witnessed heavy rainfall with interspersed periods of light to moderate showers.
The city's electric utility, K-Electric, urged citizens to adopt precautionary measures and asked people to keep a safe distance from broken wires, electric poles and pole-mounted transformers (PMT).
"The unsafe use of electric equipment in stagnant, or rainwater can cause accidents, illegal power connections are also deadly," added the KE spokesperson. There were reports of power outages from various areas of the city.
Four more drown
At least four more incidents of drowning and one of death due to electrocution were reported in Karachi and Hyderabad.
Of those, one took place near Site B Police Station in Karachi, where an 11-year-old boy, identified as Sattar, drowned in a nullah. The body was shifted to a nearby hospital, where doctors confirmed Sattar's death, and later handed over to the heirs.
Meanwhile, four men, on motorcycles, were swept away by strong current in Korangi nullah. While two among them went missing, the other two managed to hold on to an electricity pole to prevent themselves from being washed away with rapidly flowing water. One of them, Zubair, called a relative of his on Tuesday night and asked him to get help for rescuing them. Zubair's relative told the media that they were in finding it hard to sustain their hold on the pole in chest-deep water. He further said that Zubair told him he had witnessed two other men, on a motorcycle, being swept away by the current.
Separately, three girls drowned in a nullah in Samoon Goth, it was reported late Tuesday night. Among them, the body of five-year-old Samra has been recovered and the search for the other two is underway. When contacted to inquire about the incident, police and rescue workers, however, expressed ignorance.
Besides, a teenage boy was electrocuted to death in Gulbahar Colony late Tuesday night. The deceased was identified as Sajjad, 18. The body was shifted to Abbasi Shaheed Hospital.
Moreover, a man drowned in Hyderabad's Railway Colony on Wednesday. The deceased was identified as Waseem, 40. The body was handed over to the heirs after the completion of medico-legal formalities.
Later, the bereaved family carried the body to Makki Shah Police Station and staged a demonstration outside it against the Water and Sanitation Agency (WASA). They criticised the body over its failure to drain rainwater and said they would register a case against it.
Earlier, since the onset of torrential downpour on Tuesday afternoon, at least five people were reported to have been killed in rain-related incidents in Karachi, while several others were injured or rescued from drowning on the day.
WITH ADDITIONAL INPUT FROM PPI