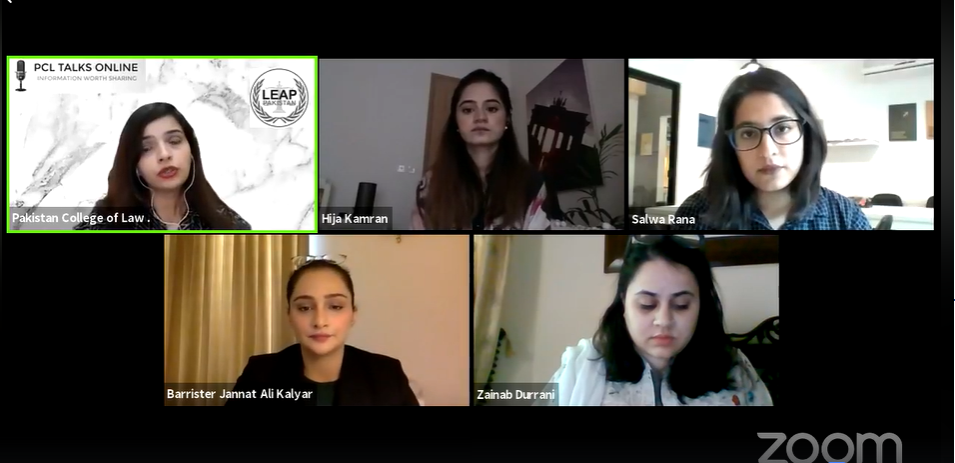 ---
KARACHI:
The Constitution of Pakistan enshrines the right to privacy as a fundamental right. Through Article 14(1) of the Constitution, however, progression of privacy laws pertaining to the digital realm has been insufficient. This was said by LEAP Pakistan's Deputy Director Mehak Zaraq Bari in an online panel discussion on the right to privacy in the country. LEAP is a project of the Pakistan College of Law, aiming to provide easier access to the legal system.
The discussion focused on constant and continuous data breaches and stressed laws and measures that need to be implemented to make online spaces safer.
"Governments all over the world have prioritised giving protection to data. Currently, more than 80 countries have laws in place to ensure user-privacy and protection of digital information. But Pakistan isn't one of them," continued Bari while pointing out data leaks and data breaches of sensitive information that pose a massive challenge in the digital world.
She said there had been "countless incidents" where data collected by public and private institutions was leaked and the legal remedies to protect affected individuals were not available.
"Incidents like the leaked the images captured by the Punjab Safe Cities cameras, the data leak of 14 million consumers of Careem or the CCTV footage leak from a Lahore-based cinema in 2019, such events point the need towards a strong and comprehensive data protection legislation and laws that prioritise citizens' privacy and safety," Bari stressed, adding that laws do exist but their implementation needs to be made more effective.
Privacy culture in Pakistan
Hija Kamran, Digital Rights Lead at Media Matters for Democracy, on the importance of offline and online privacy and their perception in Pakistan said privacy is not about hiding something rather it is taking control of your own information and what belongs to you.
"When we don't have privacy in the real or online world, the implications of our information getting misused can be drastic. Privacy is linked with the rights to security, speech and safe spaces," she said, adding that it enables individuals to create barriers and avoid unwanted interference.
Kamran said online privacy is as important as offline privacy as the contravention of the former can equally have dire and direct consequences, however, shutting down online spaces and right to internet and information was not the solution, she added.
"The line between online spaces and the offline world is non-existent now," she underscored, bemoaning that privacy wasn't emphasised or respected enough even in the day-to-day life in our culture. "Breach of privacy is being transmitted from offline to online spaces."
Elaborating on the topic, Zainab Durrani from Digital Rights Foundation on giving privacy to students and children said, the right to taking control of your information, in this regard, is not widely understood.
"Surveillance of activities is being done ...but the idea of privacy needs to be inculcated at a younger age and it is to be understood as a concept where you are taking control of your information and securing your autonomy," Durrani said, urging conversations with kids on the importance of all aspects of privacy, including online.
Online privacy, access and implementation
Explaining the different ways online privacy is breached, Kamran added that the misuse, abuse or copying information available online violates a person's space and data. She said trolling too comes under breach and harassment with adverse effects on victims' mental health.
"Before interventions from authorities, we see breach of privacy on an individual level where photos — mostly of women — are misused, even rated," she said, adding that data collection and their uninformed usage by corporations also can be an infringement on a person's privacy.
Barrister Jannat Ali Kaylar, a Lahore based lawyer and Chairperson of the CyberCrime Control Information Committee of the Lahore High Court Bar Association, while discussing the right to privacy in an international and local context, said like many other democracies, this constitutional right in Pakistan is grounded in human dignity, which means everybody irrespective of colour, religion or gender will have equal protection of law.
She, however, said there hasn't been consistency in understanding the element of privacy in this regard and how it is interpreted.
"Not enough jurisprudence has emerged on human dignity as a constitutional value and how privacy is interpreted," she said, underlining that offline rights also extend to online spaces and those fundamental rights are equally applicable in the digital arena.
Kaylar said privacy issues normally arise when there is mass surveillance.
"On paper it [privacy] is a fundamental, constitutional right in Pakistan but that is not the case in practice," she regretted, adding that scope of privacy is not well defined. "The maximum recourse victims have is to file writ petitions in high courts to get their grievances addressed."
Electronic Transactions Ordinance, 2002, The Prevention of Electronic Crimes Act (PECA), 2016 and their impact was also discussed on the occasion.
"Privacy was a genuine concern even then when the Electronic Transactions Ordinance, 2002 was introduced to regulate e-commerce as people's data was being used...its section 36 talks about privacy violation and section 37 deals with damage to an information system," Kaylar explained, touching upon the aspect of confidentiality in different acts.
Adding to the discussion, Salwa Rana, another panelist, from Media Matters for Democracy, called for safeguarding data rights of individuals.
"At any stage your data can be used the way it is liked. We need to understand that data very much belongs to the people...and their rights shouldn't be secondary,"she said.