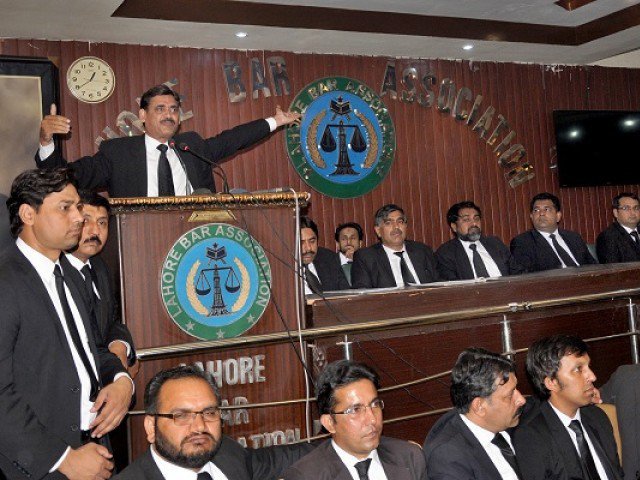 ---
ISLAMABAD:
The Pakistan Bar Council on Thursday announced that it would hold an all-parties conference next month to discuss a host of issues including the country's accountability law as the current PTI-led government was apparently running on call-up notices issued by the top anti-graft body.
The "lack of merit" in the appointment of judges will also be taken up at the meeting.
"The space for freedom of expression is continuously shrinking in the country," PBC Vice Chairman Abid Saqi said at a news conference, accompanied by Supreme Court Bar Association Qalbe Hassan.
The PBC official expressed his concerns over the procedure for judges' appointment, which he maintained negated the spirit of Article 175-A of the Constitution.
He added that the role the parliamentary committee in the judges' appointment had also been minimised.
"Common people are suffering as judges are not being appointed on merit."
Saqi said all political parties would also be invited to attend the conference.
The law governing the National Accountability Bureau, the Financial Action Task Force legislation, freedom of expression and the extension of the army chief's tenure would also be discussed during the meeting. "A national charter of demands would be presented in the APC," Saqi added.
The PBC official announced that announced that elections of all five bar councils would be held on November 14.
"Biometric voting system would be used in the elections of all bar associations and councils," he explained.
"The system would be installed at all bars before the elections."
Saqi said the Supreme Court should dispose of the 45,000 cases pending before it. He also pledged that the bar would continue supporting Supreme Court judge Qazi Faez Isa. "The bar already filed a review petition against the short order of the Supreme Court [in the Justice Isa case]."
Earlier, the PBC, the provincial bar councils and the Islamabad Bar Council had demanded that the NAB chairman should resign after the apex court's verdict in Khawaja brothers bail plea case.
The apex court raised serious questions about authority of the NAB chairman to appoint directors-general at the top graft buster.
The court noted that people were rotting in jails due to the incompetence of NAB officers.
The bench questioned as to how the NAB chairman was appointing senior officials in violation of the law and Constitution, adding that Section 28 of the National Accountability Ordinance (NAO) 1999 was violating Article 240 of the Constitution.
The court in its 87-page order observed that accountability laws were "successfully employed" in the country as tools to change political loyalties and for splintering and fracturing political parties.
"Pygmies were selected, nurtured, promoted, and brought to prominence and power. People with notorious backgrounds and criminal credentials were thrust to rule us in various capacities with predictable results," it read.