 ---
The Pakistan Army swung into action as the fourth spell of monsoon rains this year lashed Karachi and created chaos in the city for the second consecutive day.
The army's rescue teams are carrying out relief operations in the rain-affected areas of the metropolis using dewatering pumps and other safety equipment, a statement issued by the Inter-Services Public Relations (ISPR) said on Friday.
According to the military's media wing, low lying areas of the provincial capital are being cleared out of the rainwater and stranded people are being rescued.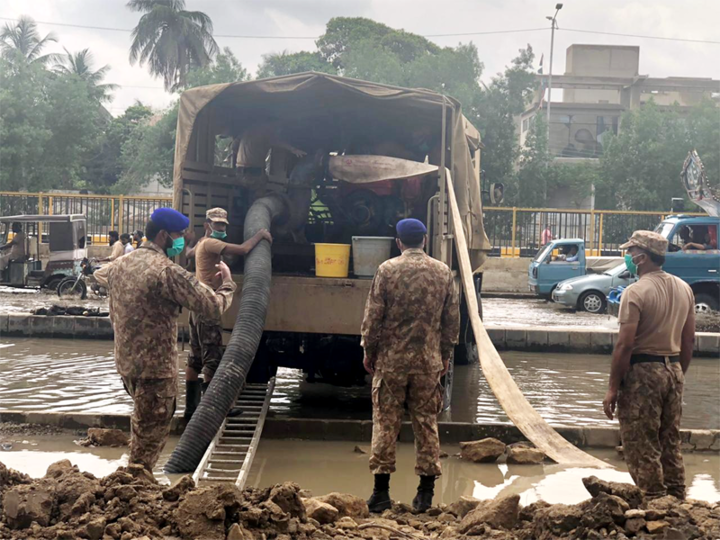 More rescue teams are on alert to deal with urban flooding as well as any other untoward incident, it added.
Following Prime Minister Imran Khan''s directives, Pakistan Army teams on Tuesday kicked off a cleanliness campaign in Karachi and removed over 6,000 tonnes of garbage from different storm drians of Karachi.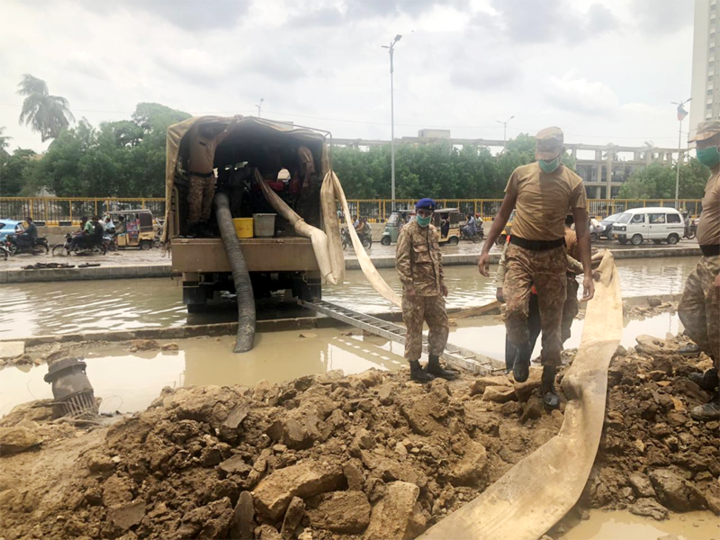 According to the spokesperson, the army-run Frontier Works Organisation (FWO) had cleared 25 choked points of three major nullahs, out of a total of 40 such points affecting the smooth flow of rainwater.
Last week, PM Imran had asked the Pakistan Army and NDMA to help in cleaning up the economic hub of the country as the ongoing monsoon spell turned many roads into rivers of filthy rainwater and left houses and shops flooded.
COMMENTS
Comments are moderated and generally will be posted if they are on-topic and not abusive.
For more information, please see our Comments FAQ