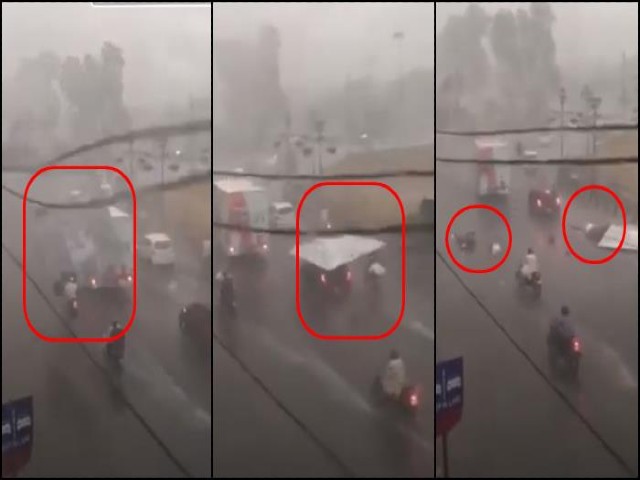 ---
KARACHI:
Two motorcyclists were injured when a large billboard came loose and collapsed on them near Metropole Hotel during heavy rainfall on Thursday.
Footage of the incident went viral on social media, showing the billboard being blown down on traffic by strong winds, hitting two motorcyclists on the road. Both motorcyclists fell off their vehicles onto the road, while others rushed to their aid.
One of the injured was identified as 62-year-old Anwar. According to his family, he sustained severe head injuries as well as a fracture in his hand and wounds in his leg.
The other injured motorcyclist reportedly suffered minor injuries.
Following the incident, the Karachi commissioner's office issued a notification on Friday ordering the immediate removal of billboards and other advertisement material from the city's streets in order to avoid loss of human life and damage to property.
The notification directs relevant officials to remove these boards in line with an earlier Supreme Court order and submit daily reports on the matter to the commissioner's office.
Billboards can be seen overlooking most of the city's major roads, despite the Supreme Court ordering the removal of billboards from all public property in the metropolis in 2018. The court orders had come after several similar incidents of such boards falling on residents during storms.
COMMENTS (1)
Comments are moderated and generally will be posted if they are on-topic and not abusive.
For more information, please see our Comments FAQ