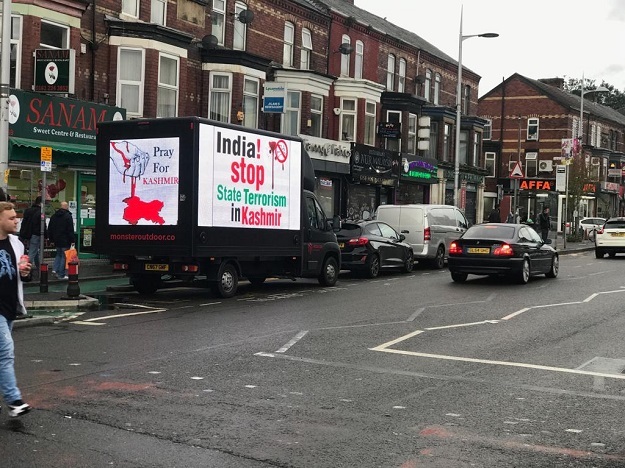 ---
KARACHI:
As Prime Minister Narendra Modi ramps up his oppressive tactics to suppress the desire for freedom in Kashmir, it appear that he may not be able to cover it up for much longer. An increasing number of independent observers have taken their criticism of the Bharatiya Janata party's (BJP) decision to proceed with the illegally annexation of the territory to the Social Media.
With the struggle for freedom from India's illegal occupation gaining momentum, the nationalist government in Delhi made a series of gaffes to control what become the biggest PR nightmare for the world's so-called largest democracy. One of them was controlling Kashmir's communication lines. Not only that, India is actively trying to change the social fabric of the Muslim-majority Himalayan region that it occupies illegally. The total blackout and the oppressive moves by Delhi since August 5 have only earned India and its leader scorn from all corners.
"Kashmir Muslims' fears are becoming a reality in the shape of thousands of Hindu non-Kashmiris being granted residency by the BJP government in Delhi which now runs JK since 5 Aug 2019. It's all about changing the demographics of the region," cautioned Professor Claude Rakisits in a post on Twitter.
The Canberra-based analyst on India, Pakistan, and Kashmir routinely takes to Twitter to criticize the Modi government's actions. In his most recent post on the micro blogging and social networking service, Professor Rakisits also urged Pakistan to build a collation of nations to support a referendum that allows the people of Kashmir to decide their future.
"Pakistan needs to sell its message—the need for a genuine, UN-supervised referendum for Kashmiris—on the international stage and build a coalition of nations to make it happen," said Professor Rakisits, who has served as adviser to a deputy prime minister and a shadow minister for foreign affairs.
Another prominent name on Twitter, CJ Werleman also openly criticises the violations in Kashmir. In his latest article for the TRT world, the journalist said: "Life for Kashmir's 8 million residents has become measurably worse in the past year."
Werleman who also documents hate crimes against Muslims said: "Pro-Indian government online trolls are creating fake social media accounts to paint a rosy picture of the Indian military occupation and aggression Kashmir."
In his recent post on Twitter, Werleman said India, under Modi, has become a dangerous place for journalists and the center for hate crimes in the world. In another post, the Australian journalist said: "The Indian government must immediately stop intimidation of journalists in Jammu and Kashmir. I know of two journalists who've been harassed by Indian Occupation Forces soon after appearing on my podcast."
Outraged by the recent decision to advertising images of Hindu deity Ram and 3-D portraits of the temple to be constructed in Uttar Pradesh's Ayodhya in New York's Time Square, Werleman said: "Hindutva fanatics in the US have paid for a billboard on New York City's Time Square to celebrate ethnic cleansing, specifically the erasure of an ancient mosque and Muslim graves in India."
Ashok Swain, who serves as a Professor of Peace and Conflict Research at the Uppsala University in Sweden also routinely aims his guns at the Modi regime in New Delhi.
Like Werleman, Swain too, cautioned that Hindutva gangs had created several fake social media profiles to spread fake news about Kashmir. In a post last month, the Sweden-based professor said: "Kashmir is being ruled by non-Kashmiris - Even colonial rulers used to keep some locals in the administration but not Modi."
"When you elect a joker, the country becomes a joke," Swain quipped in one of his posts condemning Modi's actions. Referring to the recent murder of George Floyd in the US, that triggered a nation-wide protest against killings of African Americans, Swain said: "India badly needs a similar type of mobilisation to oppose extra judicial killings of Muslims. Why not #Muslim_lives_Matter."
For questioning Modi regime's policies in Kashmir openly on Twitter, Swain has also faced the wrath of Hindutva trolls. "Modi's SS (Saffron Stupids) on the rampage - openly assaulting Kashmiris on the streets. Is there any rule of law in India still?" he said in a tweet last year that featured a video of a Kashmiri being assaulted.
Pieter Friedrich, who specializes in analysis of historical and current affairs in South Asia also joined the chorus on Twitter. A specialist in political ideologies and ethnonationalism, Friedrich mau led the Modi government for the occupation of Kashmir.
"Kashmir remains under extreme occupation," he said in his latest post.
In another post he aimed his guns at the Rashtriya Swayamsevak Sangh -- a right-wing, Hindu nationalist, paramilitary volunteer organization that is very close to Prime Minister Modi.
"The RSS & its myriad affiliates, particularly #VHP & #BJP — are responsible for every major anti-minority pogrom in India since 1947. Their goal is to eliminate Christians/Muslims & assimilate Sikhs/Buddhists."