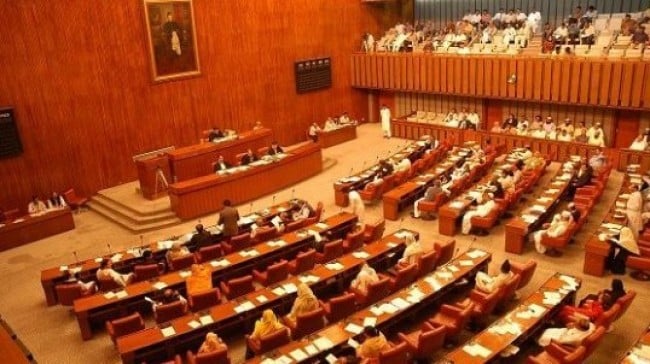 ---
ISLAMABAD:
President Arif Alvi has called a special session of the Senate on August 5 to reiterate Pakistan's resolve and commitment to the Kashmir cause and to raise voice against continued Indian atrocities in Indian-occupied Kashmir.
The session will convene at 10.30am on Wednesday and will be held on a single point agenda on Kashmir, according to a statement issued by the Senate Secretariat on Tuesday. The session will also aim to urge international community to exert pressure on India to stop its hostilities in the region
Parliamentary leaders will take part in the debate on Kashmir and a resolution will also be passed at the conclusion of the debate.
Alvi will attend the session and address the upper house, according to the statement. Besides, the Senate hall will be bedecked with flags of Pakistan as well as Kashmir.
A special booklet is to be prepared by the Senate and will contain information on the role the Senate of Pakistan has played over the years for the Kashmir cause, including the conference held last year, resolutions passed, and other steps.
This booklet will be sent to 56,000 parliamentarians around the world and international human rights organisations, read the statement, which mentioned that ambassadors of different countries are also to be invited to the Senate session.
Members of the Senate will also take part in the walk being held on August 5 to mark the day at Constitution Avenue.
The Senate session had been announced earlier last month by the Senate chairperson. The house had tasked Mushahid Hussain Sayed, the chairperson of the Senate's Foreign Affairs Committee with preparing the recommendations for the special session.
Meanwhile, according to Foreign Minister Shah Mahmood Qureshi, Youm-e-Istehsal day will be observed on Wednesday in solidarity with of people of Indian Illegally Occupied Jammu & Kashmir (IIOJ&K).
On August 5, 2019, the Modi-led Bharatiya Janata Party government struck down Articles 370 and 35A of the Indian constitution, thereby scrapping the law that granted Kashmir its special status.
A few months later, the right-wing Indian government of Narendra Modi instituted a controversial domicile law in the occupied valley. The certificate, a sort of citizenship right, entitles a person to residency and government jobs in the region, which till last year was reserved only for the local population.
With regards to observing Youm-e-Istehsal day, Qureshi said that the country will observe one minute of silence, followed by a solidarity march in the provincial and federal capitals.
COMMENTS
Comments are moderated and generally will be posted if they are on-topic and not abusive.
For more information, please see our Comments FAQ